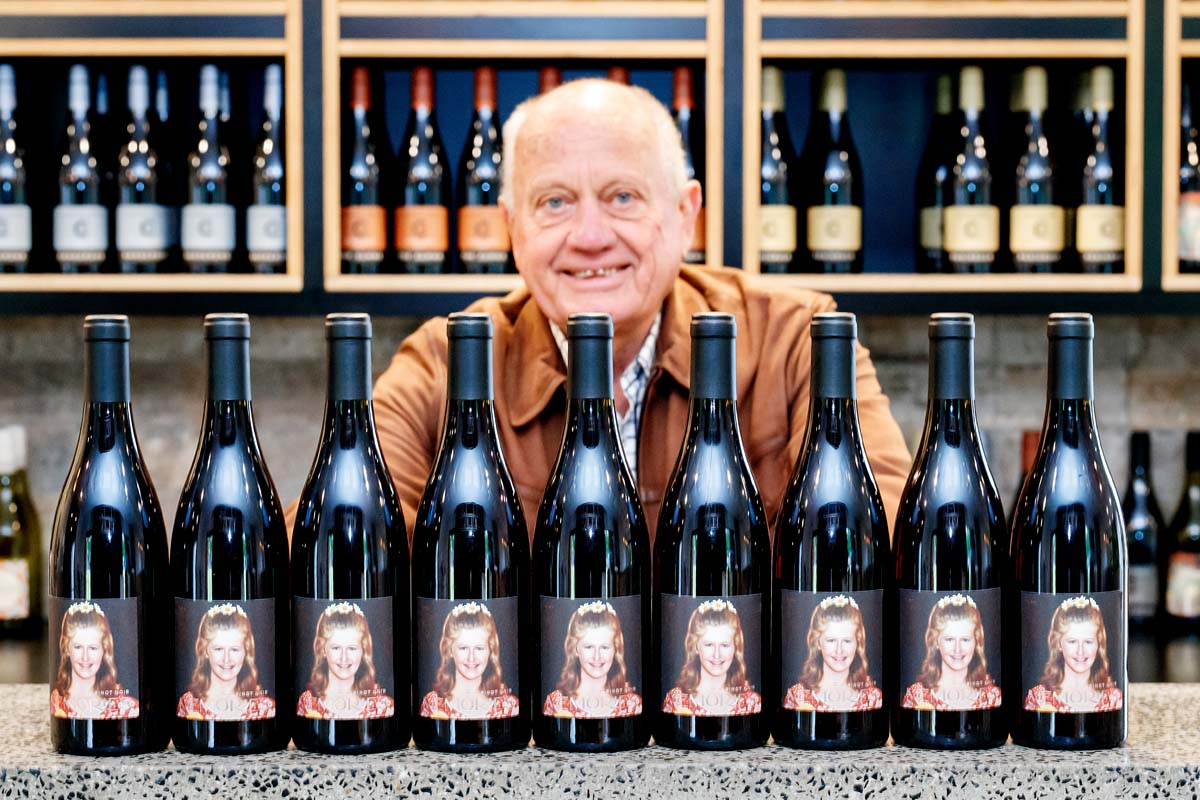 Photo Yanni
By Paul Sellars
A new wine from one of the Mornington Peninsula's most celebrated vineyards, the 2020 "Memories" Pinot Noir, as it is appropriately called, is a wine that marks the 12-month anniversary of the passing of Margaret Crittenden, wife to Garry and co-founder of the family business.
Across 38 consecutive vintages at Crittenden Estate there have been many wines that hold a special significance for Garry Crittenden, but none more so that the one he has just released.
'Memories' is a wine both hugely symbolic for its celebration of Margaret's life as well as a tangible manifestation of what she helped bring about – one of the Mornington Peninsula's great vineyard treasures.
Beyond that it is also a testament to an all too often-unsung hero and pioneer of wine and tourism on the Mornington Peninsula, and to the extraordinary and enduring legacy she has left behind.
Part of Margaret's legacy can be found within the Mornington Peninsula Shire's libraries. It's here where you will find a remarkable collection of newspaper clippings and other memorabilia that Margaret meticulously compiled over 28 years. In 2018 Garry had the 240 pages of hard work bound into six hardback copies that became known as 'The Big Red Book'. In the wake of Margaret's passing, three of the copies were donated to the local libraries.
"Of all the remarkable contributions that Margaret made over more than 30 years, not just to our family business but also to the overall recognition of the Mornington Peninsula's wine industry, this is probably the most significant and enduring," says Garry.
Marrying in 1969 and moving to the peninsula three years later, Margaret and Garry Crittenden's life and business pivot would come in 1978 when the couple took their young children Zoe and Rollo on a holiday to Tasmania. This would be where, in a restaurant in Hobart, they encountered something unheard of at the time – Tasmanian wine.
That very night Garry rang the man now recognised as the father of Tasmanian wine, Claudio Alcorso, who the following day welcomed the Crittendens to his vineyard on the Derwent River and took them through what Garry remembers as "his astonishing range of virtually unknown wines" grown on the property famously known today as Mona. It was a watershed moment for the Crittendens.
"We were so inspired by that experience that over dinner a few weeks later I proposed that we sell up everything and move to Tasmania to plant a vineyard," says Garry.
"I remember clearly Margaret telling me that 'you might find it a little lonely,' although ironically enough nine years later we did plant what is now known as the Tolpuddle Vineyard in the Coal River Valley near Hobart, with her full support."
What the Crittendens ultimately agreed to was to establish a vineyard on the Peninsula and after a year-long search they purchased the land which the family still occupies to this day.
It is well documented that when Margaret and Garry established the family business they called Dromana Estate in 1982 – later to become Crittenden Estate as it is known today – they doubled the vineyard area on the Peninsula in a single day when they planted their first five acres of vines.
What is far less well known – yet is fundamentally at the heart of this story – is that from that point on, many of the things the Crittendens did were a first for the Peninsula's nascent wine industry, and it was Margaret who thought of and implemented them.
For while Garry is justifiably known throughout the industry for his tireless innovation and pushing of boundaries, he is the first to admit that it was often Margaret generating the ideas.
It was one day in the summer holidays of 1988, with Garry away at the London Win Trade Fair to help build an export market and unaware of her plans, that Margaret set up the Peninsula's first "cellar door" in the winery – with just a trestle table, notepad, pen and cash tin.
Much in the way of innovation flowed from that moment, and as Garry recalls, Margaret was "so taken with the potential of what she had begun that in 1992 she went on to conceptualise, design and build not just a cellar door but her own restaurant, where she worked the stoves seven days a week for the next 13 years".
"It was Margaret who started what was not just the first cellar door on the Peninsula, but the first cellar door that served food and the first one that was open seven days a week," says Garry.
Then in 2005 Margaret went on to create another first for the Peninsula – by conceiving the first winery accommodation on the Peninsula in the form of three multi-award-winning Lakeside Villas fronting the lake of Crittenden Estate which are now managed by Rollo's wife Linda.
"Margaret not only dreamt these things up, but then went on to bring them to life," says Garry. "I may have received a lot of the credit, but it was Margaret doing a lot of the hard work."
Margaret's immense contribution to the Peninsula may be nowhere near as well recognised as it should be.
But, well before her passing, having watched Zoe and Rollo assume the helm of the family business and take it to new heights, investing themselves heavily in the regional wine industry's well-being in the process, she would have known her legacy was assured. And that all the hard work was worth it a hundred times over.
---
The back label of the 2020 Memories Pinot Noir fittingly reads: "Crafted by Garry Crittenden, this wine has been released in commemoration of the outstanding contribution Margaret made not only to Crittenden Estate but also the wine and tourism industries on the Mornington Peninsula. May her achievements be celebrated forever."