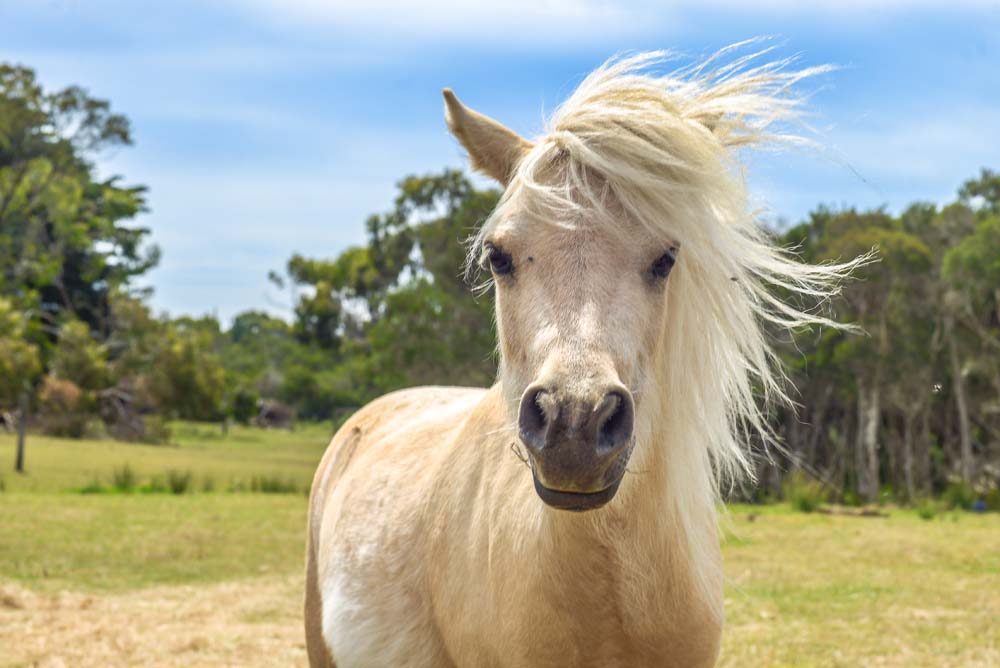 By Kristy Martin   Photos: Jarryd Bravo
After years of witnessing the abuse and mistreatment of horses, Corinna Horvath has started her own equine rescue and rehabilitation organisation on her Somerville property.
If you had seen the terrible things Corinna Horvath has seen, you would probably dedicate your life to rescuing horses as well.
Corinna has seen horses so emaciated that their ribs are protruding from their skin; she has seen them in dire need of medical attention and overbred to the point where their insides are on the brink of collapse.
She has witnessed horses writhing in pain on the ground and groaning in agony because they are so hungry.
"I reckon the horse industry is one of the cruelest industries ever," Corinna says.
"There are terrible people in the horse industry.
"There are a lot of dodgy dealers who are all about making the last dollar out of the horse."
After years of involvement with P.H.A.R.L.A.P, a foster, adoption and rescue group for unwanted horses, Corinna has started Angel Lodge Equine Guardians and is in the process of registering the organisation as a charity.
Angel Lodge receives support from many local businesses and personal sponsors, who assist with the huge financial cost of rescuing and rehabilitating horses.
Corinna also throws a lot of her own money into the organisation, which is one of her two passions in life (the other is netball).
The mum of three admits she has always been a bleeding heart, even back when she was a teenager.
"My mum used to say to me 'Corinna, you always have to bring home a person in need or an animal in need. It's going to be your downfall.'
"But that's what I loved to do.
"I have made Mum do an extra plate of dinner for many people who have needed help.
"And I've always brought home a stray horse here or there."
These days, Corinna's 25 acre property has dogs adopted from Melbourne Pet Ambulance and goats from the Keysborough Animal Shelter.
She even found a feral cat asleep in her chook pen, which, after months of love and attention, has become another family pet.
"Everything is just somebody else's unwanted animal," she says.
"I've got four surrender horses here from people who have died.
"I had a friend who surrendered a mare six weeks before she died of cancer.
"I took her mare on, and then after she died I had to go up the road and take her gelding as well because her family just couldn't support it."
Corinna's love of horses goes back to her early teenage years when she worked at a place called Paradise Country in Queensland, which housed the horses for a nearby theme park with a dancing stallion show.
"My first influence and mentor was an old cowboy in Queensland called John Wilson.
"I still remember him saying 'Corinna do you want a horse?'
"I'm like 'Yes!' – I was hanging out for my first horse.
"He opened the back of the float and said, 'Don't expect too much'.
"(The horse) nearly fell off the float; she was skin and bones, she had no hair – because in Queensland they get Queensland Itch (a hypersensitivity to the bites of midges) – and she looked like a donkey.
"It was just unbelievable.
"So that was my first rescue horse and he taught me how to rehabilitate her."
Over the years, Corinna has worked with breakers and pre-trainers and has picked up a variety of skills in managing unhandled horses.
She also completed an advanced certificate of horse breeding at TAFE in Wangaratta.
But nothing has prepared her for the cruelty she has seen within the equine industry.
"I've got one horse here who is 29 years old, she's had about 11 foals, so she's been continuously bred, she's got a big swayback and her vulva and anus have sunken in because her insides have sunken and dropped.
"I nearly cried when I saw her, it was just terrible."
Another horse was pregnant when surrendered to Corinna.
"She was in a terrible state. You couldn't even get near her.
"I'd never heard a horse bark before and she barked because she saw my cat come near her and the baby.
"It was the most distressing noise you've ever heard, but she was so scared."
For Corinna, the reward is watching the horses become healthy, rehabilitated and eventually re-homed.
As well as her many sponsors, she gets plenty of help from local equine vets and farriers and ensures all the horses have their feet and teeth cared for, medical needs met and regular vaccinations.
"I'm lucky because I've got so much help around me.
"There are five of us in the (Angel Lodge) team and we've also got three foster carers – one out at Bunyip, one at Hastings and one in Tyabb.
"I couldn't do it all on my own.
"I do what I do and I've done it since I was 14, but now it's on a scale where I can help many more horses."
Corinna says the work is, unfortunately, never-ending.
"We get phone calls weekly and texts saying, 'Can you take this horse?
"But we just can't take every horse.
"People then ask how we decide which horses to take.
"It's just something in you that says we'll give this one a crack."
One of the biggest problems with other rescue groups, she says, is that they often take on too much.
"People don't necessarily like rescues because they think they are hoarders and that they take on more than they can handle.
"And, you known what, a lot of them do.
"There's heaps that start out with the right intentions and before you know it, they are overcome with horses and it's the middle of summer, or winter, and they can't feed them."
The message Corinna hopes to get out there is that people shouldn't be afraid to report animal rights abuses.
"If you see something that doesn't seem right, tell someone."
She recommends getting in touch with organisations like Project Hope Horse Welfare, the RSPCA, Department of Primary Industries or the Animal Cruelty Hotline on 1800751 770.
"To say nothing is to do nothing.
"If you see it, you must be their voice."