By Ilma Hackett, Balnarring and District Historical Society
It really was a most extraordinary election. Early in 1895 the electorate of Mornington went to the polls for the second time in a matter of months to choose their representative in the State Government's Legislative Assembly. The two opponents were Dr Louis Lawrence Smith and Alfred Downward.
In October of the previous year Alfred Downward had won the seat by the narrowest of margins – just three votes – from the sitting member, Dr L.L. Smith and one other contender, Daniel Bourke.
For Downward his victory was a dream come true; for Smith his defeat was 'a bitter pill'.
"DR. L.L." – The Defender
Dr Louis L. Smith ("Dr L.L.") was a flamboyant figure. Born in London in 1830 to an English father and a French mother who had raised him, he was educated at grammar school and served an apprenticeship with a well-known London surgeon. His medical studies were furthered in Paris, at the London Society of Apothecaries, and at Westminster Hospital. Lured by the prospect of striking it rich on the Victorian goldfields, he took passage as a ship's doctor in 1852 and headed to the diggings. However he abandoned the search for gold the following year and returned to Melbourne to set up a surgery in Bourke Street, then later in Collins Street.
Unlike other doctors, he centred his practice on self-promotional advertisements in daily newspapers. Medical articles in journals were further advertisements for him as were inexpensive pamphlets covering a range of health conditions. In 1885 patients contacting him by mail were charged £1 (one pound) per prescription. (This was the equivalent of two days' wages for a blacksmith.) Over the years he built up the biggest physician business in Australia. It is said that at one time he had as many as fifteen people employed filling out prescriptions. Most of his pills and remedies were herbal and he was well-known for his treatment of venereal diseases. The methods he employed were frowned upon by many other doctors. When the Victorian Branch of the British Medical Association was formed in 1879 he ignored it and continued to practice through advertising. By 1880 he was purported to be making £10,000 per year.

Smith had many other interests and investments including wine-making, art, the theatre (his father was a theatrical entrepreneur) horses and horse racing. He had model farms at Dandenong, Narre Warren, Nunawading and at Beaconsfield where he raised pigs and sheep. 'Louisville', his country residence which he named after himself, was at Upper Beaconsfield. He also had a sea-side home in Brighton. He enjoyed speculating and 'the turf': during his lifetime he made and lost several fortunes.
Smith had entered politics in 1859, probably for prestige and influence more than any other reason, and he held the seat of South Bourke in the second Victorian Parliament. During his political career he also represented Richmond and subsequently Mornington in the Legislative Assembly. A small man who dressed fashionably, he was witty, full of charm and known for his boisterous mirth. People were drawn to him and force of personality won him many voters.
Downward – The Contender
Alfred Downward was born in 1847 in Prahran. His grandfather came as a free settler to Van Diemen's Land in the early 1820s and his parents crossed the strait to the Port Phillip district the year before he was born. The family moved to Schnapper Point (Mornington) when the first land sales there took place. He was fond of saying, "I landed here in 1854 when seven years of age and like Mark Twain brought my parents with me". He and his brother attended Mornington's first school when it opened a couple of years later. When land at Balnarring, on the Western Port side of the Peninsula, was opened up for selection, his father took up a lot of 172 acres and established a farm. Alfred worked on his father's farm after leaving school. He also had the first postal run between Mornington and Balnarring, being paid 3 ¾ pence per mile for the twelve-mile run each way that he made twice a week on horseback. (The Old General Store by Bruce Bennett)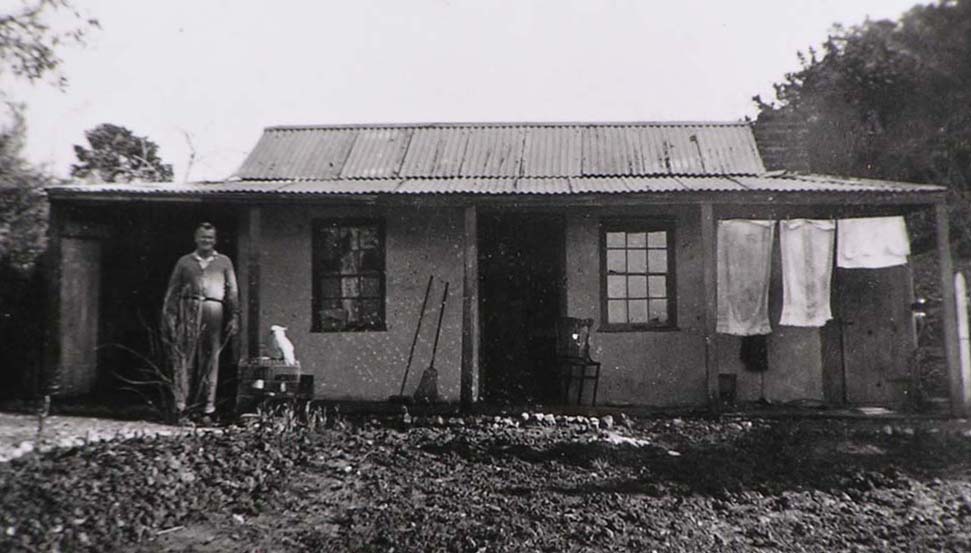 At the age of 24 Alfred took out a lease for his own land at the corner of today's Balnarring and Tubbarubba Roads, the first of a number of adjoining lots which he gradually purchased. Here he established 'Glengala'. When he married he and his wife settled in Mornington. Their home, 'Redwood', was on Wilsons Road but he still had his county acreage on which he grazed sheep.
From an early age Alfred was interested in politics. He first stood for the Mornington Shire Council in 1875 and won when the election was held the following year. He lost at the following election but was again elected three years later. Downward was ambitious, straightforward, very determined and often high-handed which won him enemies. He also went on to successfully nominate for the neighbouring Shire of Flinders and Kangerong. In fact he was a member of two shire councils at the same time and was in the unusual position of being president of two shires simultaneously. Downward's political interests didn't stop there. He tried, unsuccessfully, for a seat in the state's Legislative Assembly in 1877. When he finally achieved his goal at the 1894 election, after four or five previous attempts, Downward was elated and threw himself into his parliamentary duties straight away.
The October Election
The Mornington electorate at that time covered a much wider area than it does today. It stretched from Wonthaggi to Lower Gembrook to Frankston and Mordialloc taking in the entire Mornington Peninsula as well as French and Phillip Islands. By 1894 Dr Smith had represented Mornington for the past eight and a half years and was confidant of retaining the seat.
The overall results of the October elections were fairly evenly divided. The electorate had some 2000 people eligible to vote: 678 had supported Downward, 675 had voted for Smith, 653 had given their vote to Bourke. The system of preferences was unknown: first past the post won.
The Protest And Hearing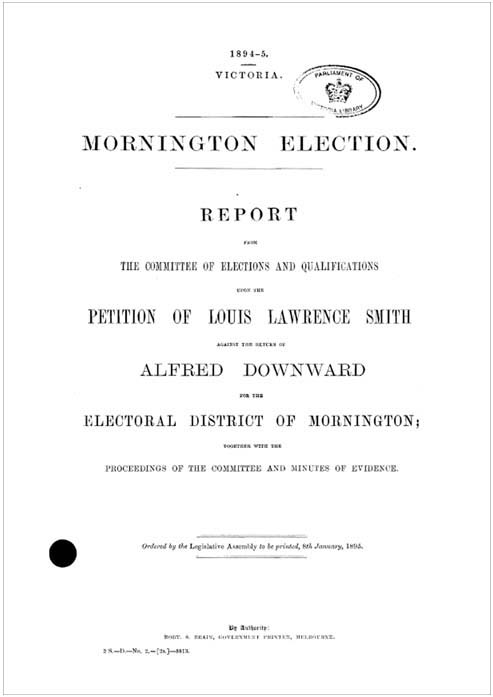 Dr. Smith, far from happy with the election results, decided to appeal on the grounds of election irregularities and, in December, lodged a petition with the Elections and Qualifications Committee.
However the Committee needed more detailed evidence. Smith was required to be more explicit with names, dates and places. A hearing took place in December, 1894. Dr L.L. was represented by Mr Gaunson, one of the most skilled advocates in that field. It was later said of Gaunson if there was one place where he shone more than another it was before the Election and Qualification Committee. [Peninsula Post]. Alfred Downward represented himself.
Irregularities were brought forward. There were accusations of people voting twice or of voting when they were not entitled; there were accusations of people being prevented from voting.
Each case was examined separately and the vote either allowed or disallowed by the Committee.
A lighthouse keeper, whose name had been on a previous supplementary roll, found his name was not included on the current roll when he went to the booth at Boneo. He had not been permitted to vote for Smith as he had intended. The vote was allowed.
H.M. Lind produced the butt of the 'right' [to vote], which was numbered 128,184. On the roll Lind's number was 128,114. The Chairman, referring to this and to evidence given previously, said the committee were quite satisfied that there was a discrepancy, and that his right to vote should have been dismissed. On the other hand there was George Peattie, of Dromana, the number of whose 'right' was 344,284, whereas his number on the roll was 344,244. The difference was noticed by the returning officer who, however, allowed Peattie to vote.
After further investigation the committee came to the conclusion that these differences in the figures were but clerical errors, and they allowed both votes to stand. [The Age 5/12/1894]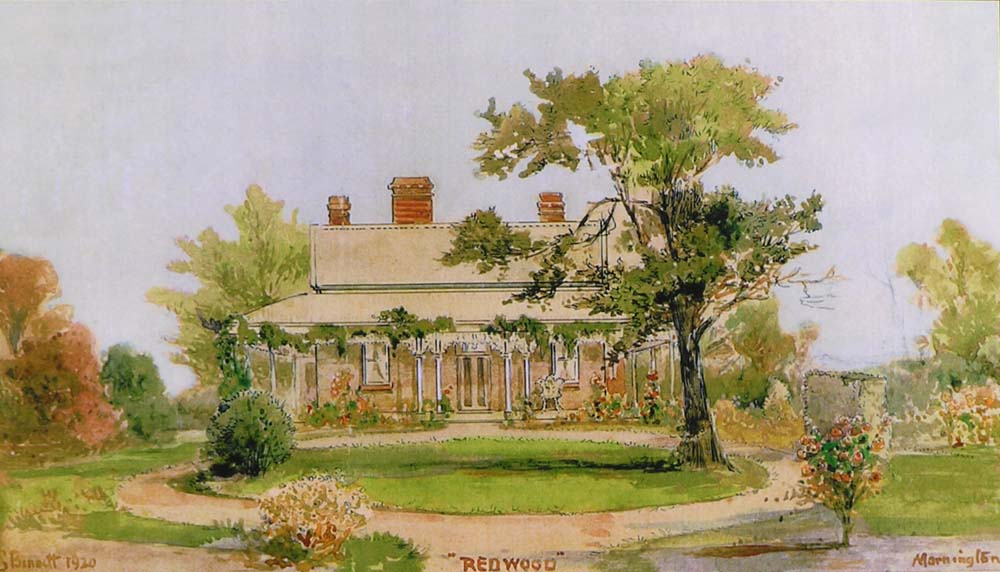 Downward was accused of bribery and 'treating' i.e. standing treats at the Bunyip hotel at Koo-Wee-Rup to bribe voters. His version of the 'treating' was: "that on the Saturday preceding the election he went to the Bunyip Hotel, Koo-Wee-Rup Swamp. He paid for a shout for seven or eight of his supporters. At any rate the persons he met represented that they were supporters of his, and admitted that after the election he received a telegram from a supporter named Flynn congratulating him on winning the seat, and adding that 'it was very dry'. Witness wired back 'Can stand a couple of pounds'. Subsequently he received from Flynn an account for ₤2 9s, for which he paid". [Mornington Standard, Dec. 1894]
It was alleged that John Peattie, who had forgotten his elector's 'right' but said he had intended to vote for Downward, had been lent a horse to go home from his work place to get the 'right' and had been offered a half day's pay for the time he would miss. Peattie denied the guarantee of payment and this statement was supported by the owner of the horse. Downward was cleared of these charges.
The extra votes allowed by the committee brought the tally to a draw. The chairman indicated that there was a feeling amongst the members of the committee that, owing to the irregularities disclosed, the most satisfactory course would be to have a fresh election.
Both Downward and Smith agreed; the election for Mornington was declared void and a new election scheduled for 1895. Public opinion was that this was satisfactory to all concerned. An article in the Mornington Standard stated the view that the battle on the main issues had already been fought; what now had to be resolved was which of these two candidates are likely to render the most valuable service to the State, and to the elected district of Mornington. Bourke stood aside. This election was to be 'fought' only between the two main contenders: Smith and Downward.
Second Time Around The Campaign Trail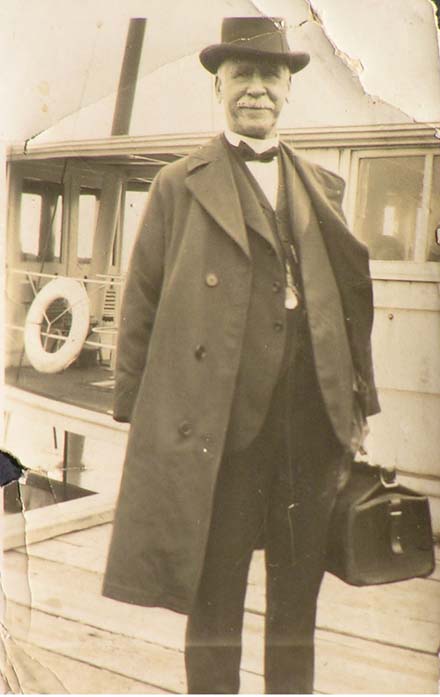 Again both men went on the campaign trail addressing the electors in the towns throughout the electorate. The lead-up to this election drew a great deal of interest and speculation. In some areas there also seemed to be a feeling that Downward had been treated unfairly. He gave his opening speech of the campaign for the extraordinary election in the Mechanics Hall in Frankston and on introducing him the chairman stated: "It did not seem right that after so short a time since the last election that Mr Downward should be compelled to contest another. He had been unseated, but by no fault of his own, nor by anything over which he had any control. Since Mr Downward had been in Parliament he had done his duty to the constituency. He was not a talking machine but a working machine, and that is what we wanted. Our confidence in him has not been misplaced and he hoped he would be returned again with a good majority". [Mornington Standard, 17 Jan. 1895]
Downward briefly mentioned the investigation before outlining what he believed in and what he would work for. His views appear to have been popular as he was frequently applauded during his address. He was against land tax, as people who were only existing on the land should not have to pay taxes. He would support income tax (1d. in the £) as the rich could afford to pay tax and the ordinary people would pay what they could afford. He was against raising the age of school entry for children to six years from four and a half years and making a child leave school at thirteen years in order to cut back on Government spending, as there was a need to educate the children. He was against school teachers teaching religion. "The changes in this world do not make it necessary for religion to be taught in the State school, but it is necessary to give the youth a good education and the parents and the churches should see to their religious instruction. One of his aims was to reduce expenditure by the Victorian Government, which had blown out to nine and a half million pounds. Even though Australia was in a Depression we have to get that amount down; the Depression will not last.
At the end of the meeting, as customary, it was moved and seconded that Mr Downward was a fit and proper person to represent us in Parliament and a large number of hands went up in favour of the resolution". [ibid]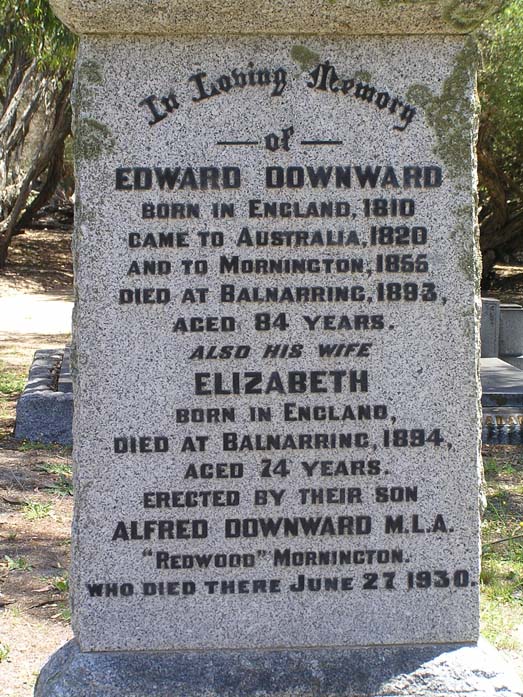 Dr. Smith's meeting at Frankston, held a couple of evenings later, was reported in the Mornington Standard as "the most noisy meeting, political or otherwise, which has ever taken place in the history of Frankston". Smith spoke at some length about the irregularities of the previous election and again put forward his views. He was accorded a very good hearing with few interjections during this part of the evening but at question time the audience erupted. His supporters cheered and laughed while others indulged in the ungentlemanly practice of showing their disapproval by "Boo-booing". [ibid] At one stage an argument broke out between the chairman and Dr Smith during which the audience completely bubbled over with enjoyment. At the end of the meeting when Smith was also declared a fit and proper person to represent the electorate, only about a dozen hands were held up. However when a vote of thanks to the chairman was moved, it was carried with acclamation.
As the election date drew nearer speculation as to the likely outcome increased.
The Mornington Standard reported: "Taking popular feeling as the gauge, Mr Downward will be the selected candidate. This gentleman has succeeded in winning over many of the votes which were recorded against him on the last occasion by his straightforward actions and the manner in which he conducted himself during the case whilst it was being heard before the Elections and Qualifications Committee".
Many voters in Korumburra and Frankston were won over to Downward. So too was Hastings while Mornington was strongly for Downward. Sorrento, it was thought, would be a close poll. Beaconsfield and Grantville were expected to go to Smith.
The newspaper concluded: "We believe that were the matter left solely with voters residing in the electorate Mr Downward would be elected, but there are a large number of voters who reside in Melbourne and the surrounding suburbs, and these, almost without exception, will be recorded in Dr L.L. Smith's favour". [ibid]
The people went to the polls.
Downward won by a handy margin of 199 votes: 1138 votes to his opponent's 939.
Victory For Downward
His supporters were jubilant: "Last Saturday evening, when the results of the voting for the Frankston division of Mornington were posted up at Mornington, three cheers were called for the electors at Frankston and they were lustily given. It was said the cheering could be heard more than a mile away". [Mornington Standard, 31 Jan.1895].
It was also reported that "…the residents of the township turned out en masse to do honour [sic] to the new member. The enthusiasm completely carried the populace, and Mr Downward's feet were not allowed to touch the ground from the post office corner until he reached the Coffee Palace Hotel". [ibid]
Downward received tumultuous applause at a celebration dinner given for him in Balnarring where support for him had been overwhelming. The Mornington Standard (21st Feb. 1895) reported it as a night of such wild excitement and exultation as Balnarring had never witnessed before, and in all probability will never witness again.
Spokesman, Mr Buckley, expressed the community's delight with the results of having one of themselves, one of their neighbours, as their representative in parliament. They were overjoyed to have someone from the area who knew their requirements and had their interests at heart rather than a 'town man'.
"They knew the value of a country representative for a country electorate, and they would have no other. (Cheers) They had got Mr Downward in, and they would keep him in. (Loud and prolonged cheering.)" [ibid]
Downward was sworn in for the second time on 31st January, 1895.
Congratulations poured in, not only from his two main centres of support but from all around the electorate and the newspapers gave his victory wide coverage. He was the man of the moment. Profiles were written about him to introduce this new Member of Parliament to a wider audience.
"A solid speaker and a strong man, that is to say, one who will not allow himself to be 'sat upon' … and bye-the-bye, what an incongruous name – 'Downward' – for a man of such irresistible progress as the new member for Mornington whose life and temper seem to spell the word Excelsior". [Tabletalk, August 1895]
Alfred Downward seemed to be a man of modest talent, but he was determined. It took him eighteen years to become the member for Mornington. He started his political career when he was 30, and finally succeeded when he was 48 and contesting his fifth state election.
The newspapers published his public thanks to the electors. He was indeed a man of the people.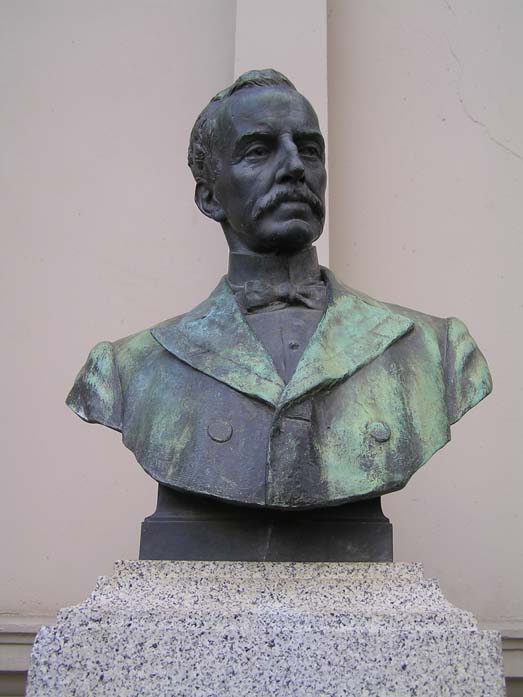 Postscript
Alfred Downward went on to hold the seat for Mornington for close to 35 years. He held several portfolios during his career including those of Lands and Mining, Agriculture, and Immigration. He announced his retirement in 1929, one year before he died on June 27th 1930 at his home in Mornington. At his memorial service, which was attended by many politicians, he was lauded as "The Grand Old Man of State Politics". He was interred in the Downward family plot at the Mornington Cemetery and, at his request, his name was added to the gravestone he had erected for his parents.
Dr. L.L. Smith's parliamentary life was over although he did stand again in 1898 and 1901. His other interests absorbed his time and energy until ill health brought on retirement. He died in Melbourne in 1910. Four years later, with money raised by public subscription, a bronze bust was mounted in the Exhibition Building Gardens to acknowledge Smith's involvement with that centre. He was a committee member from 1880 (just after the first major exhibition) until shortly before his death and for thirty of those years he served as Chairman. His interest in art, coupled with his theatrical flair, vision and wealth ensured the building retained its original purpose as a place for great exhibitions.
Sources:
Australian Dictionary of Biography Smith, Louis Lawrence (1830 – 1910) by Guy Featherstone
Argus newspaper: (obituary) Death of Dr, L.L. Smith, (Sat. 9 July 1910)
Ovens & Murray Advertiser. A Melbourne Notability, reprinted from Australian Home Companion
Philip Island & District Historical Society. talk given by Gillian and Norman Smith 27 August 2016. "Dr L.L. Smith – entrepreneur, doctor, Parliamentarian."
The Honourable Alfred Downward by I. J. Hackett, based on the scrapbooks of the late Joan Downward.
various contemporary newspapers