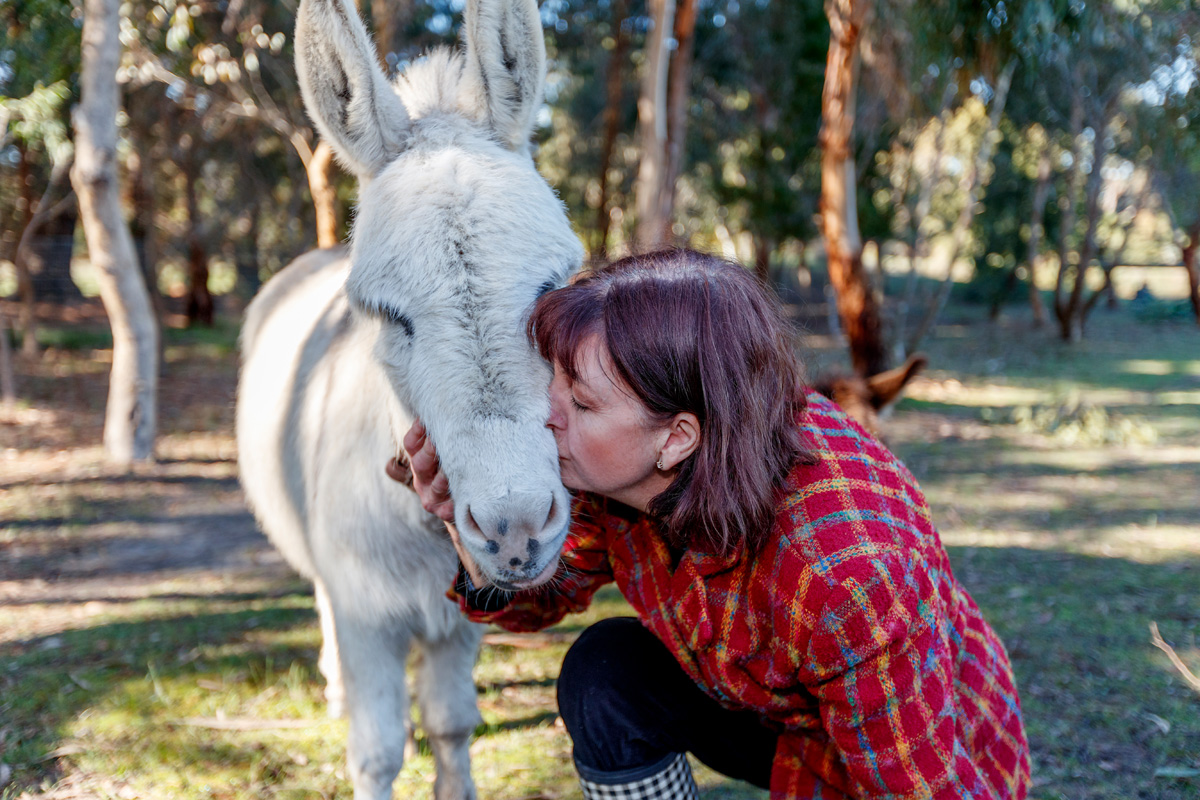 By Andrea Louise Thomas Photos Yanni
Donkey Love Therapy is an idyllic 6.5-acre property in Balnarring. It's a place where people go to escape, learn and heal. It's a place where people with disability and/or mental illness, who have fallen through the cracks in society can be seen, heard and transformed by the healing power of nature. It's a place where anything can happen.
The property features gardens, mediation spaces, a lake with an island, quiet places to sit and contemplate, creative spaces for arts, woodworking or gardening and four miniature donkeys named Sebastian, Angela, Bentley and Georgina. Owner, Michelle Lowe, trained them to be therapy animals using love, kindness, gentleness and trust. The donkeys reflect those qualities back.
Michelle believes there is no better healing environment than nature and no better therapy animal than the miniature donkey. "Donkeys have the same personality traits as dogs. They wag their tails when they are happy, follow people for their company, pick up on human emotions and comfort them when needed," Michelle says.
She adds, "They also have an extra level of sensitivity, a sense of humour and very flexible thinking. Where other companion animals usually bond with one person, donkeys can relate to lots of different kinds of people and bond with anyone. They make people feel good by accepting them without judgment."
Michelle's mission is to help people discover what they're good at, then foster a 'can do' attitude so they walk away with a sense of purpose and pride. And it works! Guests to the property can paint, write, sculpt, arrange flowers, garden, make things, commune with nature or work with the donkeys. Each person gets individualised therapy based on their needs and interests.
This approach has seen amazing results. A virtually non-verbal girl with autism worked with the donkeys and now she's a chatterbox. An entirely non-verbal boy with autism learned to communicate using storyboards. A woman in her thirties with mental illness, rejected by her family, learned how to live independently. There are dozens of stories like this.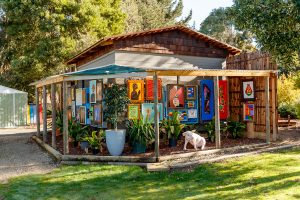 "No one has really looked at nature as a setting for healing. Traditional therapy has its place, but it's an artificial environment. Nature is real and a pathway for learning without rules, fear or judgment," Michelle says.
"The benefit of working with animals is their pure acceptance. They are very intuitive and sense a person's character. I had a very cranky old lady in a group. Bentley came over and put his head in her lap. She cried. It changed her. He had given her the gift of acceptance. Donkeys are healers for everyone," she says.
She adds, "Animals teach you humility, joy, respect and selflessness. They make you feel special because they choose you based on your soul, on who you are, not what you are or what you have. People can learn from this." After they have spent a short time working with the donkeys, Michelle can discover what each person needs and what they can achieve.
Michelle spent most of her professional life working as a make-up artist in film and television. She got to travel the world and work with fascinating creative people, but the glitz and glamour of all that doesn't compare to the satisfaction she gets from what she does now. Donkey Love Therapy is changing people's lives.
Animal Assisted Therapy can help with depression, anxiety, autism spectrum disorder, emotional regulation, stress and anger management, low self-esteem and more. It's also useful in developing social skills. At Donkey Love Therapy, the donkeys connect to people on both an emotional and energetic level building a transformative bond of respect and trust.
The donkeys are only one aspect of Michelle's beautiful property. There are a number of different walks, places and spaces to breathe it all in and allow the power of nature to relax and heal people. "Nature is a place where you can let your fear go and just take in what's around you," Michelle says.
While she would not say so herself, Michelle is a healer too.
She recognises the beauty and worth in all people and guides them to reach their highest potential. She finds out what makes a person feel good about him/herself and then instils in them that 'I can' attitude so that people can achieve things that they never thought possible.