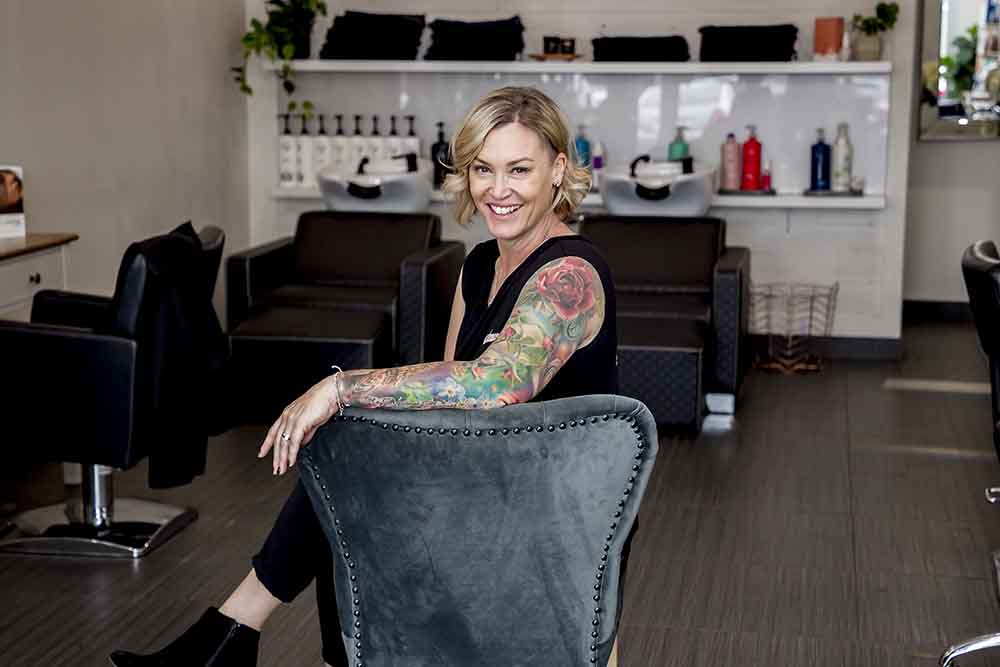 By Melissa Walsh Photo Yanni
Jaki Wilkinson, the owner of Salon Envy in Mornington, is a glamorous, blonde stylist who prides herself on running a modern salon where clients can enjoy full pampering and beauty. Yet there is so much more to this bubbly hairdresser than meets the eye. Jaki has spent years giving back to the local community through programs such as the Saint Mac's Cafe in Mornington and has now spread her wings further, becoming one of the qualified hairdressers to donate their time and services to Hair Aid. Peninsula Essence speaks to Jaki about her experiences with Hair Aid and how being involved with the charity has changed her life.
"I first heard of Hair Aid when I was at a hairdressing expo in Sydney a couple of years ago, but it was brought to my attention a year later and thats when I decided to do it," said Jaki. "I learnt about the organisation and the incredible woman who started it and it felt right to be involved so I immediately started working out how to raise the money to go. The next thing myself and my co-worker, Maddi were on our way."
Hair Aid was started by a Queensland woman, Selina Tomasich, who was holidaying in the Philippines in 2010 when she met two nuns living in Manila.
Starting up a conversation with Sister Kate, a fellow Australian, and Sister Claudia from Canada, Selina heard about the work the sisters did with children abandoned on the streets of Manila whose parents were too poor to feed them. The story touched Selina's heart and motivated her to help. The sisters explained that children who were found abandoned on the streets were taken to a secure safe location where the children's physical, spiritual and medical needs were looked after. Once the children were safe, the sisters' goal was to reunite them with their parents, who were usually living on the street or in a slum.
Most parents had abandoned their children because they had no income and could not buy food to feed them. The sisters' mission was to teach the parents a skill that they could turn into a job. This whole concept instantly resonated with Selina – but when she asked what skill they taught the parents, they said, "Oh, we're no good at that part, but our dream is to one day start a sewing centre."
"The fact that this woman was able to use her own skills to help other people was something that spoke to me. She first started out using sewing to help the women. She went over there with some volunteers and one day she asked what other skills they could use and the locals said hair cutting. That is when Hair Aid began in 2013; it has now grown and is established world wide," said Jaki.
We were stationed in one of the best locations compared to the other hairdressers and yet we were teaching hairdressing on the top of a dump
"We went over in March this year and plan to go back every six months. There were around 16 other hairdressers from different countries and we literally hit the ground running."
For Jaki and the other hairdressers, the experience was intense but, as Jaki explains, life changing and inspirational.
"We were stationed in one of the best locations compared to the other hairdressers and yet we were teaching hairdressing on the top of a dump.
"Nothing can prepare you for what you will find there. There are two parts to the project. The first part is an induction period where we go to Destiny Rescue, and see first hand the work that is being done over there. Then we go to the areas where we are to teach the cutting. First of all you wonder how you are going to teach with the language barrier but, by the second day, everyone is understanding each other. The way they learnt is miraculous. They are so delighted to be having the opportunity to acquire a new skill that they learn things in a week whereas most people would take six months. Hair Aid is a five day project that teaches people of the community how to do hair. They get a certificate, and it can change their life. One man we were teaching was a scavenger and this allowed him to go into his community and cut hair instead."
For Jaki, who had been to Bali and Thailand before, this was a life-changing experience.
"I know we are changing their lives immensely but it has changed mine more. I am a better person for doing this. You are there for two weeks, hit the ground running, and don't have a lot of time to reflect on what you are doing until you get back. You are not there for a holiday. We left at 8am, went to bcd at 5pm, later had a debriefing, meal, and crashed, ready for the start again the next day," said Jaki who has booked to go back in February. "Every six months Hair Aid goes back to the location; you get new recruits and old ones who want to update their skills. Hair Aid now has seven international projects a year, and does trips to the Philippines and Cambodia, Indonesia and Thailand."
---