By Andrea Louise Thomas
Croquet is not dead. Played in Victoria since 1914, today there are 92 clubs across thirteen regional areas with 2700 members statewide. Six of those clubs are in Frankston and on the Mornington Peninsula.
So the game is alive and well.
Croquet dates back to the 1850s with its origins in the UK. It's an intriguingly complex sport requiring precision hitting and strategic thinking. It attracts a cross-generational membership sharing in a fun and lively social sport. Croquet sprung up in Australia as a ladies sport because women were not allowed to play lawn bowls, as it was considered an exclusively male sport. This was true until the 1970s!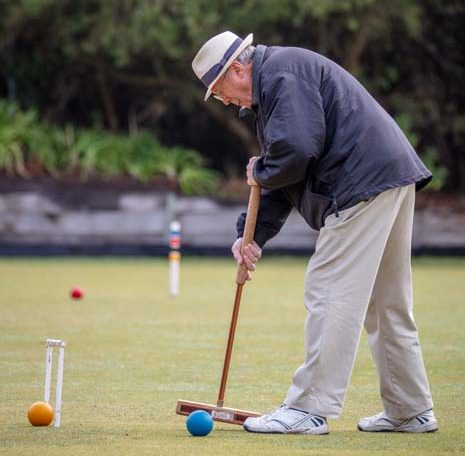 Nowadays, there are predominantly two kinds of croquet played: association and golf. Association croquet is the purists' game. Mount Martha's Briars Heritage Croquet Association play this type of croquet whereas the other Peninsula area clubs play golf croquet, which is the quicker-paced and more commonly played version of the game. They are, in fact, two very different games.
Either way, croquet is a very compelling game that is easy to learn, but hard to master. It is a bit like chess on a green. "It's a constantly evolving puzzle that requires the ability to solve that puzzle as it changes," says Robert Bennie of the Frankston Croquet Club. He plays golf croquet.
Golf croquet is a team sport. It can be played in singles or doubles. In doubles, each player has one ball and in singles, two. The object of the game is to be the first team to run through seven hoops. The balls are played in sequence. It's not just simply a matter of 'running the hoops'. This is where the tactics come in. "If my opponent is in a good position in front of the hoop, instead of getting into the hoop, I will clear my opponent as far away from the hoop as possible to put myself in a better position to run the hoop," says Bennie.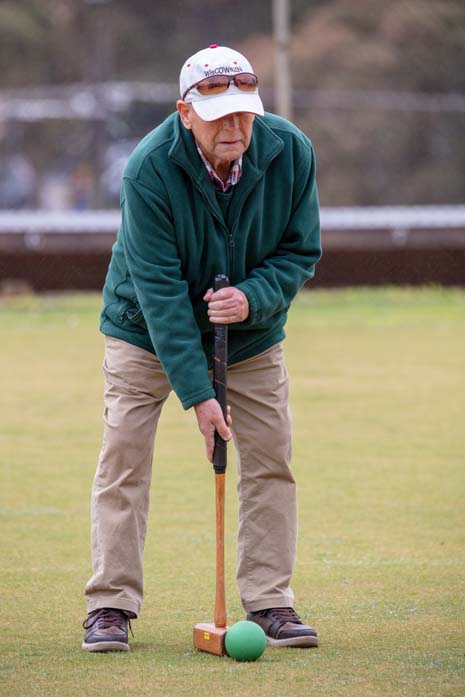 It takes about forty-five minutes to play a game of golf croquet with two teams on the court at all times. By contrast, association croquet has one player on the court at a time. In association croquet the object of the game is to get both balls around a course of twelve hoops in a set order, and finish by hitting the centre peg. It could take hours to complete a play as a single player dominates play until a mistake is made. The first team around the course wins. "It's a game that's a challenge. It's the most mind-absorbing thing I've ever done. You have to be watching all the time," says Rob Loutit of the Frankston Croquet Club.
One thing all croquet players say is that the game is totally captivating. "Croquet is all about intelligence. It doesn't matter whether you are young or old, male or female. It's about your ability to process information. It's a constantly evolving puzzle," says Bennie. It takes great concentration to play croquet because a player can't plan his/her next shot until the previous ball has finished rolling.
"When I go and play at a competition, the games are timed to forty-five minutes. In the time I'm waiting between games, an hour feels like an hour, but when I get out on the court to play and the bell is rung, I can't believe how quickly the time has slipped by," Bennie says.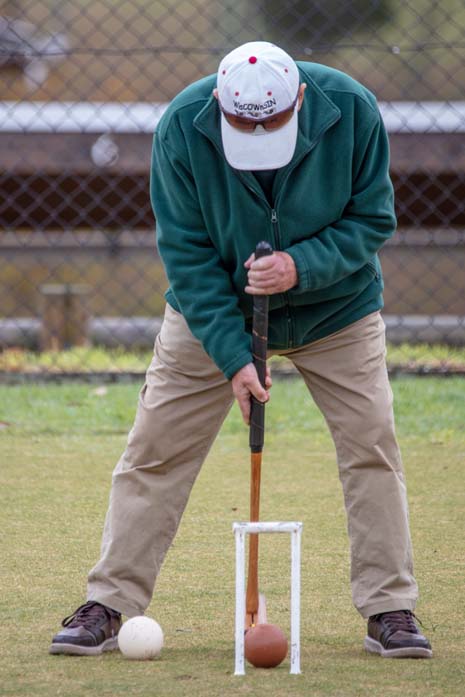 Association Croquet, while equally engrossing, is different in how it occupies the player's mind. It's a cycle of slow build up, making a mistake and then stopping. The player knows exactly what he/she is doing and the opponent must just wait. It's possible that if playing with a really good player, that the opponent may not get a shot at all. It's a game of patience generally taking about two hours to complete a game.
Anyone wanting to have a go would be warmly welcomed. Croquet has held its appeal for over 150 years. It's also a very economical sport. The equipment is simple and inexpensive. Membership to the Frankston Croquet Club is only about a dollar a day and a player can use a club mallet if he/she needs one. A quirky bonus to playing at Frankston is watching the resident pair of plovers strutting their stuff across the court. A sporty ornithologist can't go wrong at Frankston Croquet Club.
There are also clubs in Mornington, Mount Martha, Rosebud, Rye and Sorrento. All have enthusiastic players passionate about sharing their sport. So, why not have a crack at it?