By Andrea Rowe  Photos Gary Sissons
Seventeen-year-old identical twins Callum and Jackson McPartlane have struck quite the chord with music fans, playing songs that spread messages of kindness, empathy and resilience during tough times.
The talented duo perform acoustic pop, rock and country as a duo band 'Bo'Ness', and they aren't afraid to tackle important issues from their own lived experiences. Their debut single 'We Don't Need This Town', covers domestic violence, drawing on personal experience, and their journey to start a new live with their mother and younger brother.
Thanks to growing up as "tour babies" on the road with their godfather, country music artist Adam Brand, music was bound to feature in their lives. When their touring and merchandise manager mum, Sallyann, moved them from Whittlesea to Frankston in primary school years, they discovered guitar playing and harmonising, and "performing fast became something we were passionate about," says Callum.
The talented twins were soon busking in the Frankston Mall from age 11, before finding themselves on stage at gigs with their music idols, moving up the Spotify charts and appearing on TV as 2020 'The Voice' contestants.
"After The Voice everyone knew who we were; it was quite surreal. Coming out of it we were juggling gigs and school-work and constantly making choices about what feels right for us," Callum recalls.
"It certainly makes a difference with good people encouraging you; – we were no longer singing side-stage or just in the shower, and we're grateful," says Jackson.
"Growing up on the road we got to meet so many wonderful artists, and they were always quite protective of us. Adam Brand was very much a father figure to us, and we learnt so much from him on-stage and off-stage."
Both boys are graduates of the CMAA Junior Academy of Country Music in Tamworth, runners up for the Order of Australia Medal for their volunteer commitment to spreading the message about bullying and domestic violence. In 2018 they achieved the Wakakiri "People's Choice Award" at the national finals, and Best Junior Talent at the Basin Music Festival.
The talented duo is grateful for mentors who have opened doors to opportunities too. Their 2020 song 'We Don't Need This Town', was co-written with Lachlan Bryan at a song – writing camp, achieving Top 10 on the Country Music Charts in 2020 and encouraging conversations around domestic violence.
2021 had Bo'Ness playing gigs alongside their idols during the Red Hot Summer Tour in Victoria, ACT and South Australia and, closer to home, at Mornington's Country Music Festival. But when Australian rock legend Jimmy Barnes pulled them up on stage in the Barossa to sing with him, the boys said he made a "dream come true" for them both. Their perfect sibling harmony has been in hot demand. Their gig list and support act credentials feature Australian singer-songwriters Adam Brand, Vanessa Amorosi, Shannon Noll, Claymore, Cornell and Car, Carter and Carter, Amber Lawrence, Chris Cheney, Lyn Bowtel, Reece Mastin and they've written songs with Golden Guitar winner Lachlan Bryan.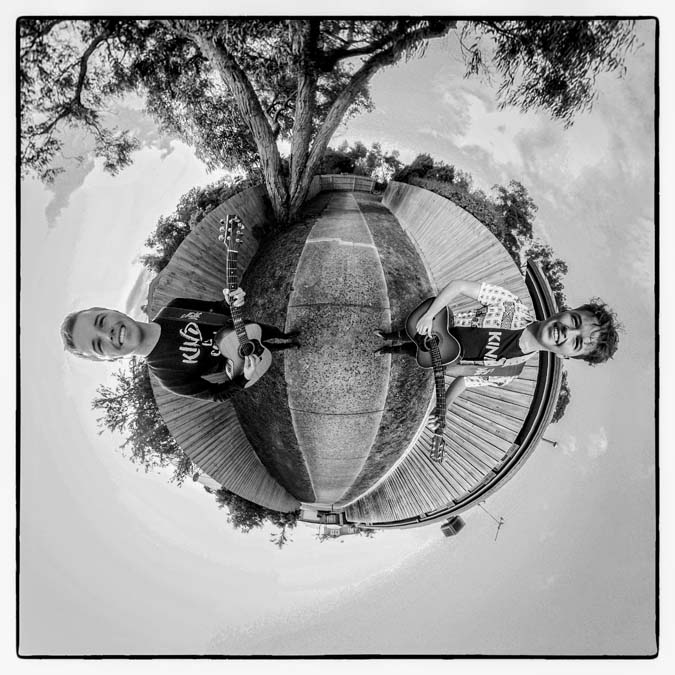 While music idols matter to the twins, family is most important. Their band name Bo'Ness, is a nod to the Scottish town their grandmother hailed from, their mother Sallyann supports their communications and touring schedule, and their conversations are peppered with how much they adore their younger brother Lewis who lives with mild cerebral palsy.
The boys are open to learning about their indigenous heritage, shared with them by their beloved Pop who was a Gunditjamara man from Warrnambool area who passed away in recent years. Jackson says they are "proud to learn more and to represent our heritage."
While their Nairm Marr Djambana Reconciliation Week Spirit Dreaming gig was cancelled due to snap lockdown announcements, the twins are looking forward to future gigs at the Peninsula – based gathering place.
The twins are just as dedicated to spreading the kindness word. Their trademark on-stage wear of 'Kindness' t-shirts complements their anti-bullying and empathy anthems, capturing the attention of audiences and campaigners.
"We were drawn to 'Bully Zero' and 'Kind is Cool' from the start and we're constantly sharing their messages'. The boys added that speaking about their own experience at the Frankston Youth Forum was one of their more nerve-wracking gigs, as they stepped out from behind their guitars to talk honestly about their experience of being bullied and domestic violence.
"We know as a family what it's like to experience this, and while we wish it never happened to us, we want others who might be in a vulnerable situation to know that it's OK to speak up about it. When we were kids, we didn't know what domestic violence was; we just knew our mum was getting hurt," said Jackson.
Their albums and website promote support services for others to access with messages for overcoming adversity and mental health wellbeing, this has been put into practise through their ambassadorial roles with 'Kind is Cool', and Peninsula based charity 'That's The Thing About Fishing' founded by guru Glenn Cooper, and work with youth mental health advocate Hannah Swinnerton.
"Our main message is to treat everyone with kindness, make time for others and always leave a smile. Keeping hurt and with worry trapped inside isn't healing" adds Callum.
While the boys sing in prefect harmony, and it's challenging for interviewers to make out voice differentiation during phone interviews, they do have some differences. Callum is left-handed while Jackson is right-handed, and Callum's known for his cooking skills, while Jacksons is attached to the guitar 24-7.
The brothers cheekily share "Mostly, we can't separate; we even sleep-walk together. It's a twin thing!" Their connection makes collaborating seamless. "One of us will write the song lyrics, and the other the chords. And sometimes we flip it around," reflects Callum.
While they're not your average teenagers, the brothers do maintain a schedule on par with their peers. "We're teenagers; we sleep a lot," jokes Callum. When not on stage or catching shut eyes, the boys share class time, studying VCAL / VET music and performance at high school, as well as focussing on business management.
Ask them about what success in their future looks like and they're rather humble about a touring musicians career spreading songs of kindness, empowerment and mental health. "Life is just a happier place if people are kind to each other; we're just happy spreading that message" shares Callum.
But they do confess to harbouring ultimate dream gigs of playing at an AFL gig or onstage at the Grand Old Oprey in Nashville. They say big dreams come true for big hearts, and these brothers deserve all that comes their way.
---
W: bonessmusic.wordpress.com
FB: facebook.com/BoNessmusic
Insta: instagram.com/bonessmusic
YouTube: Bo'Ness