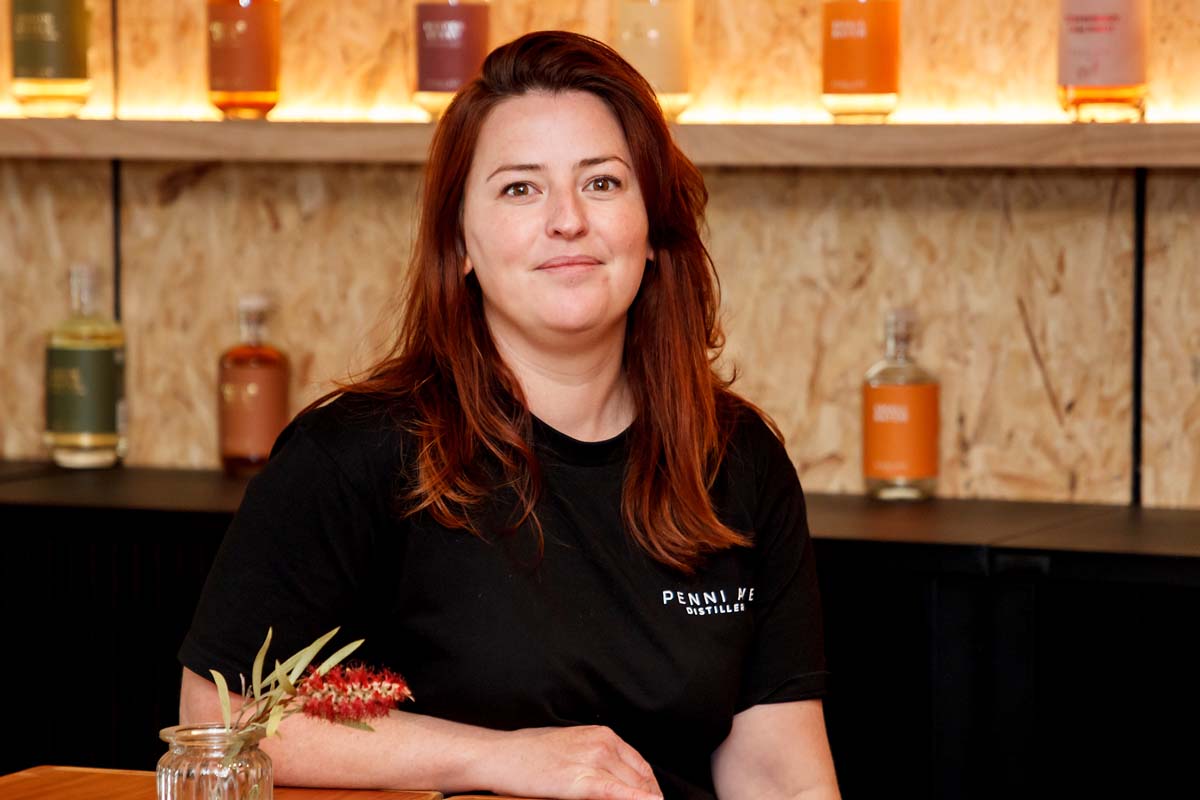 By Lilian Bernhardt Photos Yanni
After being made redundant while on maternity leave, Genevieve Sullivan was left to consider her next move in life. Seeking flexible hours to suit her new journey of parenthood, the hobby distiller decided to combine her passion with the hospitality backgrounds of her brothers Tim and Damien to create the family business Penni Ave Distillery.
Genevieve's love for creating new flavour combinations and her brothers dedication managing the venue has found the family success as one of few dedicated vodka distilleries in Australia, with a flair for botanicals.
The siblings decided to establish their business on the Peninsula out of love for the area, and what they saw as a need for more varied places for locals to eat and drink. "We thought it would be good to have an alternative space for people to go to that's quite relaxed and doesn't have the pokies or TAB," Genevieve said. The venue has a laid back atmosphere where locals can enjoy an informal dining experience, grabbing a bite to eat from one of their rotating food trucks along with beverage.
"We wanted to make something that felt welcoming and cozy, and wanted everyone to feel comfortable here. We keep a very relaxed and family friendly environment and are also dog friendly as long as it is on a lead," Genevieve said.
At the heart of Penni Ave is a community spirit and an appreciation for the local people and plants.
The venue was built and furnished with many recycled items donated by friends, family, and other venues, and decorated with the touch of painted murals by local artists. "We try to use as much local inspiration as we can," Genevieve said. They strive to not use any imported ingredients in their vodka, and locally source their food ingredients. Sea celery and salt bush is grown on site for their vodka flavour 16th beach, which is a tribute to the family's favorite backbeach, visited often as children and a testament to their admiration of the Peninsula.
Aiming to support local artists and musicians, the distillery hosts a weekly 'open mic' night on Thursdays where people are encouraged to listen and share. They are also hoping to host recurring art shows, and a possible Makers Market to create a space where local ceramists, jewellery makers, sewers and illustrators could set up stalls to be enjoyed by customers dropping in for a relaxed cocktail and shopping experience.
Originally planning to open their bar in March of 2020, their plans were thwarted in the face of a pandemic. Able to manufacture during lockdown, a positive was the ample time they were afforded to experiment with different flavours and botanicals for their five flavour vodka range before opening. This proved significant at the Australian Distillery Awards last month, where they won gold for the vodka flavour Wattle Seed & Burnt Honey and silver for the fan favourite Lemon Myrtle.
Native botanicals are the star ingredient of Penni Ave's vodka products which, despite being a large part of many First Nations diets for generations, remain unfamiliar to a large number of Australians. After tasting botanicals during trips to the Northern Territory, Sullivan was inspired to change this and give people the opportunity to try their interesting flavours by incorporating them into her vodka.
"I noticed that people would use native botanicals in gin, but you could never taste them over juniper berries which are very heavy in flavour and tend to knock everything else out. We decided we wanted to make botanicals the main focus because a lot of people haven't tried wattle seed in a drink, or lemon myrtle. Although they are pretty popular to use for cleaning, candles, and scents, they also taste fantastic and we thought it would be a good way to show that," she said.
All of the native botanicals from Penni Ave Distillery are ethically and sustainably sourced, and in Sullivan's perspective are not only enjoyable to drink but come with the added satisfaction of supporting a developing industry.
"Drinking botanicals helps with the Australian bush food economy. There is a growing demand for botanicals like lemon myrtle, kakadu plum and pepper berries. It is a really good way to help that industry grow and to use local ingredients.
It's also better for the environment because if it's growing here wildly it doesn't cost any more to make it. It doesn't need any more or less water or any more shade or sun, it's wildly growing making it a more sustainable product," she said.
Penni Ave Distillery first opened their bar in November last year, and enjoys bustling business when restrictions allow. You can try their botanical vodka combinations yourself by scheduling a tour of their tasting room, or stopping by for a cocktail. You might also spot them serving their cocktails or kegs on tap at a festival or event around Victoria sometime soon, as they begin taking their products on the road.
---
2/43 Peninsula Avenue, Rye