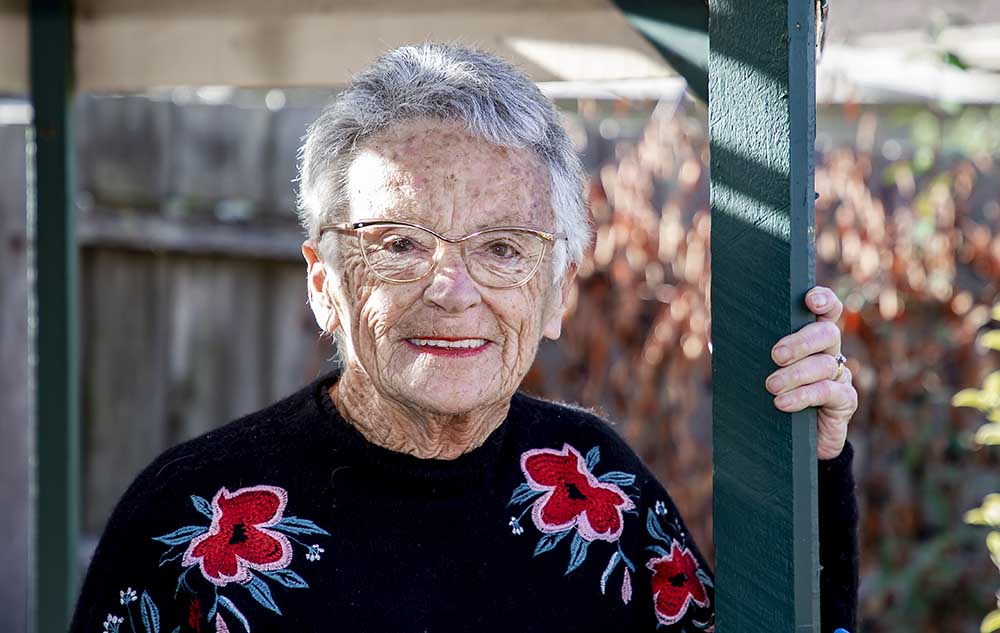 By Melissa Walsh Photos Yanni
It is 6 o'clock on a cold Saturday morning and Rye grandmother, Bev Parker, gets out of bed, makes a cup of tea and gets ready for her job as a marshal for the Rosebud Park run. This will be the 61st park run for the 73 year old, who loves every moment, and has already built a reputation for giving her 'Bev hugs'.
"I absolutely love doing the park run every Saturday. It has given me something to do again and I look forward to it every week," said Bev, who was introduced to the park run through her daughter, who does the park run in Berwick.
"My daughter said they needed volunteers and so I wasn't given much choice," she said with a laugh. "I thought I'd probably do one or two but I have ended up doing every one since, apart from when we went away for a couple of weeks."
The Rosebud Park run is a free weekly five kilometre event for runners of all standards, which takes place every Saturday at 8:00am in Rosebud Parade, Rosebud. It is not a race against other runners, but a five kilometre timed run and it can really be whatever you want it to be, whether that's for fun or as part of a training plan. It offers an opportunity for all the local community, male or female, young or old, to come together on a regular basis to enjoy the beautiful park and get physically active into the bargain.
"I have to be down at the Rye Pier by 7.15am for us to set up," said Bev, who proudly wears her bright orange volunteer top and wraps herself in gloves and scarves to keep the bite of the cold wind away. "I have done 61 Saturdays encouraging the fabulous runners, and four doing the tokens. It is like a little community; you get to know everybody and I feel like I'm part of a family.
"We have mums with their prams pushing little ones, who I make sure to high-five on the way through. And my Bev hugs have become a tradition already. I just think it's great to encourage people to be out there, getting fresh air and doing something healthy for themselves. And the other volunteers are just wonderful, with people from all walks of life and age groups."
Bev says people taking part in the park run can walk, jog or run and it's all about having fun.
"Taking part is easy. You just show up after you have registered for your first run and off you go. We start at Rosebud Parade, Rosebud, and the course is run on a mixture of asphalt paths and the timber boardwalk. We get a great gathering in Rosebud, even in the winter time and everybody has so much fun," said Bev. "Then we often go inside and have a coffee around 9.30 to finish off a great morning. We swap stories about the run that day and chat to other runners over a cup of tea or coffee and just be an important part of this new running community."
At 73, Bev says she never wants to stop doing the park run."I just love being out there, feeling like I am part of the community and needed in some way. It has added a social aspect to my life that I was looking for," said Bev, who has lived on the peninsula for nearly 20 years with her husband, Ray.
"We love it down here. It is such a close community where everybody says hello to you," she said. "And the park run is a bonus, with people bringing their children in strollers, running with their dogs, old friends walking along enjoying the morning and smiles for miles. I never want to give this up."