By Melissa McCullough  Photos Gary Sissons
The statement earring is back in a big way with bold, beautiful designs. Though the trendy style has been floating around on lobes of ladies for a couple of years now, fashion reports say that they will be 'hanging' around for a while longer, with the trend expanding into new looks embracing bright colours, asymmetrical design, organic shapes and materials, bold florals and the always popular animal prints and tassels.
Enter graphic designer, painter, and lover of fashion and accessories, Janelle Wood.
Self-confessed creative junky, Janelle says, "I've never been good at anything else other than being creative. It is an important part of being a graphic designer. It is my outlet. It is my therapy. It just makes me tick."
Having visited a local market one day, she saw an earring stall and thought they were really nice. So she bought a pair. She wanted to purchase more pairs, but her visionary mind took over and she thought, "I can probably make those."
And off she went.
After sourcing a few integral components such as polymer clay, which is used to mould the shapes of some styles of earrings, she started playing around with designs and the next thing she knew she had twenty pairs sitting in front of her. She posted about her new-found skill on her personal socials and her friends gobbled them up. She sold them all in an instant. From there she started to think that there must be something in this craft.
She came up with a name for her new business, JAX + RYD, after her two sons Jaxon and Ryder, and then let her creative juices flow.
To come up with the designs, Janelle does a bit of "googling" to keep up with what's on trend. She also spends some time researching products and details she can buy to add to the earrings to make them the standout of your outfit. The designs need to complement what fashions and colours are popular that season. "It's so important to have new designs coming out and not to go stale", she says.
"The most consistently popular designs are those showcasing leopard print and this trend is here to stay through winter. I also have pairs comprising black leather with silver and gold. Matte gold is coming back in a big way, which I know from working in the wholesale jewellery business for the past eight years. Silver remains a constant."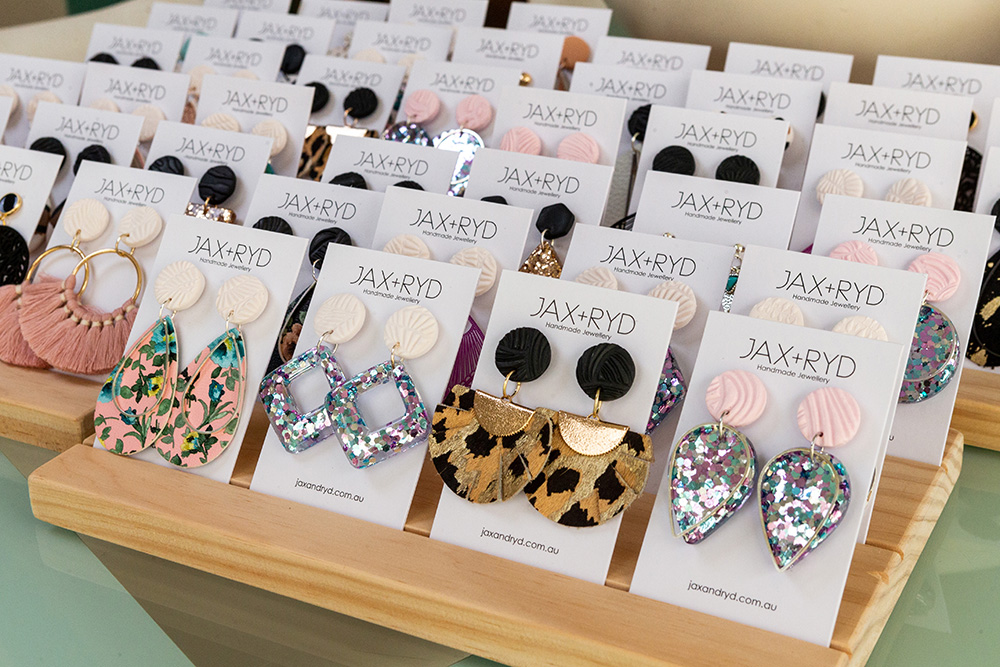 It takes 15-20 minutes for her to complete a pair of earrings depending on the materials. The clay earrings, which are often hand stamped, must be baked, which takes 45 minutes, and then put together.
Special orders are no problem. She recalls, "I recently had a customer contact me seeking a pair that I had made previously  but were no longer on my website. I just made them up for her." Think bridal party gifts and mother-daughter sets.
To grow the business, she created socials for JAX + RYD and friends continued buying them via direct messages. Soon after, she started getting messages from people that she didn't know asking where they can buy the fresh and exciting ear adornments. After a few cold sales, Janelle felt there was a market for her hobby-turned-business and it was time to expand further. The gorgeous JAX + RYD website, which showcases her entire handmade earring range in perfect, modern, flat lays, launched on 21 February.
Not foregoing her unique, handmade style, Janelle set up a Shopify account and built the website herself. She and a photographer friend are responsible for the gorgeous images and Janelle uploaded everything on her own.
She remembers the excitement of her first online sale fondly. "They'd seen me on Facebook and went onto the website and bought a pair. It's one thing when your friends are supportive and love your work, but it's another when a stranger loves your stuff. It's so rewarding!"
"I love that people love them and want to wear them. It makes you feel good to make something that you enjoy, and that the enjoyment spreads."
---
JAX + RYD earrings ship Australia-wide and come beautifully wrapped and boxed with care by Janelle, who also adds a couple of starburst candies to every shipment. Sweet!
A selection of JAX + RYD earrings is available from Evergreen Clothing located at 3/22 Watt Road, Mornington.