By Joe Novella  Photos Yanni
Pétanque. Ever heard of it? No, that's ok because neither has the vast majority of the population I'll wager. And yet, unbeknownst to me and possibly to a great many of you reading this story, we have a well-established Pétanque Club right here on our doorstep, in Moorooduc.
So, what is pétanque exactly? It's a bowling game that comes from a family of games called "boules" which include some more well-known variants such as lawn bowls and bocce. It originates in France where you are sure to find many of the locals playing it, from Provence in the south to Normandy in the north. It rose to prominence in the early 19th century and is now well and truly entrenched as the national pastime.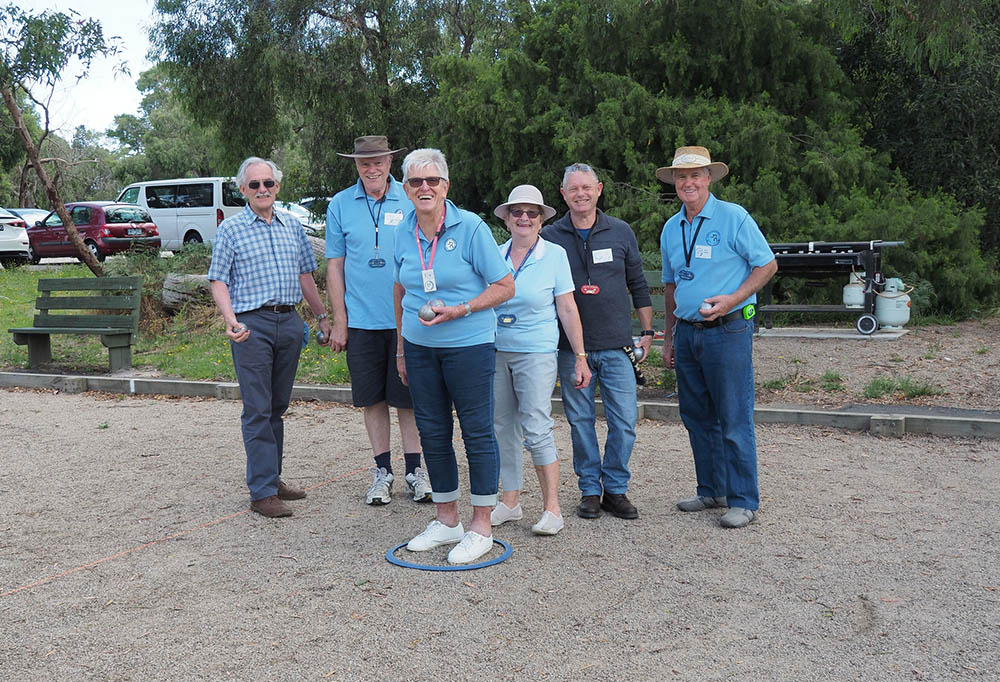 Perhaps, the last place you'd expect to find a Pétanque Club is in the rural area of Moorooduc right here on the Mornington Peninsula. How did this all happen I wondered? "The club was formed some six years ago by a small group of like-minded people," said Jim Crawshaw, President of the Mornington Peninsula Pétanque Club (MPPC). "Initially we played pétanque at the Dromana bocce club facility and then on other grounds throughout the Mornington Peninsula Shire until the Shire Council provided the club with a specific area at Moorooduc Reserve in Derril Road."
Pétanque, like bocce and lawn bowls, involves trying to get the "boules" – heavy metal balls – as close as possible to the "cochonnet" which translates into "little piglet" in English and is otherwise known as the jack. Players stand within a throwing circle that is created in a gravel playing area or "piste" and with their feet planted, they launch their boules towards the jack in a palm-down, back-handed, flick-of-the-wrist motion. Pétanque can be played in teams of three or in singles with each player getting three boules. Closest boules to the jack score a point and the first to thirteen points wins.
It all sounds a bit complex and competitive but Jim assured me it's neither, but then went on to add it can be both. "We are essentially a social club," he said. "We provide a relaxed atmosphere set amongst a beautiful rural setting where people can play, relax and socialise." Friendship, social activities and relaxation are important to the members of the MPPC; a quick look at the very full social calendar on their website says a lot about how the club sees itself and what it considers important. All of which is in keeping with the origins of the game in France where wine and cheese, gentle conversation and a convivial spirit were as much a part of coming together to play, as was throwing a boule. So, it's fortunate that the club enjoys an annual sponsorship by Dromana Estate!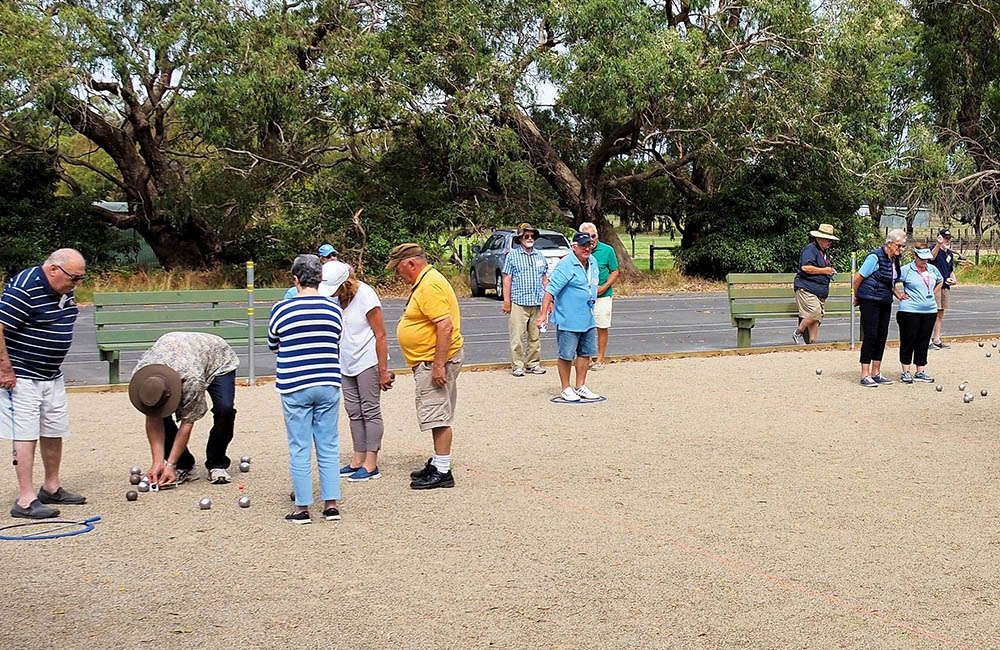 Not that it's all wine and cheese platters. "We have our own monthly club championship competition," said Jim, "and the occasional game with other clubs on the Peninsula. It requires quite a lot of skill if you want to be competitive but it's also a game that can be played by all ages and by all skill levels. It's even a great game for those with restricted abilities."
Talking to Jim you get a sense of how passionate he is about his club and how much he wants to tell everyone about it and make it as welcoming as possible. "The Club has a policy of allowing three free consecutive afternoons without cost," he said. "We want people of all ages and abilitIES to come and try this game and become part of our special place. Even for people without any experience, we have rule books available and plenty of support from club members that will help you develop your skills."
I get the feeling that it doesn't really matter how good you are or become at Mornington Peninsula Pétanque Club, what matters most is that you are part of a club that places emphasis on friendship and coming together through social occasions like BBQ's and drinks and nibbles. It seems to me a club that strives to make you feel welcome and included no matter your age or ability. And they even have a club anthem that is sung – chardonnay in hand I imagine – to the tune of Advance Australia Fair:
Petanquers all let us rejoice
For we have seven pistes.
With golden sands and gravel too
Our home is girt by trees.
Our games consist of nature's gifts
Of laughter, wine and cheese.
In Moorooduc then let us chuck
A boule or two or three.
In joyful strains then let us sing
Advance MPPC.
The club has recently been awarded grant funding and has undertaken an upgrading of its facilities to cater for increasing membership. They are especially keen to get more younger people playing the game including school groups. Game days are Wednesdays and Sundays 2-4pm, interclub competitions happen on the first Sunday of the month, and visitors are most welcome to all events.
---
To find out more about becoming a member visit their website at mornpenpetanque.org.au