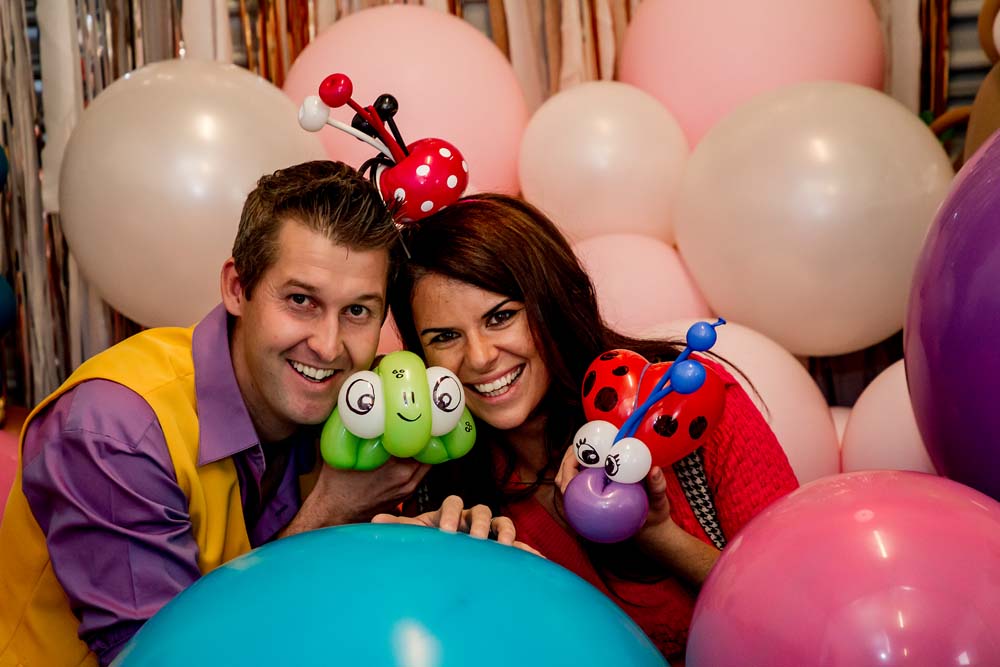 Photos: Yanni
They're bright and bubbly and full of life and a true example of a couple who have found their calling.
They are Trevor and Tammie Timmers and they make their living creating works of art with balloons. Peninsula Essence talks to the balloonologist couple about their business, 'Pimp my Balloons' and the hard work behind it.
"It actually all started about seven years ago when I started balloon twisting as a hobby," said Tammie, from their purpose-built workshop in Mornington. "It landed me jobs entertaining for kid's parties and corporate events, and I fell in love with putting smiles on faces, young and old."
Having discovered her passion for creating balloon art through birthday parties and corporate events, Tammie found her husband Trevor had an interest in it too, and the young couple decided to take the plunge and make it a full time gig.
"About 18 months after we moved the business to the Mornington Peninsula Trevor quit his full time job to join me in the 'Pimp My Balloons' adventure," said Tammie, of the business that has since won awards for the husband and wife team. "If we're not working seven days a week, we're teaching interstate or attending worldwide balloon conventions."
For Trevor, who had been working in real estate previously, the balloon business surprisingly came naturally.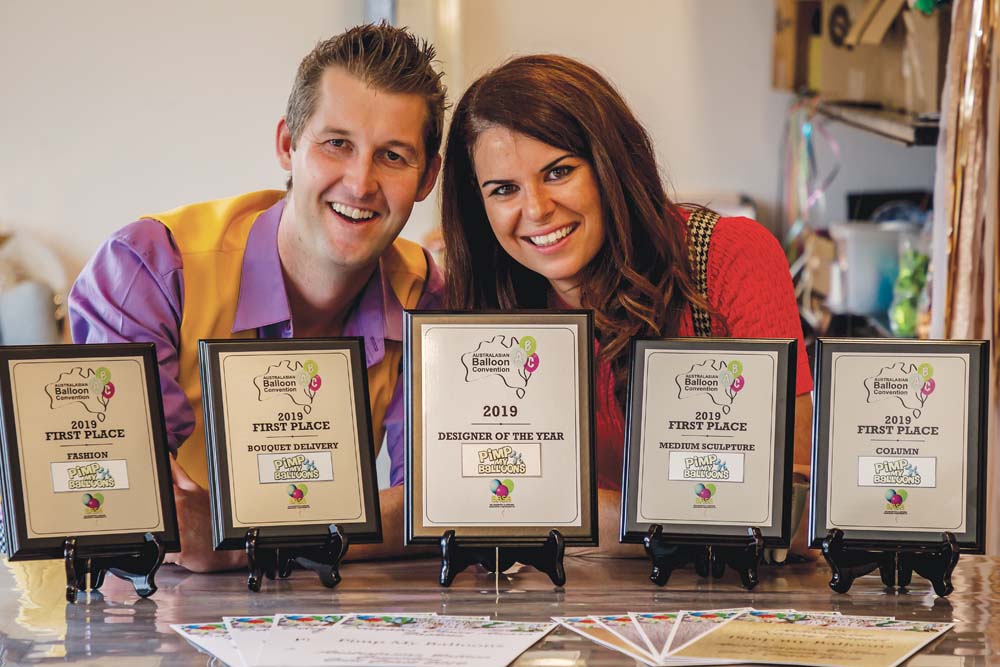 "I found we were actually the perfect team. Tammie is the creative one and will have a vision for a piece of balloon art, and I will find a way to make it happen," said Trevor. "We always say 'yes' to every request and I know there is a way to do it. Recently we were asked to create a Santa's sleigh out of balloons. I worked out a way to create the sleigh and make it perfectly safe for Santa to drive and sit in. We have now created incredible balloon sculptures for corporate events, weddings, special occasions and shopping centres, and are commissioned every year to do events like the Grand Prix."
Passionate about providing an exceptional experience for all of their clients, the Timmers have their heart set on making sure each event is their number one priority.
"I call Trevor my MacGyver because he just manages to make things come together. When I have a vision for something, he makes it happen," said Tammie.
"It really is something we are very proud of and our main interest is each individual client and making sure they get the best balloon sculpture or experience they can from us," said the couple who take their role very seriously.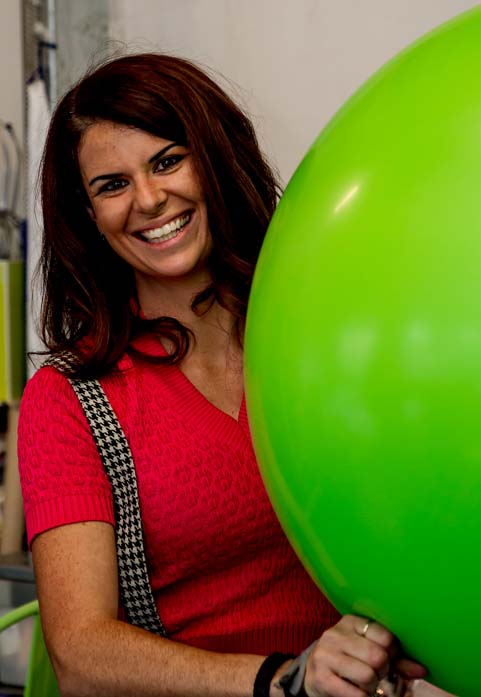 "It is so much fun, doing the balloon twisting, but it is also a serious business," said the couple who specialise in advanced balloon twisting entertainment and stunning balloon decorations. "We are proud of the fact that we push the boundaries of what is possible to create with balloons every day. Offering something very different than the regular wedding entertainer, our advanced balloon twisting will surprise and amaze all of your guests, from the youngest child to grandma and grandad."
A recent favourite for the couple was creating a walk around balloon character, Sully, who entertained shoppers in Mornington.
"We made Sully from the Disney film Monsters Inc and he was a nine foot balloon ball of fun," they said. "It took us about 15 hours to make him."
The pair have done hats for the spring racing carnival, balloon jungles, and even a balloon Lego man who ended up larger than they expected.
"We had to make him lying down and then discovered we couldn't get him through the door of the house, so that was the catalyst for building our workshop," they said with a laugh.
For the couple it is also important that they are committed to the responsible use and disposal of balloons.
"We are proud to be members of the Pro Environment Balloon Alliance. We protect the environment from unnecessary litter and do not support the release of balloons. We urge our customers and others to share our commitment by not releasing balloons into the environment," they said.
This year, Pimp My Balloons was awarded Balloon Designer of the Year, first Place Winner in Balloon Fashion, first Place Winner in Medium Sculpture, and first Place Winner in Balloon Fashion at the Australasian Balloon Convention.
"There is a whole world of balloon artists out there and we are so thrilled to have won all these awards," said Trevor and Tammie. "The business is growing and we will eventually find someone hat has the same passion and pride for balloons to help us with the workload. Until then, we will love every moment and never forget the reason we started is to make people happy."
---