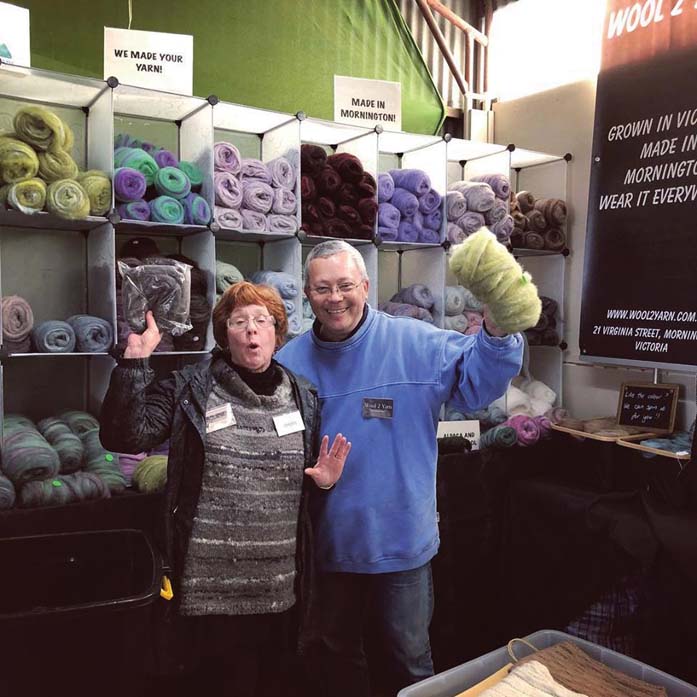 Alasdair Chew grew up around animals. The son of a large animal veterinarian in Scotland, the young lad always enjoyed talking to his father about his vocation but never expected to work so closely with animals until he came to Australia in 1995. Now Alasdair and his wife, Belinda, run one of the first alpaca farms in Victoria with a thriving factory shop and mill, and have done so for the past 23 years. Wool2Yarn uses wool from their alpacas on a farm in the Otways and has a factory shop and mill right here in Mornington.
"Funny thing is, I started out as a textile engineer back home in Scotland," said the effervescent Alasdair. "It was when I came to Australia I realised I needed to do something else. It turned out to be a blessing in disguise and my textile background came in handy with the alpaca industry. Dad was also able to offer lots of husbandry advice which was invaluable."
The Chews had a strong feeling that alpaca farming would be great in Victoria and soon set about to buy six alpacas and start their 100 acre farm in Red Hill.
"Belinda was born and raised in Beaumaris and we loved the peninsula so decided to settle down here," said Alasdair. "I set up a small pilot plant to process alpaca wool in 1999. It hadn't really been done at that point. We grew our herd to over 160 strong and then set up Australia's first micro-mill in 2003. Over the years we have expanded to process other fibres to meet the requirements of our customers and their wishes to develop unique products. We believe in the farm-to-yarn philosophy for those who wish to do more with their fibre and support a 100% Australian made product, traceable to the animal itself. We can tell by looking at it, which yarn belongs to which alpaca."
As the number of alpacas grew, so too did the idea for a further product range.
"We made yarn for a while, and are now expanding into a knitwear range, designed by us from the factory in Mornington," said Alasdair whose business and alpacas are thriving. "Alpacas are very low maintenance. They simply need water and food. Alpacas require similar fencing to sheep, preferably without barbed wire, and shade in each paddock. They are relatively disease- free, but like all animals they need to be monitored to ensure they stay in optimum health. They are vaccinated twice a year with the same vaccines as are used for sheep, and are essentially free from fly strike."
Alasdair and Belinda have always been hands-on with the business, running the trendy shop front which sells their products, to working tirelessly in the mill and workshop out the back.
"We can tell if an animal has been sick by looking at its fibre. It will break during spinning," said Belinda. "The equipment we have here includes the spinning machine, the de-hairing machine which removes scratchy guard hairs from the fleece, the carding machine and a range of different brushes to order the fibres."
Environmental awareness is a priority for the couple who ensure the carbon footprint of their alpaca fibre is incredibly low.
"We are careful to look after the environment, with a non-toxic scouring system, and by not carbonising or chemically treating the wool with products such as 'super wash', we are able to achieve minimal environmental impact. We offer a truly local, Australian- made product, grown and made on the Mornington Peninsula," said Alasdair. "Our mill is one of the very few in the world in that we are able to say that we process our garments in one place; thus our new range farm-to-fashion."
---
Wool2Yarn is at 21 Virginia Street, Mornington