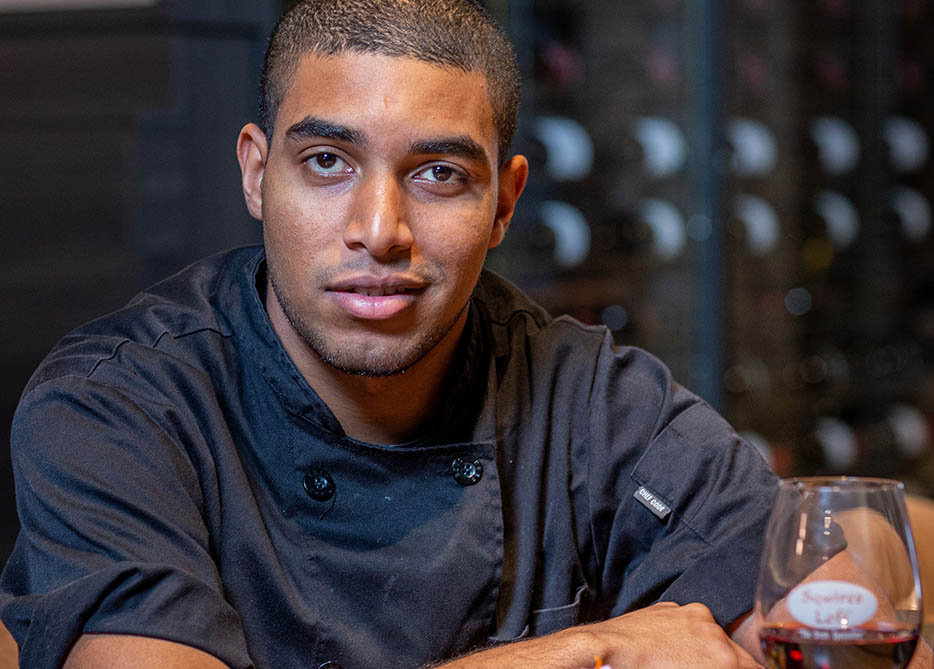 By Andrea Louise Thomas Photos Gary Sissons
Becoming a chef was a natural choice for Darel Boodhna. He comes from the tiny East African island nation of Mauritius in the Indian Ocean. Fresh fish and tropical fruits were plentiful in his diet as a youngster and he learned to savour fresh flavour. Mauritian cuisine has many influences from Indian and Creole cultures to Chinese and French cuisine. It refined his palate.
Darel grew up in a family where everyone cooked. His father was a chef. "I learned how to cook with my Dad," he says. His mother was also a wonderful cook. Much of the family time revolved around the enjoyment of mealtime. He started working in restaurant kitchens at fifteen.
When he was twenty-four, he decided to leave Mauritius for a work opportunity in Australia. His brother-in-law managed Mornington restaurant, Squire's Loft, and he went to work there. While he is still completing his commercial cookery course at Sunshine College, he has gained a lot of food knowledge from his training at Squire's Loft headquarters in South Yarra.
Darel spent two years perfecting the process of making the perfect steak on Squire's Loft's custom-made restaurant grills. A lot goes into making the perfect steak – the cut of the meat, the marbling and feel of it, and the precise grilling temperature. Their special grill fires up at 400-450 degrees, so timing is critical.
When new owners Siller and Deb Bello took over the restaurant, they really shook things up. They got rid of five of the seven chefs, but chose to keep Darel because they were impressed by his incredible passion for cooking, eagerness to learn, work ethic and dedication. "I love cooking. I feel proud when I give the customer something they enjoy," Darel says.
Making sure the customer is happy mirrors Siller and Deb's whole approach to the restaurant.
"My model is created from the customer's perspective. Everything we do is to please the customer," Siller says. Every week the entire staff sits down to debrief. They read the customer reviews from the week and see how they can improve on the dining experience. Every reviewer is responded to.
Siller and Deb took great pains to consider every aspect of the dining experience. They wanted the décor to feature earth tones so they had all of the benches and chairs upholstered in soft premium brown leather. The tables are custom made from Australian hardwood with beautiful grain. The walls are adorned with warm vertical timbers and sleek black subway tiles.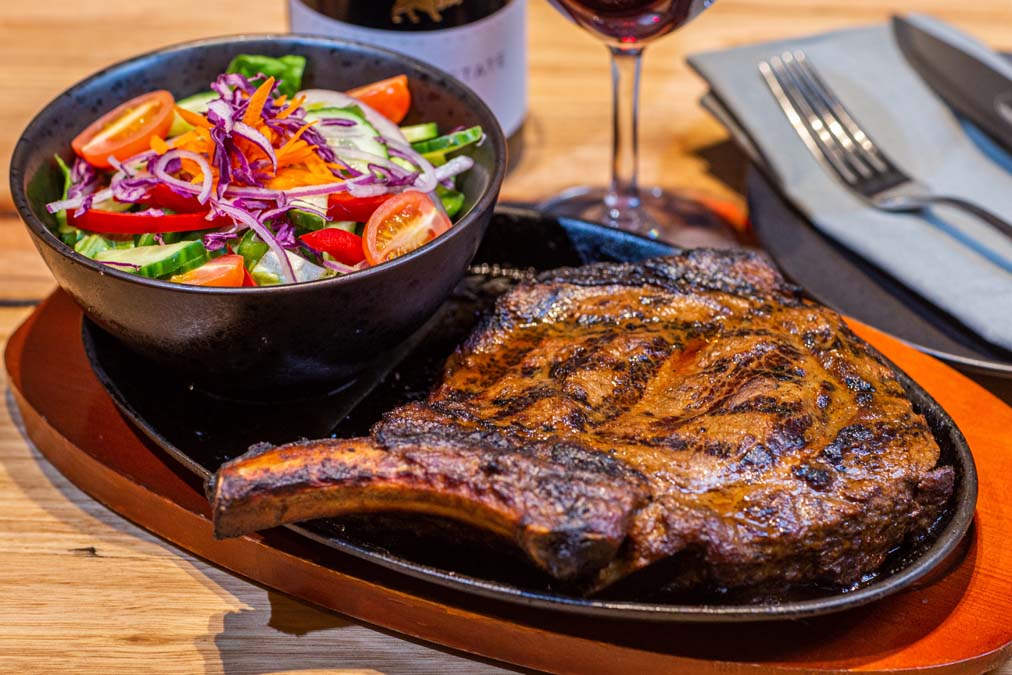 What makes Squire's Loft's food distinctive is the mouth- watering flavours of their proprietary baste and sauces. The baste is South African because the restaurant chain was founded by three South African brothers. Whether it's premium steaks, smoky ribs, lamb loin chops, chicken breast, boerewors sausage, calamari or tiger prawns, the flavours of the baste and sauces permeate the meat. Customers can also buy the baste to use at home.
Siller and Deb had a unique challenge when they bought Squire's Loft. They took ownership in February 2020. Within weeks, lockdown began. At first, they weren't sure they could make a go of it as a take-away restaurant because they weren't sure the food, especially steaks, would travel well. They did many trail runs to determine how far they could go and still provide a perfectly cooked hot meal. They set up a parameter of twenty minutes and orders were flying out the door.
Now customers are delighted to be dining in. The restaurant is so popular that in order to get a weekend booking; you have to book two or three weeks in advance. Every night is heavily booked as they have a lot of regular customers and new ones are arriving all the time.
Originally Siller wanted to focus on Mornington Peninsula wines. An extensive range is available, but he also found that a lot of people from overseas were visiting and wanted a taste of home, especially during lockdowns. Now a range of premium wines from all around the world is on offer. They partner particularly well with the super premium Chairman's selection of steaks. Cocktails are also a strong offering on the comprehensive drinks menu.
Whether you're choosing a burger with a signature Peruvian chimichurri sauce or a steak with that tasty South African baste, you are sure to get a burst of unique flavour with anything you order at Squire's Loft.
Squires Loft, 104 Main Street, Mornington
P: 5976 8482

W: squiresloftmornington.com.au