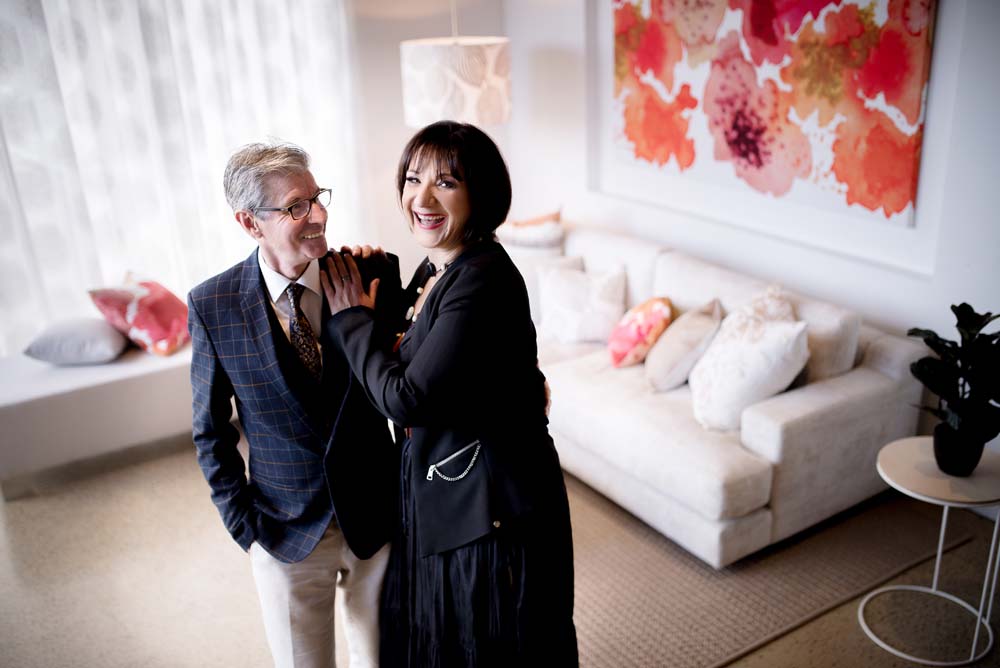 There's something intriguing about Gerard and Cynthia Walsh, the stylish couple of Sorrento Furniture who seem to hold the secret to a fun and adventurous life. Gerard is dapper as always in his tailor-made suits, pocket handkerchief, slick backed hair and immaculately polished shoes, while Cynthia is effortlessly chic with an eclectic style that reflects an unmistakable chilled out nature. There is nothing false about this couple, who run the immensely successful Sorrento Furniture. They love good champagne, nice cars, and travelling the world. They create stunning pieces of furniture for their clients and spend their life surrounded by beauty, and you would be hard pressed to meet a more down to earth pair. Peninsula Essence talks to Gerard and Cynthia about family, business and their secret to a happy life.
"I started out as at 15 years of age as an apprentice upholsterer," said Gerard, whose eye for design, love of colour and form turned out to be the perfect combination for a lifelong career in custom designed furniture. "The love of furniture design was in my blood as I am a third generation furniture maker and have passed it on to one of my sons as well."
While the Mornington Peninsula couple enjoy the finer things today, they certainly didn't start out with a charmed life but are proof that hard work and a good attitude pay off.
"I met Cynthia when she was just 17. I had been working as an upholsterer for many years and a mate asked me to drive him and some friends to a disco," said Gerard who was 23 at the time.
The young couple married and bought a house in Dandenong where they started their first furniture upholstery business from their garage.
"It was so tiny but it was important to us to start our own business together," said Cynthia and Gerard, who have now been married for 34 years. "Gerard would work during the day and then come home and do his own upholstery jobs from the garage. Before we knew it, we bought a little factory in the main street of Dandenong and we were on our way."
While Gerard did the upholstery, and then began a custom furniture design business, Cynthia found her place as well, with a natural eye for design and style that helps customers bring their furniture ideas to life. These days, Sorrento furniture is the experts at handcrafting any solution to suit your furniture needs from their factory and showroom in Mornington.
"Our design process is all about you. We harness your ideas and focus them to create custom furniture instilled with your vision for your living space. Built with the finest attention to detail by expert craftsmen, we take pride in our work, and guarantee your final piece will be an enduring addition to your home," said Gerard and Cynthia.
Built with ethically sourced and environmentally sustainable materials, every Sorrento Furniture lounge setting or furniture restoration is completed using high-quality materials, hardwood timbers and durable fabrics that are designed to last.
"So far it has been an amazing life but we believe that whether we have had good times or bad. We look back with no regrets, and appreciate the difficult times when we look back," said the couple who have faced their challenges in business. "We bought Sorrento Furniture eight years ago and at the same time were taken for a lot of money in our other business. We had to sell the house and the factory but were determined to pay off all the people we needed to. That was very important to us. For those two years, we lived on a tight budget and only went out one night a week to the Glenn where we could have a cheap meal and get a free Slurpee and Chinese tea."
A good work ethic and treating people with the same respect they would like is the key philosophy for Gerard and Cynthia in life and in business.
"We have had a really good life with the businesses we have had, but giving back and helping people is the most important thing," said Gerard. "That is what I really want to do, treat customers the way we like to be treated. It is very easy when things are going right but it is so important when things are going wrong to have the same level of service and hospitality. When something goes wrong, we work out how to fix it, and that is a philosophy that is very close to my heart."
Cynthia says that to be successful it is also important to take advice from other people.
"Don't be afraid to get information from other people, take advice and help from people in the know. You need to get your information from any source that might help you," she said.
As for their joie de vivre, the couple says it is important for them to always try and step out of their comfort zone.
"We do different types of holidays now where we travel somewhere that takes us out of our comfort zone. Recently we have done motorbike tours through Vietnam and Sri Lanka, eaten off food carts and dined with the locals," said the couple who are grateful for every experience.
"We did a pitch black dinner in a Vietnamese restaurant called 'Noir' where you ate in total darkness and it was all about taste and not sight," laughed Gerard and Cynthia, who never take themselves too seriously. "Gosh we had a laugh and realised we don't know what we were eating but did discover we can't tell the difference between red and white wine."
Whether designing lounge pieces for clients, overseeing the commercial upholstery business, travelling to unchartered countries, or babysitting the grandchildren, Gerard and Cynthia have a knack of making every moment a celebration.
"It's important for us that everybody is treated well and every experience along the way is a good one."
---
Sorrento Furniture is at 10 Bennetts Road, Mornington
Phone 5975 0344