Imagemakers design and selection studio in Mornington, has been helping locals with their design needs for 15 years. The space is a fabulous place for clients to discuss their projects, select from an extensive product library, and view a wide range of products on hand.
'The woman behind the business', Debra, is a local interior designer and attributes her personal life's journey to leading her to a successful career as an interior designer, taking pride in helping her clients to achieve their dream home.
From a young age she has travelled around Australia and the world visiting unique and wonderful places full of colour, architecture, ancient ruins, museums and diverse cultures; These amazing experiences adding to her passion for life's diversity.
With her husband Stephen, who works in the building industry, they started their first full renovation of a single fronted period home in the inner suburbs of Melbourne. This ignited her passion for interior design and construction. They renovated again while living in Noosa and on their returning to Melbourne they decided they wanted to live on the Mornington Peninsula. There is more on Debra's journey on their Instagram page.
During these unprecedented times, Imagemakers have successfully been able to adapt their consultation process using different forms of technology continuing to work on designs for bathrooms, kitchens, space planning and mood boards.
Now is a great time to kick start your plans with Debra's help, so make your consultation appointment today
p. 0408 386 160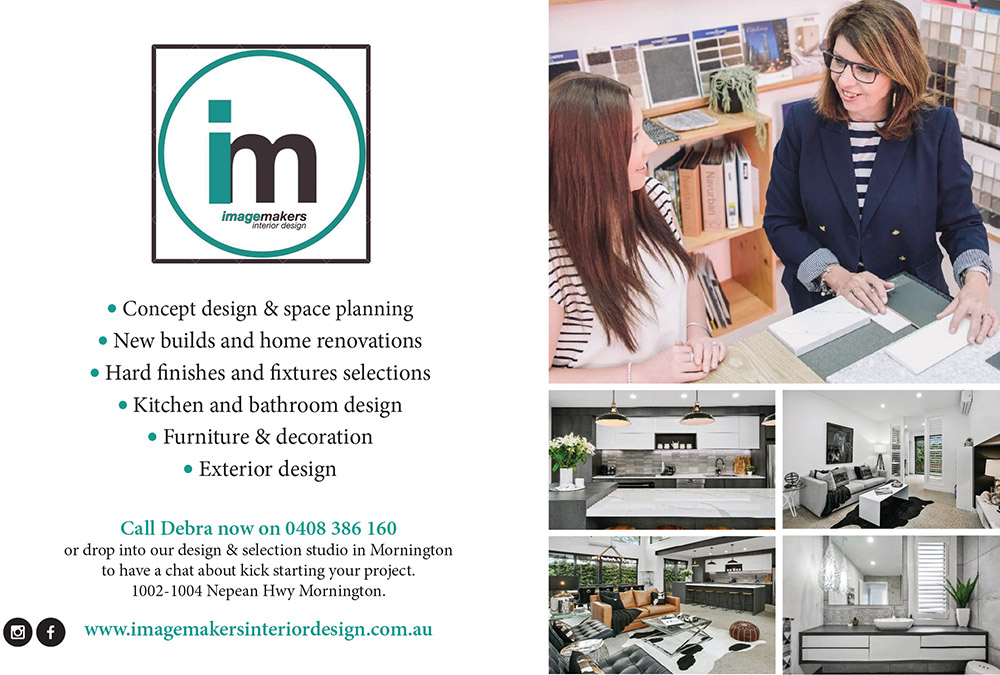 Peninsula Essence, Your Home & Garden Feature – October 2020