By Andrea Louise Thomas Photos Yanni
Three friends, Rob Ivers, Gary Miller and Darren Minchin are united by their passion for surfing, their love of timber surfboards and the craftsmanship that goes into making them. They teach wooden surfboard making workshops in their purpose-built indoor/outdoor workspace in Mount Eliza.
Innovation and idea sharing have been key ingredients in designing what they now consider to be ideal surfboards. In addition to being naturally beautiful, the boards they craft are light, durable and eco friendly. Many years of trial, error and critical thinking have gone into the process.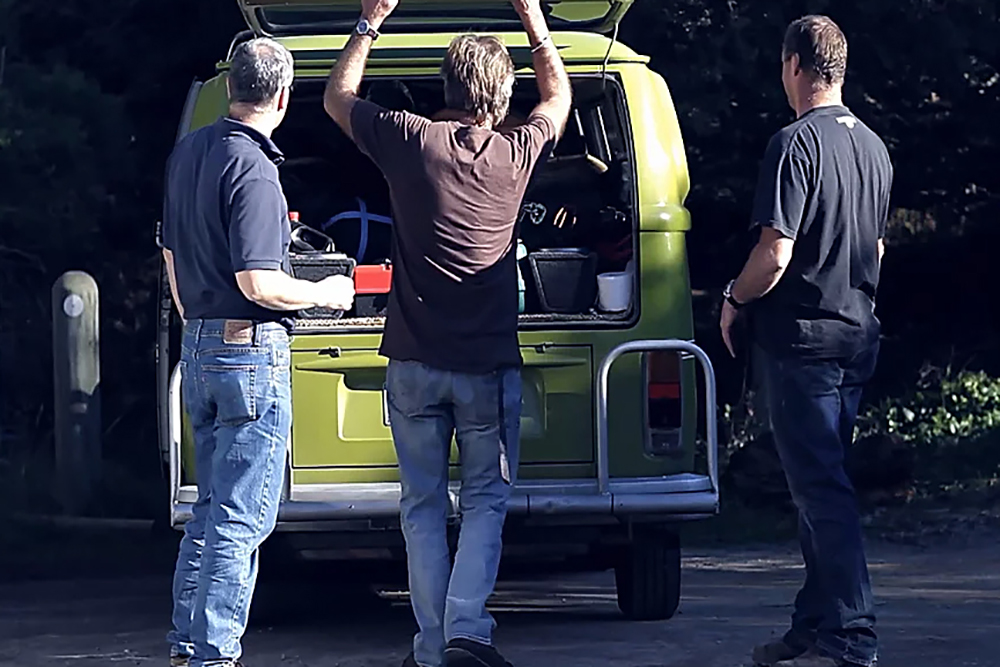 It all began ten years ago when Rob met American, Rich Blundell, pioneer of the wooden surfboard making workshop and founder of Tree to Sea in the USA. Shortly after that, Rob met Gary through a mutual friend. The two of them talked about bringing the workshop idea to Australia.
So they invited Blundell and it was with him that they taught their first workshop. It was hugely successful. Their subsequent workshops filled fast. When Blundell returned to America, Rob and Gary made an agreement with him to use the name Tree to Sea.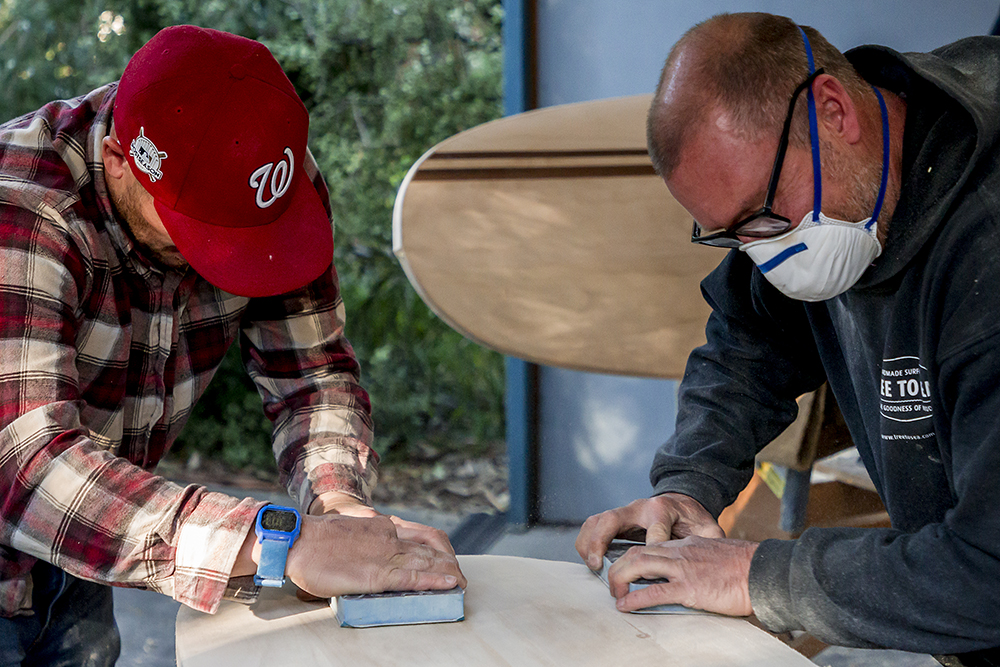 The team crafted surfboards using Blundell's original template of the hollow wooden board with fibreglass coating. Their boards became further refined when Rob and Gary invited carpenter Darren to join their team. His expertise as a carpenter took their workshops to another level.
They continued to refine and innovate their boards. What they really wanted was to create a more environmentally friendly product. That meant not using fibreglass. They spent years researching, developing and testing an altogether new method of construction. In 2017, they made a breakthrough resulting in what they call the ECO board.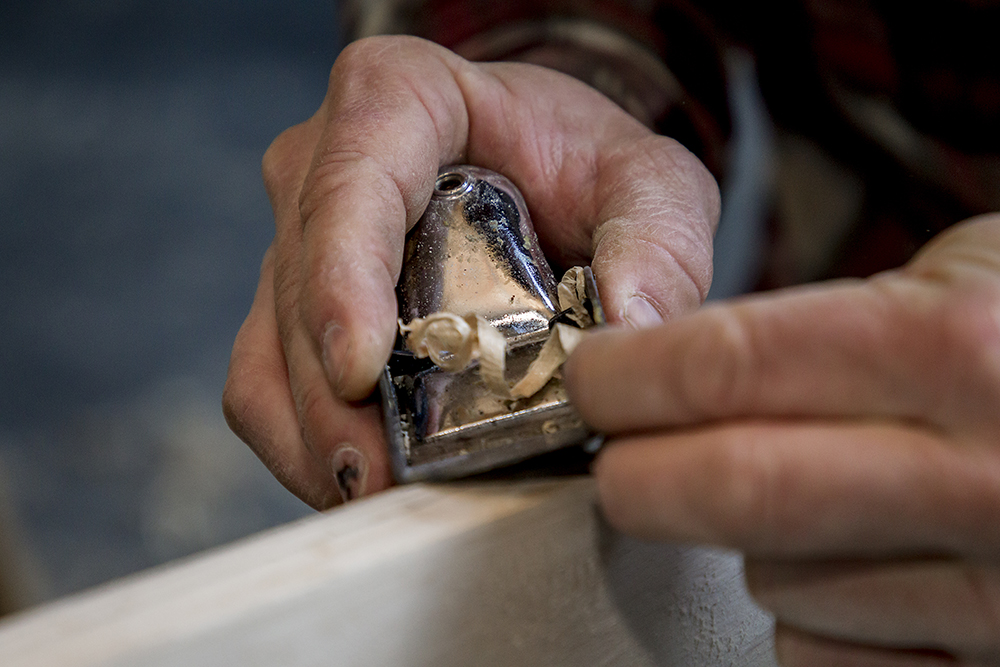 Their ECO boards are made using a sandwich design. Inside is a pre-shaped recycled polystyrene blank and outside is lightweight plantation timber. Each board is one of a kind as each piece of timber has it's own unique grain pattern. This is what the team at Tree to Sea love most – the natural beauty of the wood.
"When surfboards were first made, they were all timber. We liked the legacy of the timber boards from California and Hawaii. We wanted to stay true to the surfboard's origins – surfers making their own boards," Rob says.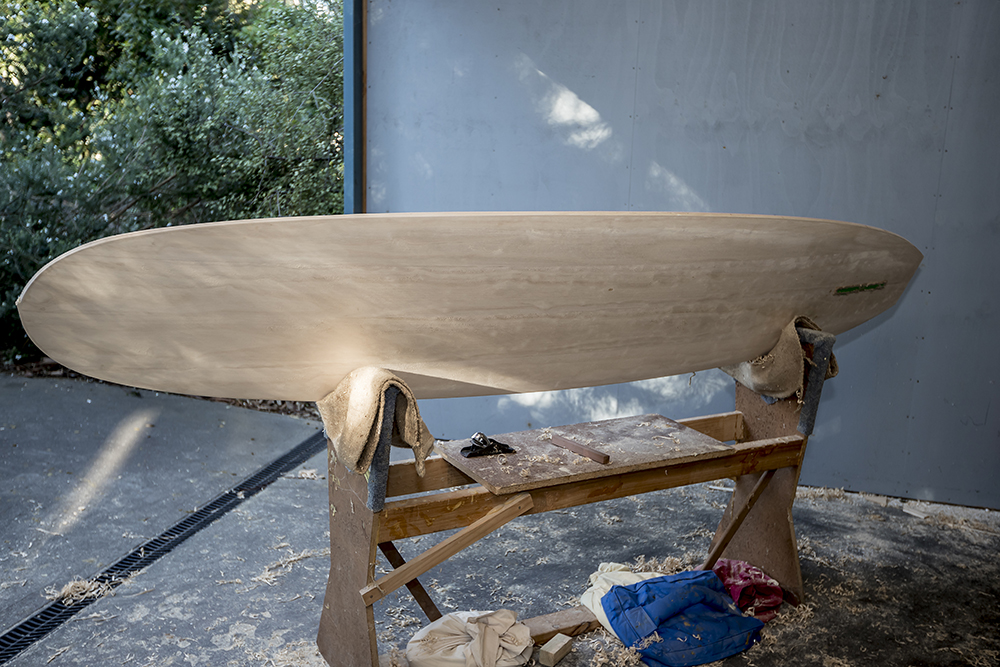 Timber from the Paulownia tree makes their boards light, durable and beautiful, but better yet, the timber is sustainable and sourced in Australia. The Paulownia is also known as the Phoenix tree because when it is felled, another will grow in its place in an endless cycle of renewal.
There is virtually no waste in the manufacture of Tree to Sea surfboards. Their foam blanks (cores) are made in Melbourne. Off cuts are recycled to make new blanks. Every aspect of their surfboard making takes sustainability into account.
Tree to Sea surfboards are strong and renewable. "Because of their strength, ECO boards are hard to 'ding'. Our boards are long lasting. If a board is 'dinged', it can be easily repaired," Gary says. The boards are finished with Australian made marine varnish and don't deteriorate. The strength is in the timber and the construction method.
As enduring as the boards themselves are the friendships made and bonds built at their workshops. People of all ages and backgrounds come to make surfboards with Rob, Gary and Darren. Something about making together creates a real sense of camaraderie and community that has proven to be enduring.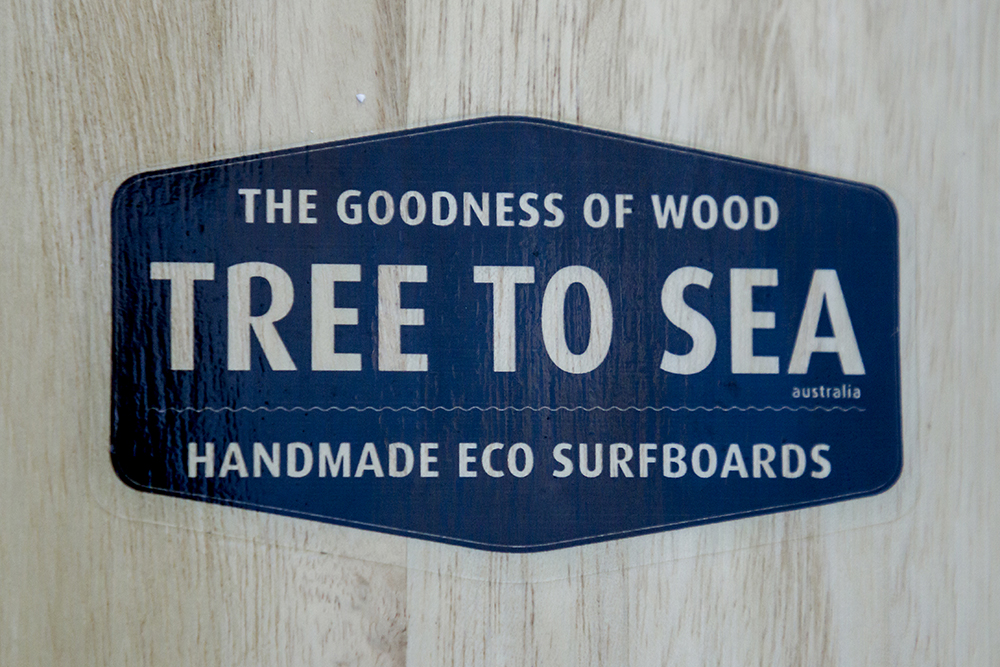 Making is therapeutic. Crafting something by hand is absorbing, deeply satisfying and can be said to have healing benefits. The team have worked with participants with a range of disabilities and with disengaged youth to learn skills, find healing and satisfaction in making. Now they are in discussions with returned soldiers from the Australian Defence Forces struggling with Post Traumatic Stress Disorder.
It's a pleasure to surf on a handmade board, but even better to have made it yourself. Because the boards are made from scratch, they can be made in almost any size, shape or length customised to suit each person's needs. Makers can even adorn their boards with original artwork before varnishing them.
Not everyone has the time or inclination to make a surfboard. At Tree to Sea the team can also custom-make boards for any type of surfer from beginner to expert. Having lived and surfed on the Mornington Peninsula all their lives, Rob, Gary and Darren know how to make the perfect surfboard.
---
To book a weekend workshop or order a surfboard, visit: www.treetosea.com.au