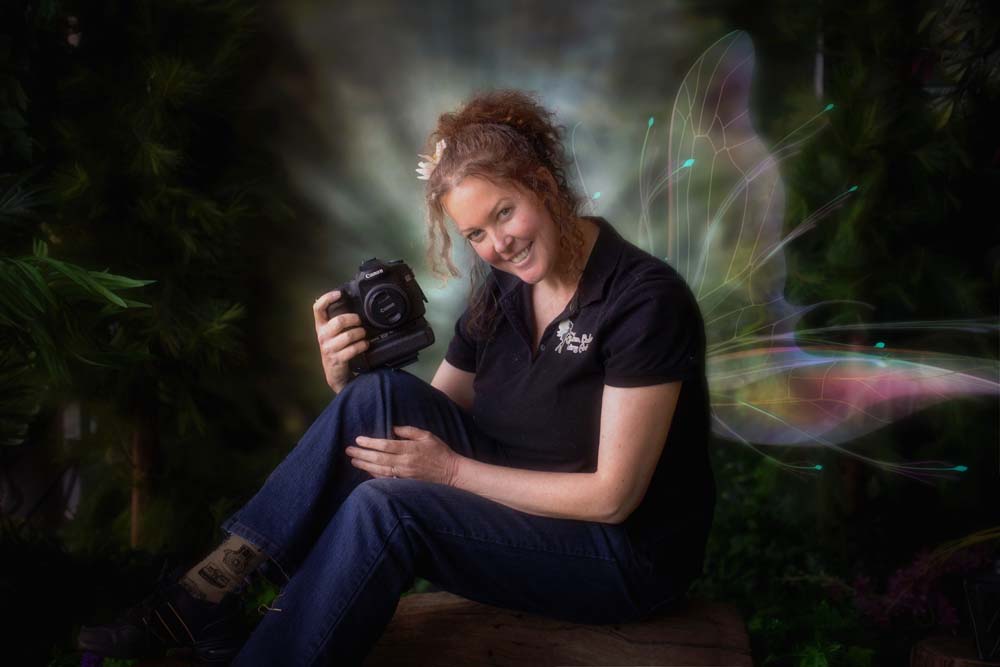 By Erica Louise  Photos Gary Sissons and Kelly McDonald
Frankston based storyteller and award-winning photographer Kelly McDonald has the magical ability to transform mortals into mythical beings, with a wave or two of her digital fairy wand.
A former kindergarten teacher, performance artist and a published author, Kelly started Garden Babies Fairy Art in 2013 and her work is now widely recognised.
Garden Babies Fine Fairy Art and Photography is a magical studio in Seaford. Kelly welcomes families into her carefully curated space to capture unposed images using her own uniquely designed backdrops and sets. Although the real magic begins after the photography session when Kelly sprinkles her fine art fairy dust onto her clients' selected images using digital software. This magical process transports people into fantasy scenes, where they become fairies, mermaids, dragon trainers, vintage paintings and unicorn riders.
Kelly's unique art is self-taught. She came up with the concept when her children were little.
"I had this idea. I wanted to mix my playful style of kinder teaching with my art and love of fairies and magic," says Kelly. "But I also wanted a job that would fit around my primary role as a mother of two."
While overseas, Kelly taught herself the digital skills needed to craft her work. She then gave herself a few months, painting a backdrop and collecting props. Fast forward six years and Kelly has moved to a studio away from of home and earned multiple accolades for her work. Her most recent success was at the 2019 Style Pose Click Melbourne Event where she was awarded the Winner for Creativity in the "Find a Photographer Awards."
Kelly describes her work as picture storytelling. Clients are attracted to her unique style after following her work on social media or finding her online portfolio via her website. They then ask her to craft personalised imagery to match themes synonymous with Garden Babies Fine Art and Photography such as wizarding Potter-esque shoots, imagery inspired by vintage paintings, or magical Christmas scenes complete with Santa and his reindeer.
But adults also love being digitally transformed into mermaids, fairies and mythical beings. "I find that the ladies who do book in are empowered by the process," says Kelly. "I don't use Photoshop to manipulate features; instead I use shadow and lighting to enhance my subject's attributes."
Nor or it just women who enjoy the transformations."My bookings comprise of around 60% more boys than girls, mainly because there is nothing else out there like what I do."
Since Kelly started Garden Babies Fine Fairy Art and Photography, other photographers have arrived on the scene offering similar packages. However, Kelly's soft, whimsical, storytelling imagery remains consistently unique to her Fine Fairy Art style.
The lead up to Christmas is her busiest time of the year. Not only because so many clients wish to gift their families with Kelly's beautifully curated, personalised art but because she also volunteers at the Monash Hospital for the Christmas Wish Project. This wonderful initiative captures children in hospital during a visit by Santa. Kelly and a group of other digital magical elves then work rapidly to visually transport images of these sick children to a magical land, away from hospital beds, monitors and IV lines.
Kelly's work is now so widely regarded, she is sometimes sent pre-captured images from afar to work her magic on. Some clients have also travelled long distances to work with her, because they have heard of Kelly's reputation of being a playful, child-friendly photographer.
"I don't say to children 'Don't touch anything.' They are free to move around as much as they want to. My only rule is not to climb the ladder or touch the camera. It's about the experience for the kids, the photos are the bonus."
Kelly's Garden Babies Fine Fairy Art and Photography studio in Seaford is open every day, by appointment only. Clients receive approximately 200 digital images shared via a mobile phone app and choose their preferred images for Kelly to weave her magic on. The process takes approximately 25 working days for a client to receive their finished magical masterpiece.