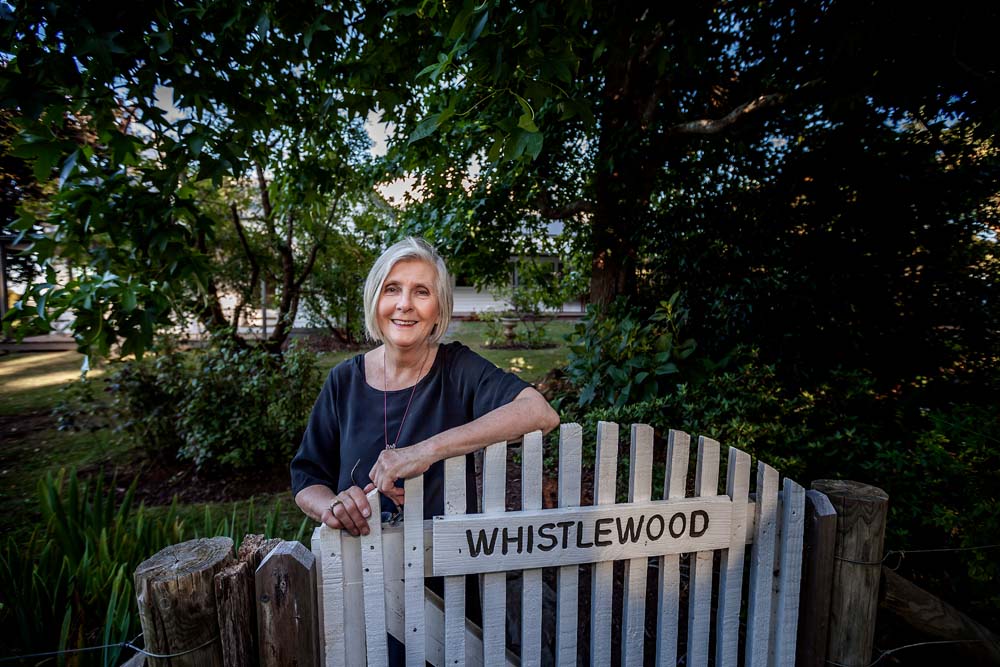 By Brodie Cowburn  Pictures Yanni
The property Whistlewood in the hinterlands of Shoreham has a rich and storied history. Built in the 1870s by the Tuck family, the house has belonged to the McCulloch family since the early 1950s. The McCullochs have an extensive art background and so the property has served as a home for artworks by all sorts of respected and revered artists.
"My father was a well known art critic, the founding director of Mornington Peninsula Regional Gallery and the author of the first edition of the Encyclopaedia of Australian Art. He was a critic for 60 years in Melbourne and internationally and was instrumental in building the careers of many famous Australian artists of the 20th century," said Susan of her late father Alan McCulloch, AO.
Some of Susan's earliest memories are of being surrounded by art on lecture tours with her parents and having artists staying at Whistlewood – such as Arthur Boyd who designed and helped build Alan McCulloch's studio. "I originally trained as a singer then became a book publisher as well as an arts journalist for leading newspapers and was The Australian's visual arts writer for eleven years." Susan said.
Nearly 150 years on from its construction, the McCulloch family's Whistlewood property doubles as both a family home and a gallery exhibiting largely Aboriginal art from around Australia. It is managed by Susan and her daughter Emily McCulloch Childs. "Whistlewood has been our business headquarters since the early 80s and has displayed art for decades. We find that people appreciate seeing art in a relaxed, home-like atmosphere," Susan said.
Susan's interest in Aboriginal art stems from Alan's organising of an exhibition of bark paintings from Arnhem Land from the Museum Victoria collection to show in the USA in the early 1960s and her own first trip to central Australia on a school trip at about the same time.
"Many years later, as the visual arts writer for The Australian and working on our Encyclopedia, I realised there wasn't one book that traced the history of the contemporary Aboriginal movement through its regions and differing styles. So I started to travel extensively to the Kimberley, Tiwi Islands, Arnhem Land, the central desert areas and elsewhere and wrote a guide to contemporary art," Susan said.
"These days I continue to travel, often with Emily who is my writing and business partner. We're privileged to have access to an enormous range of places and artists in remote regions and consequently are able to present a huge range of art at Whistlewood. Our exhibitions often comprise 50 plus works from many different regions."
Susan regards her travels around Australia in order to find out more about Aboriginal art one of the most rewarding aspects of her working life.
"All the experiences are very varied and wonderful. It's really important to see the country and meet the artists where possible, as Aboriginal artists are so closely bound to their lands, it helps enormously to experience this to understand the art," said Susan. "There's not just one Aboriginal Australian population, each language group has its own culture and art style."
The result of a life's worth of research is the exhibitions you'll find at Whistlewood. Susan and Emily work with some 25 Aboriginal communities and present around 10 exhibitions a year. "Our range includes some of the most well known Aboriginal artists in Australia, as well as rising stars and mid generation artists. Aboriginal art is very intergenerational – it's about the passing on of traditions. Our February show is 'In Black and White' and features black and white art from five regions," Susan said.
"There will also be an exhibition of a talented young artist who paints the night sky. Her paintings really capture the sense of space and grandeur of being in places with little electricity where you can see that wonderful skyscape."
In addition to Aboriginal art, Whistlewood also shows a number of non Aboriginal contemporary abstract artists whose work sits very well alongside that of Indigenous artists and also presents talks, music, films and other events that relate to the art they show.
---
Whistlewood can be found at 642 Tucks Road, Shoreham.
Whistlewood is open from Friday – Sunday and public holidays from 11am until 4pm.
Tel.: (03) 5989 8282