There is something to be said about lived experiences. Author Lindsey Kennedy has released an up-close and personal account of how a daughter, sister, mother and wife used positive thinking and a strong mindset during a breast cancer battle.
Her debut book 'The Little Things: A Breast Cancer Memoir' was written during her recovery from a stage two diagnosis that took a little over two years to win. With the support of her family and friends, she found silver linings, pushed away negative thoughts and took control, when at times, control seemed lost.
'The Little Things: A Breast Cancer Memoir' is a book written not to be self-indulgent, nor to seek attention, but to offer insight and awareness in and around the subject of breast cancer. This book was born from natural curiosity and is a series of anecdotes about her cancer battle. After diagnosis, and not finding the book she wanted, she felt compelled to write one.
Ever wondered what it would be like to walk a mile in someone else's shoes? 'The Little Things' allows this by weaving humour into storytelling to assist you to gain insight into a very personal account. Lindsey wanted 'The Little Things' to be many things. She wished to leave a legacy for her family, be a guide to anyone walking the same cancer path and, most of all, to get people checking their breasts more often, looking for change.
"I wrote this book to encourage and promote healthy, vital conversation in and around the topic of breast cancer. We are so lucky these days; even younger women are open to this form of conversation. Years ago, many would consider this narrative as taboo or indeed, dirty. I'm here to get women to become more breast aware and check themselves regularly," Lindsey said.
Lindsey Kennedy lives on the Mornington Peninsula with her husband and two children. She is a public speaker, a civil celebrant and a teacher. Lindsey is the founder of #checkyourselfTuesday, a catchphrase that many of her social media followers use to check their breasts shape and size, looking for changes. She believes that our hands can be one of the best tools for early detection and wants to get both men and women to know their breast/pectoral area as well as their armpits and necks. A thorough check of these areas once a week might make the difference between too late and just in time! Lindsey's experiences with breast cancer shows that there are not many things in this world that are a match for catching cancer in its early stages.
---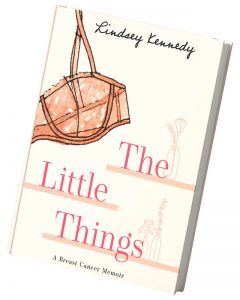 'The Little Things' is available for $24.99 and $5.99 postage.
You can find her on Facebook: Lindsey Kennedy
Instagram: @lindseykennedylives
Email: thelittlethingslk@gmail.com