Whether we are called Seniors, Elders or mature aged we face the same issues of gradual reductions in our stamina, bone density, muscle strength and energy levels.
The newly launched Brooks Ghost Max shoes offer maximal cushioning and protection through a bio-mechanics- driven approach to provide a protected, effortless run and walk experience that will give you great foot comfort, balance stability and energise your feet.
The Brooks Ghost Max footwear is specifically designed to reduce plantar fascia strain and reduce forefoot pressure when you walk. The Glide Roll Technology and optimised bending stiffness with its low heel to toe, 6mm offset drop and soft mid-sole lowers pressure underfoot and reduces how hard the calf has to push off the ground while reducing the potential of heel pad and heel spur pain.
Bayside Shoes offers an extensive range of orthotic friendly and supportive footwear as part of their "foot solutions" model supported by their friendly, professional staff to assist in making a difference to your health.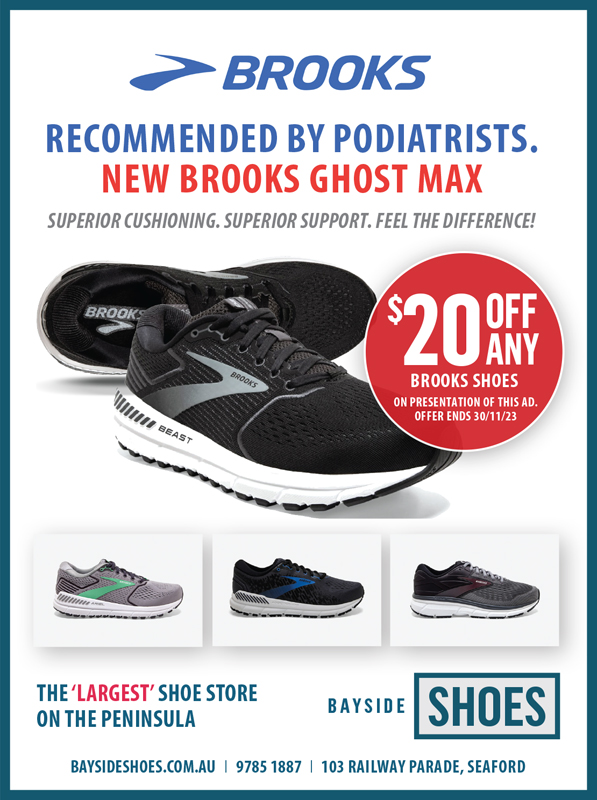 A: 103 Railway Parade, Seaford
(disability, free parking, wheel chair ramp)
H: 10am to 5pm Mon to Fri & 10am to 3.30pm Sat
P: 03 9785 1887