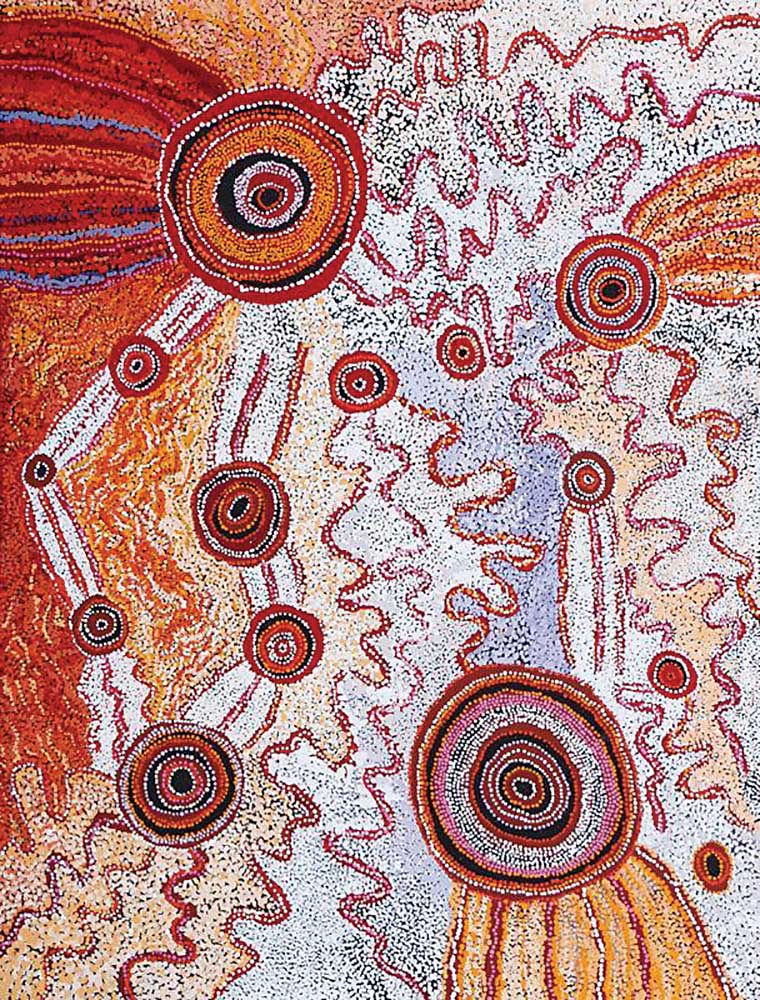 New works for the Colours of My Country exhibition and an illustrated talk features in Everywhen Artspace's February programme. The new gallery which opened in early January specialises in Aboriginal art. Its inaugural exhibition features a range of works from the thirty Aboriginal-owned art centres that the gallerists, Susan McCulloch and Emily McCulloch Childs, represent. "We've had many compliments about the very wide range and different styles of Aboriginal art," says Susan McCulloch. "When many people think of Aboriginal art, they tend to think of the dot painting style of the central desert areas around Alice Springs, However it's a hugely broad art movement and one that's constantly evolving."
As authors of the leading reference book 'McCulloch's Contemporary Aboriginal Art: the complete guide', Susan and Emily have been documenting the growth of Aboriginal art for thirtyand twenty years respectively.
"The work of most of the artists we represent is linked very strongly to their lands," says Susan. "However their interpretations of this are very wide and include some highly sophisticated imagery. A number of artists we show have won major awards and their work is collected by leading public galleries, but we also love showing the work of new and emerging artists as well as a very wide range of others."
It is these differences and also the differing landscapes and flora that Susan will be exploring in her illustrated talk "The Countries of Aboriginal Art" on February 10. The talk is at 2pm and is a free event, however bookings are essential.
The gallery is open daily 10.30-4pm. 
---
EVERYWHEN ARTSPACE
1/39 Cook Street, Flinders, 3929
0419 896 473
info@mccullochandmcculloch.com.au