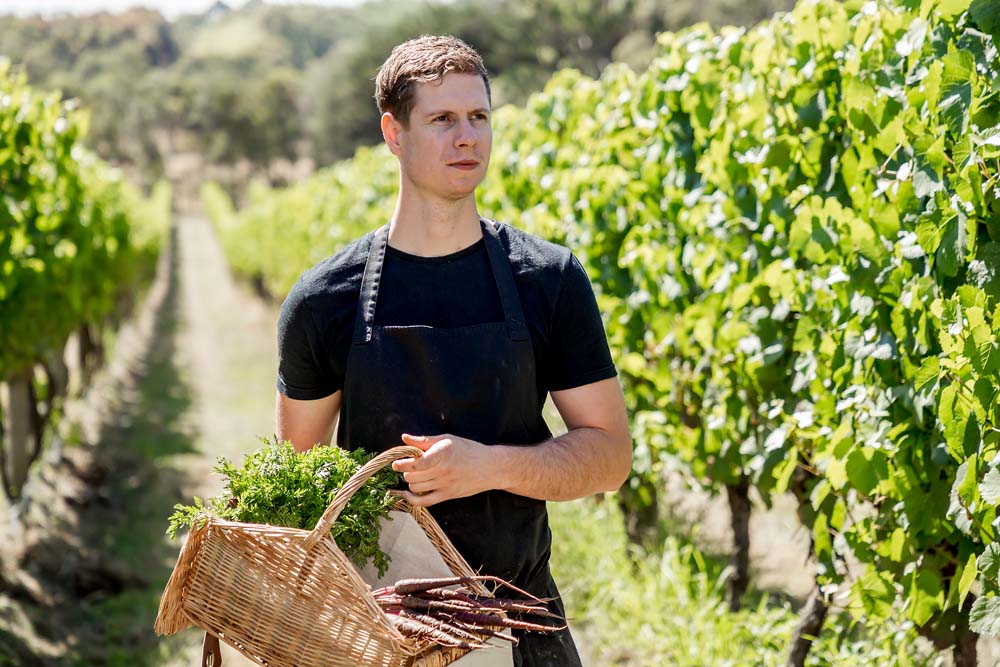 By Melissa Walsh Photos Yanni
He might be only 28 but Leo Howard is a chef to be reckoned with, these days running the busy kitchen at Barmah Park Winery. The talented chef has a real love of food and creates a mouth-watering seasonal menu from the plethora of fresh Mornington Peninsula ingredients.
After working at 'Paringa Estate', 'Play the Fool' and 'The European' in the city, Howard creates his artistic cuisine with seemingly little effort. Each dish is not only delicious but looks enticing, reflecting the chef's passion for his craft.
"I started at Barmah Park in June last year and immediately reworked the menu," said Howard from the kitchen where he effortlessly creates his masterpieces. "I love to use ingredients from the peninsula as we have so many wonderful growers and suppliers. We go picking herbs in Red Hill where I have a lovely supplier who has a small garden. She just has seasonal herbs which I love. We use eggs from Heritage Barn down the road, amazing quail and duck eggs, local seafood and fresh fish as well as fruits and vegetables."
Howard spends a lot of time creating the recipes for his seasonal dishes and experimenting with different flavours.
"I like to try different flavours and ingredients to make sure the menu is constantly evolving," said the chef who was originally trained in the UK where he was born.
"I came to Australia on a working holiday in 2009 and never went back," said Howard, who is now the proud father of two children. "I love cooking a bit with my kids and actually that is how I started out, cooking in the kitchen with my grandmother."
For this young and vibrant chef, food and cooking was his passion from a very young age.
"My grandmother was a baker, born in Yorkshire and made all the typical English food like Yorkshire puddings. I loved cooking with her and eating the food and knew I wanted to be a chef as soon as I left school," he said.
These days, he specialises in fine dining food in a casual atmosphere.
"The cuisine is really broad, with things like steamed rainbow trout, aged duck, pork loin and crab risotto. We are open for breakfast and lunch, and dinner Friday and Saturday night which is a six course tasting menu. Our food matches beautifully with the Barmah Park wines too," he said.
As far as a career choice, Howard says he was hooked from the start.
"It is the perfect way to combine my love of food with a real passion for a fast paced environment. Its tough work but it's addictive."
Barmah Park Restaurant and Cellar Door is beautifully set in a boutique vineyard and has a focus on delivering an unforgettable dining experience.
The seasonal menu is sophisticated and fresh, with something to delight every palate.
Recipe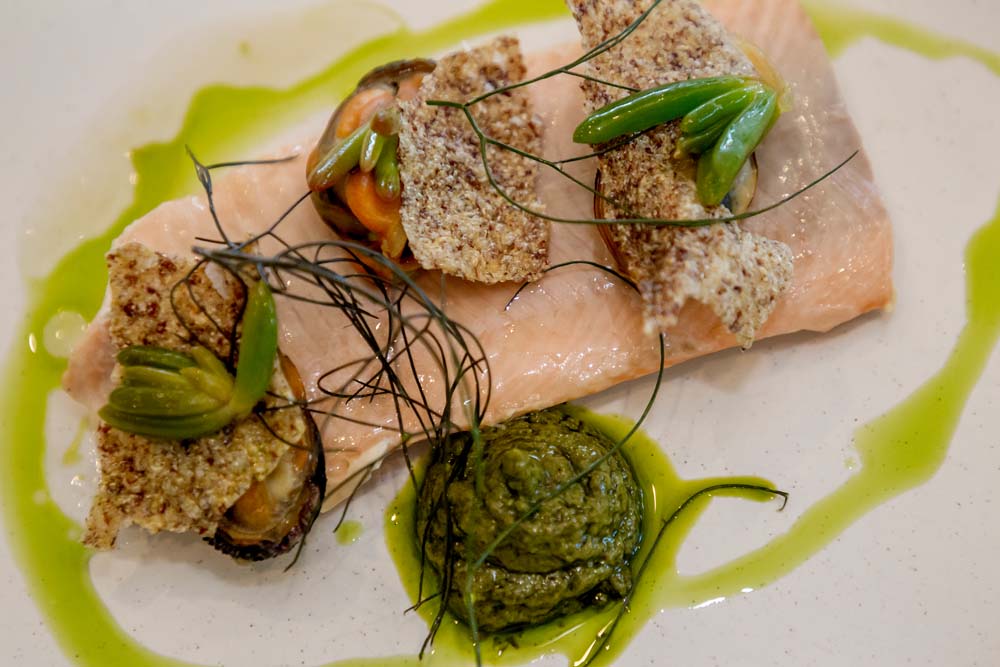 Rainbow trout with burnt lettuce sauce, mussels and quinoa chips
INGREDIENTS
4 x 100g Rainbow trout fillets (pin boned and belly trimmed)
1 tbspn red miso paste
1 x head baby gem lettuce
1 x small shallot
½ tbspn Dijon mustard
8g balsamic vinegar
8g sherry vinegar
7g capers
150g blanched spinach
200ml olive oil
Mussels
Pickled karkella (also known as Pig Face or Beach Banana)
Quinoa chips
Chive oil
8 bronze fennel fronds
METHOD
For the trout – Rub ¼ tablespoon miso into the flesh side of each of the fillets. Let marinate for at least 1 hour before serving.
For the lettuce sauce – Grill the lettuce on a char grill or in a hot pan until exterior is blackened, then allow to cool completely. In a bar blender, combine all ingredients reserving 150 ml of olive oil. Blend until completely smooth. Then slowly add the remaining olive oil while blending. Season to taste with salt. Put into a piping bag or squeezy bottle and set aside until ready to serve.
Prepare the mussels by scrubbing well and removing the beard from the side of the mussel. Roughly slice the shallot and dice the tomato. To cook the mussels, heat a heavy based pan on a high flame until it starts to smoke slightly, add a splash of oil and carefully tip in the mussels, shallots, tomato, Thyme and bay leaf. Then add the wine and quickly cover the pot with a lid to lock in the heat. Cook the mussels for around 3 minutes on a high flame or until they start to open. Remove from heat and cool, before removing the mussels from their shells and storing the mussels in the remaining juices until ready to serve
Steam the trout and mussels – Remove from the basket and flip the fish so that the skin is facing upwards. Gently up the skin off from the fillet. It should come away very cleanly and easily.
SERVING SUGGESTION
To plate, pipe a good sized dot of the lettuce sauce just left of the centre of the plate. Gently place the steamed trout to the right of the sauce in the centre of the plate. Arrange the mussels, karkella, quinoa chips and bronze fennel on top of the trout and to finish drizzle some of the chive oil around the plate.
Serves 4
---
Barmah Park Restaurant & Cellar Door is at
945 Moorooduc Hwy, Moorooduc
Phone 5978 8049