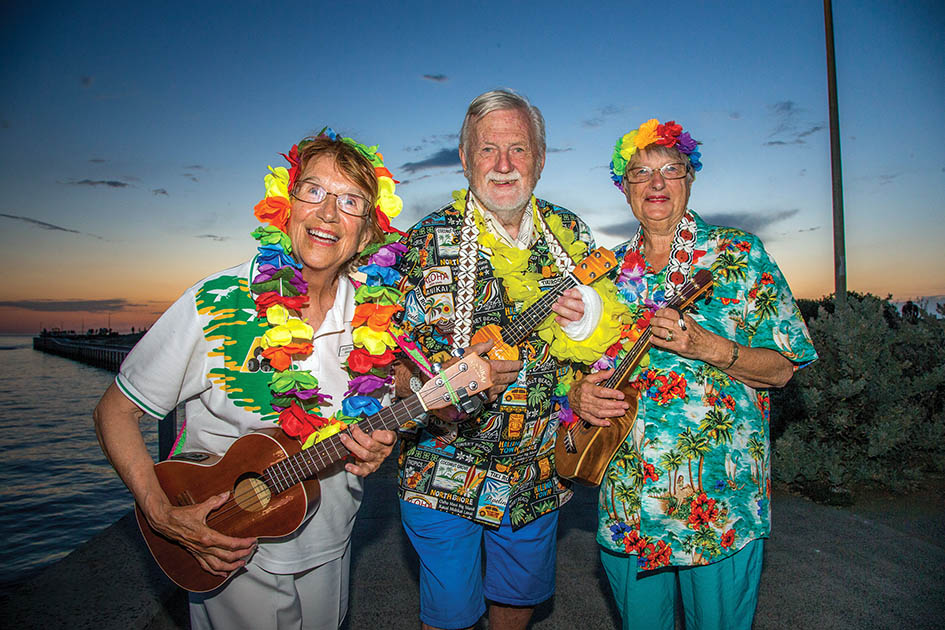 By Cameron McCullough   Photos Gary Sissons
It is an instrument that conjures an image of tropical breezes and happy times. The ukulele; quirky and fun, it quickly brings a smile to the faces of those listening to its sound.
But this story about ukuleles doesn't start in a background of white beaches, and Hawaiian shirts. Instead, it starts in an apartment tower in Singapore.
When Michael Bell was there visiting his son in 2011, he came across a ukulele group in the apartment tower. People would get together, play uke, and enjoy each other's company.
Inspired, Michael decided to start his own uke group.
Melbourne already had a ukulele group, Melbourne Ukulele Kollective (MUK) but they were based in Brunswick, and too far for bayside or peninsula residents to travel to. Luckily for Michael, one of their members, Sue Telfer, was retiring from MUK and agreed to help establish a bayside group.
In January 2012, they had their first meeting in Aspendale. With just four members, they began getting together on Thursday nights, playing ukulele and having fun.
"Initially it was just all about getting together as like-minded people and playing ukulele," said Michael.
But Michael had hit on something, and the popularity of his little uke group grew fast.
"Now we have around 60 members who meet weekly".
So, what is the attraction?
"Longbeach Ukes (LUKES) is about getting active. It is about getting off our backsides, and away from our televisions, and involved in something," said Michael, who is president of the group.
"We are open for all ages, and the beauty of it is that even if you can't play a single chord on the ukulele, you can come along, join in, and learn!".
Michael and gig manager, Rick Nuttall, describe the club as a "shot in the arm"; an enjoyable experience that has grown faster than they expected.
"At the start, we just had 10 people sitting around plunking ukes," said Rick. "But now we have lifted the professionalism of the group. We have had to work on introducing accompanying instruments, harmonies etc to get the sound right".
And it must be working as the uke group is in strong demand.
"These days, we are actively pursuing gigs, which is a change that has occurred over the years," said Rick.
"We play music festivals, retirement homes, schools; all sorts of other places. We have a core group of uke players that play gigs… not all of our members do".
There is no doubt that the audiences love it, and Rick tells a story to illustrate the effect the simple uke has.
"We played at a nursing home. It was a great gig and everybody had a ball," said Rick. "But at the end, the staff asked us if we could go and visit a 98-year-old resident in her room."
"She was too ill to make it out to the performance, and was disappointed."
"We all crowded into her room and gave her a private performance, playing a wartime medley"
"Before long, the lady had tears streaming down her face. A little taken aback, we thought we may have done something wrong, but she said no, they were simply tears of joy."
And that probably best sums up Longbeach Ukes; a simple thing that brings joy to both those who play it and those that hear it.
"It is always nice to have new people," said Michael Bell.
"We run beginners' workshops where people can come and learn ukulele for just $10 a lesson."
"And our membership age ranges from people in their twenties to their eighties."
"All of us that have been involved in the journey have found it a rewarding experience; one of fun and fellowship, and just having a great time together as a group."
---
Longbeach Ukes can be contacted via Michael Bell on 0409 241 947