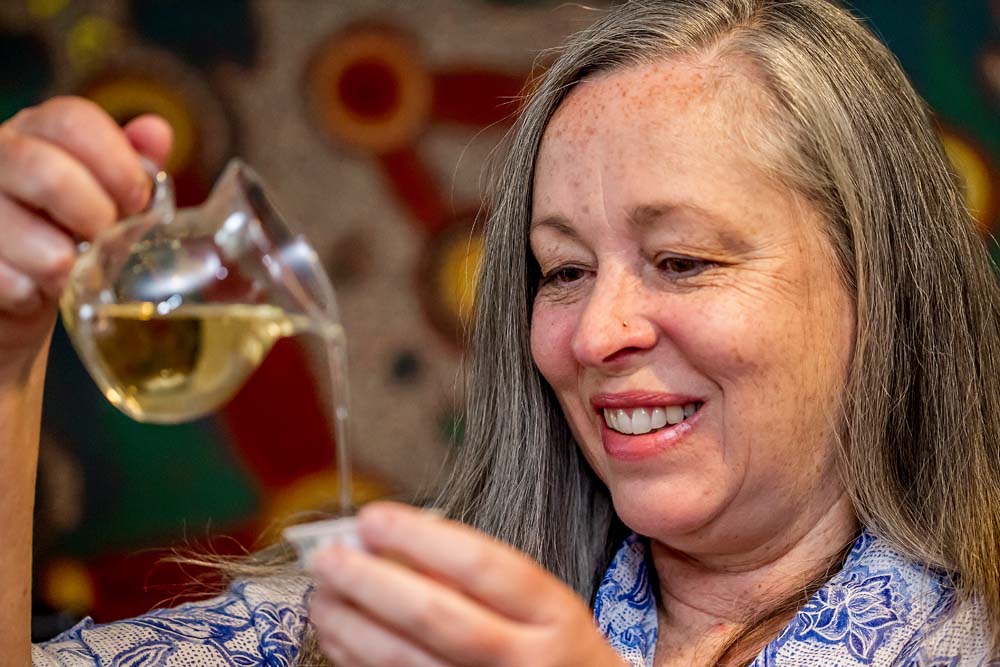 By Melissa Walsh   Photos Yanni
There's nothing better than a nice cup of tea and peninsula tea aficionado, Tania Stacey, should know, after being crowned the Australian World Tea Brewers Cup Champion.
The event took place at Fine Food Australia in September, and qualifies Tania to go into the next stage in May, 2018. A former corporate high flyer and seven-coffee-a-day drinker, Tania has found her new career in tea and could not be more passionate about it.
"I call myself a student of the leaf," said Tania from her Mornington home. "Tea was always a part of my life. My dad taught me how to make s good cup of tea. Then about six years ago on a trip to China I bought a tea pot and the gentleman said 'come and have a tea with me' which is common when you purchase something. He gave me green tea and it was so sweet and delicate; I thought we are now aware of this in Australia. We don't know enough about the green tea and so I started the investigation and started to study it."
After taking a study tour to Taiwan, Tania realised that learning about tea was going to be a lifelong process.
"That's why I don't call myself an expert. I go there and am in awe of the tea farmers; how they grow the tea and process it is incredible. Tea farmers over there in China, Taiwan and Japan are like wine makers; they grow the tea and make the tea, smell the leaf and know when it is ready. It is truly a lifelong learning process and tradition," said Tania who is now a total tea convert. "If you talk to people about tea most people know of it, and it usually evokes memories. It is a more gentle start and tea will sustain you all day long. It is a slow release of caffeine, unlike coffee. The more you learn, the more you realise that you don't know."
For Tania, this was her first competition so she was both delighted and shocked to win.
"My winning tea is called golden sunset and it is made with a base of yellow tea from southern China, which is a delicate mellow tea that I wanted to be the 'hero' of the drink," said Tania.
"I then used the stronger black tea which I brewed to a separate temperature and then poured into a wine glass over a Greek sour cherry."
Much like a wine maker, brewing tea is about understanding the different flavours and Tania has become and expert with an excellent tea palate.
"The yellow tea has elements of hay and sweetness to it, much like a good Riesling," said Tania, who sells tea through her online store Cuppa Cha.
"I also do private tastings for people and have a YouTube channel to share everything I am learning about tea."
www.cuppacha.com.au