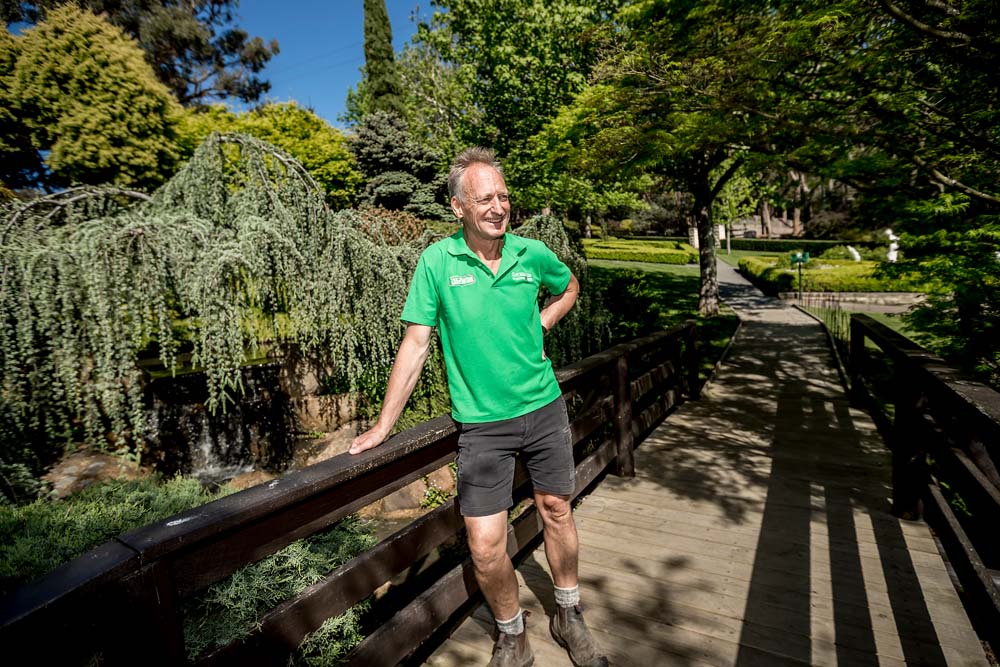 By Andrea Louise Thomas   Photos Yanni
Michael Savage, owner of Enchanted Adventure Garden, knows all about adventure. Last year he visited all seven continents seeking off the beaten track escapades such as, back country hiking and skiing in Antarctica, horse riding alongside big game migrations in Kenya and shark cage diving with great white sharks in Port Lincoln, South Australia. So, visiting an adventure park planned by such an intrepid character is certain to be a lot of fun.
Fun and adventure was always at the heart of his plans. In 1992 he purchased a fifteen-acre paddock on Purves Road in Arthurs Seat. The original idea was to create a set of gardens that would appeal to children and adults alike. The hook for kids would be a maze. The first incarnation of Enchanted Adventure started with formal gardens and a lake. It grew into twenty themed gardens with three mazes opening as The Enchanted Maze Garden in 1997.
When he was able to purchase an adjacent block, another development began. This time the focus was on creating a sculpture garden. He employed local artists-in-residence, such as, sculptor Ken Blum, who crafted a remarkable collection of large scale sculptures hewn from cypress logs using axe, chainsaw and chisels. Today, there are many other artists represented across multiple mediums from wood and ceramics to steel and glass.
While the gardens were beautiful and the mazes intriguing, Savage wanted to build more adventure into the park. Tube slides were just the trick. As soon as they were completed, children and adults alike were lining up to pop themselves into an inner tube and go careening down the hill to do it all over again. It's just as popular today.
Having the grounds covered, Savage then looked to the sky. He wanted to create an adventure in the trees as he had seen whilst travelling through Europe. With a large eucalypt forest right in the park, it seemed a natural progression. He was persistently told it would never fly.
Despite the naysayers, he got his tree surfing enterprise off the ground and it's now arguably the most successful feature of the business.
Tree surfing is not for the faint of heart. There is good reason to be strapped into a harness ascending up to five levels of progressively more challenging obstacles to the top. The effort does not go unrewarded as the zipline back down again is one of the most enjoyable parts of the adventure. There is nothing to fear, but fear itself, as this activity is totally safe. Also, there is no hurry as visitors have up to two hours to complete the course.
Another serious drawcard is the big zipline that crosses the park from top to bottom. It's 200 metres of exhilarating fun. If tree surfing or ziplining are a bit too much to take on, the canopy walk gives an aerial perspective with less adrenaline plus an opportunity to view native flora and fauna. With 85 bird species in the area, visitors might find themselves eye to eye with a sulphur-crested or yellow-tailed black cockatoo, wattlebirds, galahs, crimson rosellas, or laughing kookaburras.
Evolution is a constant at Enchanted Adventure. Savage always has one foot in the future dreaming up new adventures to offer visitors. Right now, the latest attraction is under construction – Sky Scramble. It's an aerial playground without the harnesses. Accessed via the canopy walk or steps, the Sky Scramble features a series of rope bridges, nets, slides and cubbies located up to 10 metres in the air. Sky Scramble's first stage will be open in time for Christmas.
Savage has much to be proud of in bringing his ambitious plans to fruition, but it is still the people that thrill him most. "I love the guests and the staff because I get to see people at their best. When they are here, everyone is having a happy day out and my staff help facilitate that. I have great staff," he says.
Enchanted Adventure is now a world-class eco adventure park with something for every visitor whether they are strolling through themed gardens, negotiating intriguing mazes, whizzing down a zipline, exploring the canopy, tree surfing or just enjoying a great cup of coffee looking out on a beautiful vista. With 200,000 happy visitors a year, clearly, the balance is right.
---
The Enchanted Adventure Garden is at 55 Purves Rd, Arthurs Seat
Phone 5981 8449