Photos Yanni
When Andrea Rowe was a child she wasn't a big fan of jetties, she feared what lurked underneath them. But a lifetime spent near and on the sea soon cured that and she grew up to write a story about the summer playgrounds that are coastal jetties.
Jetty Jumping is Andrea's debut picture book, published by Little Hare / Hardie Grant Egmont, is to be released in January 2021 with tremendous success in pre-sales and reviews.
While she may have had a shaky start to enjoying jetties as a child, Andrea has made up for lost time.  Growing up in her early years in Warrnambool, she has vivid memories of fishing and swimming off jetties with her brothers, and later across Australia on family travels.
"When I wrote Jetty Jumping I loved revisiting the feeling I had as a small child being scared of jetties; I really was worried I'd fall through the cracks in the planks and plunge into waters never to be seen again.  Goodness knows what the fish below thought with my howling and carrying on! My parents think it's hilarious that the kid they used to drag along the jetty, is now a published author who wrote a book about jetties."
Andrea did manage to put her fears behind her though, and learn to love the adventures that come with jetty activities. The St Andrews Beach author has captured those sentiments beautifully in this nostalgic homage to Australian summer and childhood.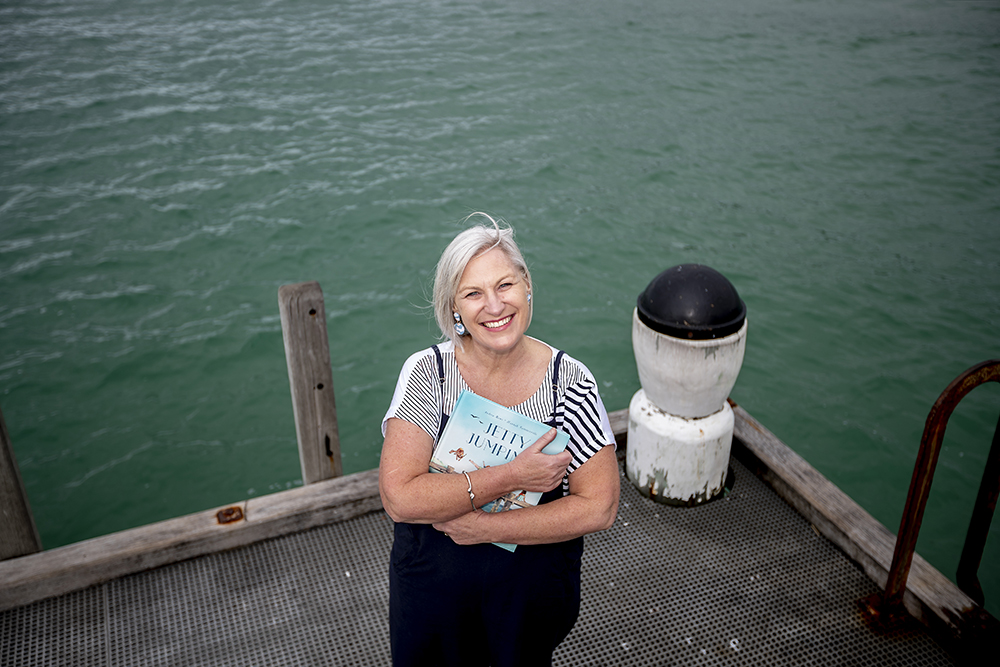 "There's something thrilling about dangling off a jetty," Andrea says. "All that adventure and daring of leaping off into the water!  And, also, the guessing and worry about what might be under the water that you can't quite see. I really wanted to capture that diversity of feelings children have when they're standing on a jetty pondering a swim on a blistering hot day."
Jetty Jumping introduces readers to Milla. While her friends take big, brave jumps off the jetty, Milla stays on the blistering wood, scared of what lurks below. But when Milla accidentally falls over the edge, she discovers the beauty of the deep dark sea – and her summer changes forever.
Sure to become a coastal kid classic, the picture book is beautifully illustrated by award winning illustrator Hannah Sommerville.
"Hannah's images are mesmerising – I love that every image invites you to look for more details, and I feel as if all of my favourite Peninsula scenes have been captured in the pages. Hannah created such evocative images; I feel like I could swim in the pages. I am incredibly blessed that my editor had such super vision."
Andrea loved pursuing themes of bravery and milestones in the book.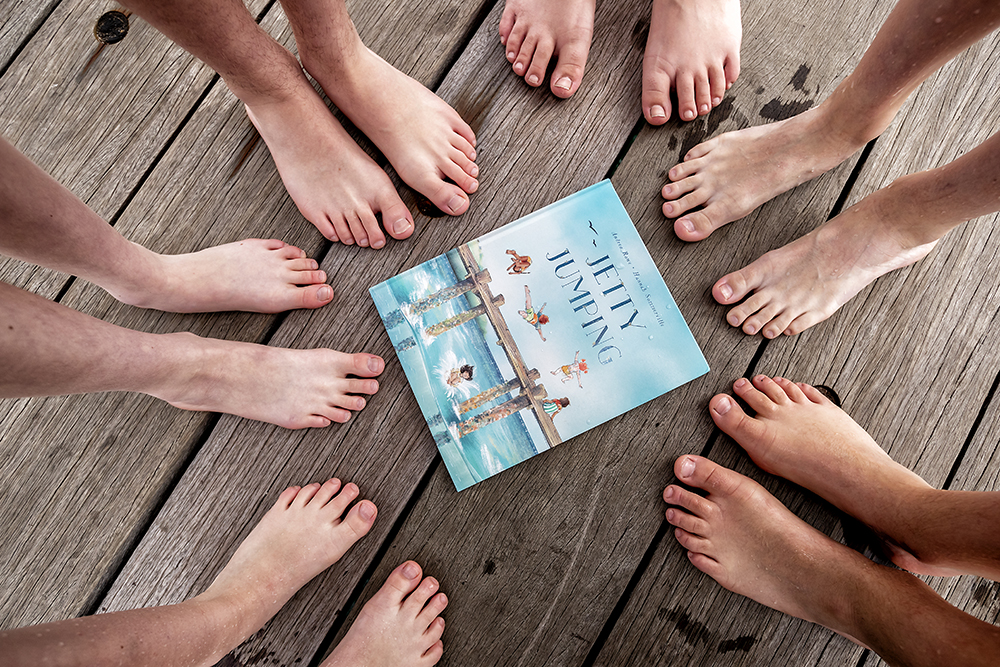 "Jetties are such a symbolic thing," says Andrea. "They are sturdy and strong, but they are also something that we use to launch ourselves from as well. Jetty Jumping is a salute to letting go, and trying new things."
"I've seen a lot of jetties in my time. I think there's a universal language when it comes to jetties; when we stand on them they speak to us of adventure, fun and the chance to be brave."
An energetic adventurer leaping into her own experiences, Andrea has lived in the French alps, Canadian wilderness and Victorian High Country, where jetties on lakes, rivers and icy streams have beckoned. But it's the coastal jetties of the Mornington Peninsula and Gippsland where she feels most at home, watching her children and their friends create their own jetty adventures.
"I wrote Jetty Jumping as both a nostalgic reflection of my own summer childhood memories, as well as a love letter to the adventures of my own kids who have bravely lept off so many.'
"On the Mornington Peninsula it's almost a rite of passage to have your jetty moment. So many kids take a jetty jump on to symbolise the end of a school milestones, leaping off jetties in their school uniforms. Jetties are the best coastal playground ever, and I think in recent lockdown times we've come to really appreciate feeling free in the outdoors. I headed straight to a jetty as soon as I could."
Andrea has a soft spot for the Rosebud jetty with its views across the bay and azure blue waters, as well as Cameron's Bight Jetty at Whitecliffs for its historic connections and timeless white railings.
Andrea hopes adults will also enjoy reliving their own jetty jumping memories through this nostalgic read.
"I like to think that while I write books for children, the stories are just as much for grown-ups to enjoy as well. Picture books help us revisit memories, start conversations with our children and inspire adventures and exploring."
When she's not wandering jetties, Andrea is writing at her Mornington Peninsula desk. The professional copywriter and children's and young adult author has been published extensively in anthologies, newspapers and magazines, but this is her first picture book.
A respected woman of words on the Peninsula, Andrea is also the Founder of the Peninsula Writers' Club, an advocate for Australian literature and co-host of the Words After Dark author conversations at Antipodes Bookstore. https://andrearowe.com.au/
She is currently working on several new children's book, and a young adult novel book set in the sand dunes of a small coastal town. It seems she's got ample coastal stories still to tell.
---
Jetty Jumping is available at all independent bookstores and Big W from 1 January, 2020.
www.hardiegrant.com/au/publishing/bookfinder/book/jetty-jumping-by-andrea-rowe/9781760500658
andrearowe.com.au
Insta: @andrearowe_coastwriter
Facebook: @AndreaRowe.au