By Andrea Rowe Photos Supplied
Animals have long been a source of inspiration for artists. Sketching and painting bird life helps learn about their remarkable features, abilities, and habitats.
The Mornington Peninsula's newest muse making wildlife connections is a macaw named Smee. Three-year-old Smee lives with trained wildlife handler and art workshop host, Teneale Wilson. An Australian assistance bird, Smee is now helping locals soar to new heights with ornithological encounters and inspiring art workshops.
"Smee brightens up everyone's day, no matter how they interact with him," says Teneale.
The former kids' party facilitator, and part-time veterinarian receptionist was smitten with Smee from the beginning. A long-time bird carer -"I've had canaries and lorikeets since I was a child,"-Teneale had always hoped to adopt a macaw and care for it.
Her goal was recognised when a hearing-impaired woman in Euroa was no longer able to care for Smee.
"Smee had helped her live independently in her home, alerting her to visitors or when the phone rang, helping her participate in activities and being her companion."
"Having been raised in captivity, Smee needed a dedicated carer to help him learn important skills. He's very smart with the IQ of a 4-year-old; caring for him is like having a curious child who is dependent on you."
Smee has quickly become connected to the Mornington community.
"It's incredible how many people started to look out for him. Many people are fearful of birds and their flapping, but as Smee is shy and still when he's out, people are at ease."
Smee's presence in her life also brought about a career change for Teneale.
"When I adopted Smee I knew that I had to alter my life to ensure his needs were taken care of. I'd already had an event business so I realigned my direction and skills, offering wildlife encounters at events and birthdays. Smee's popularity was growing and I was exploring ways to satisfy his social interactions."
"When artist Deb McNaughton approached me to collaborate for art classes at her studio in Aspendale, it seemed like a perfect opportunity."
Deb McNaughton is a respected artist known for her vibrant and contrasting patterned artworks that have appeared in interior and clothing collaborations, murals, magazine covers and design and lifestyle TV shows. Featuring tropical elements in her works, Smee was called on as a life model to help teach observation and painting techniques for younger artists.
"Smee was a wonderful workshop opportunity to inspire wildlife painting. Macaws blush when they're excited, going bright in the face, which makes them fantastic art studies," Teneale enthused.
"I've always been creative as a hobby, so I was thrilled when Deb offered to train me to facilitate similar workshops locally. It wasn't until Smee came into my life that I started to put the pieces together surrounding my love of birds, creativity, and events. I'm grateful for Deb's support."
Smee's bright plumage now features in local Life Drawing art classes for budding young artists.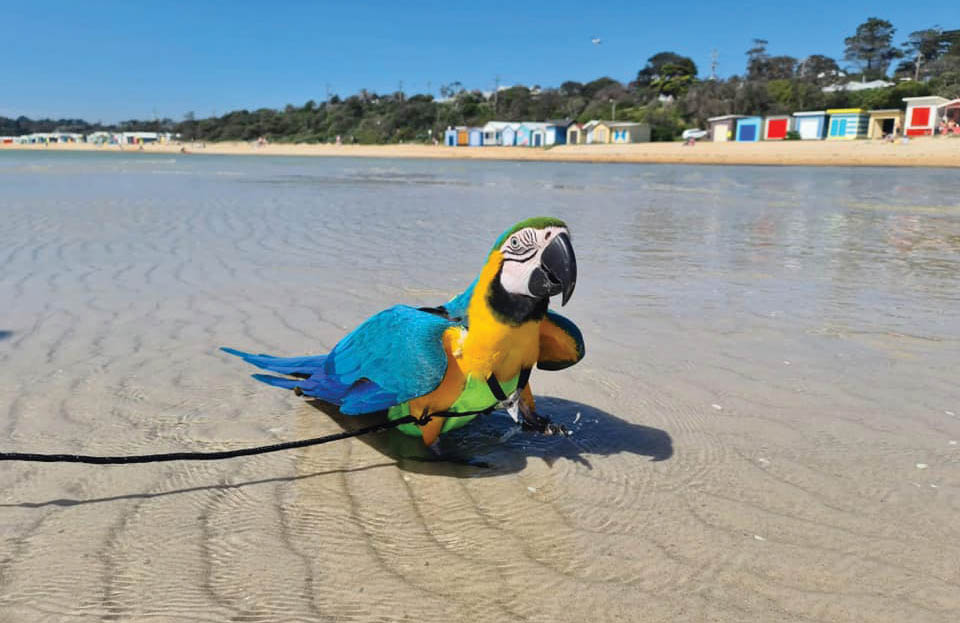 "Kids love Smee. Workshops start with a talk about macaws. The kids ask questions about Smee's abilities. Because I support macaw habitat programs through Amazon Aid and World Wildlife Fund, I also share how they can support macaws in the wilds of the Amazon."
"Often the best way to learn about animals is by being closer to them."
Smee's not always a quiet poser when it comes to up-lose painting sessions or wildlife encounters.
"Because he's naturally curious he mimics speech saying, "Who's that?" and "What's that?" to people. He loves preening in front of a mirror, and rolling on his back; – he loves belly rubs and is a big cuddler!"
"Smee's got a cheeky side. If you're wearing dangling earrings, scrunchies, ribbons or glasses he'll try to take them off. It often breaks the ice with people."
"Smee always gets involved; at home he's into all our activities and he and my step-son Miles play an iPad 'Pop the Balloon' game together." When Teneale' s partner joins her for guitar and piano jams, Smee strides along the keyboard too.
Teneale has recently collaborated with boutique zoo 'The Funky Farm,' introducing other animals for children to interact with before interpreting them through art. She's also developing encounter programs for aged care facilities and nursing homes.
"Many older people are looking for opportunities to interact with animals, Smee is so gentle and inquisitive, and just lifts their mood."
Teneale says it's a big responsibility owning a macaw.
"I'm currently helping him learn how to free-fly and return, which takes focus. Because macaws get quite stressed if left alone and are extremely socially connected, we go everywhere together."
"There's no chance of having a quick errand down the town; he's quite the celebrity."
Smee's celebrity status will soon increase, with an upcoming Channel 9 appearance on a reality vet show.
Back in the art class, while Smee is content to pose and preen for portraits, he's yet to pick up a paintbrush himself. Teneale says it's far too tempting for his beak to chew on.
'Meet and Greets' with Smee and Birdlife Drawing workshops can be booked through social media.
---
Follow Smee the Macaw
For enquiries and bookings Facebook is preferred
FB: www.facebook.com/smeethemacaw
Insta: instagram.com/smeee_the_mornington_macaw