The change of seasons is a time for revamping, sprucing and enhancing your interior design. Winter is turning a corner, so inviting new pieces and experimenting with different looks and styles is the thing to do.
The current climate of the world has definitely had an impact on the type of homes we want to create. Instead of reducing in the name of minimalism, we are now exploring spaces filled with pieces that reflect our personality, spaces that can quickly shift from work, to play and finally relaxation.
With the temperatures warming and the sun staying up a little bit longer, our desire to be outdoors has never been greater. Winter saw a strong desire to introduce colour to your home, whether it was earthy browns or terracotta, to calming greens. This season we move away from that and focus on the fresh, airy palette of the Hamptons style. Casual elegance is how we would describe the Hamptons style. Elegant and calm interiors with natural, light colours and marine motifs are hallmarks of the American coastal style. It echoes a relaxed coastal environment with generous sofa living for reclining, substantial island benches for entertaining and outdoor areas for large gatherings. Build on this with selected home decor and accent with touches of colour and texture where needed. Whether you are a beach person or not, the Hamptons style is a timeless look perfect for everyone.
Choose white-washed linens, natural textures and crisp white timber finishes. What's great is that white makes a perfect and easy-to-pair base as it goes with everything. There are endless shades of white, so choose one with cooler undertones to fully reflect the classic Hamptons style.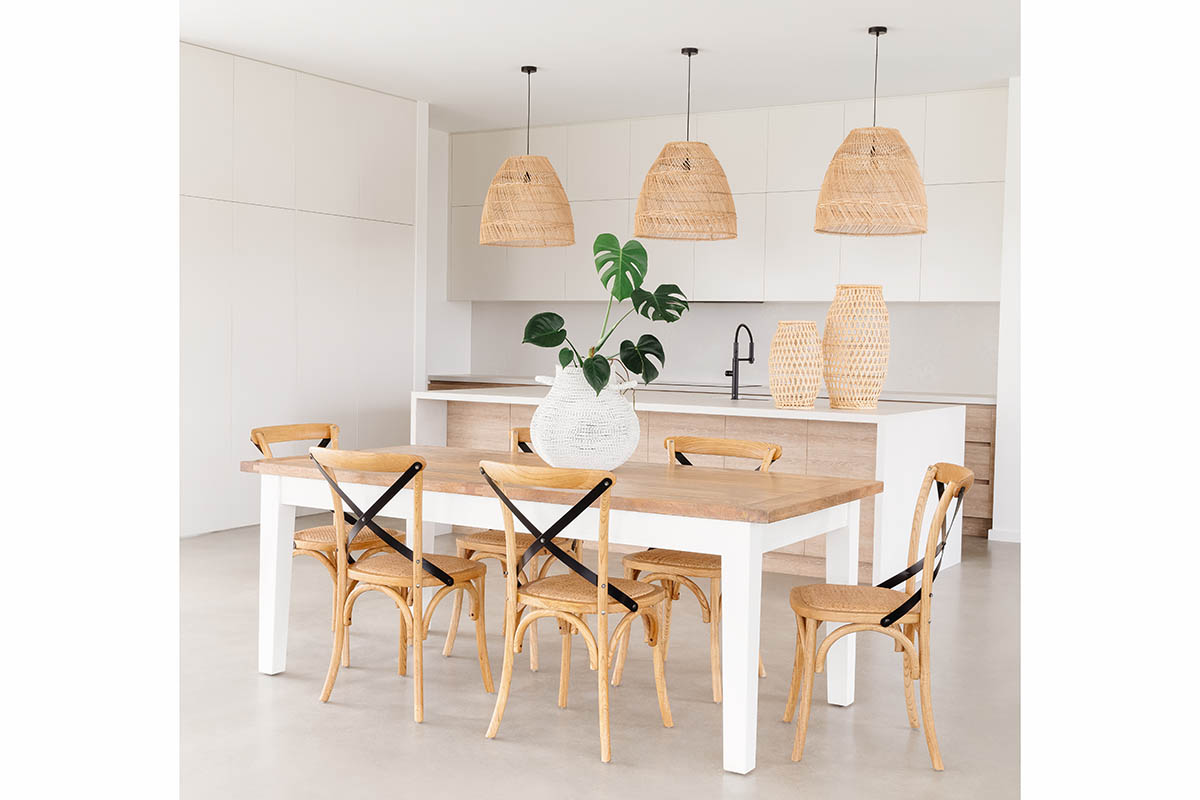 When choosing furnishings generosity is key. Think beach front luxury resorts with deep, overstuffed sofas covered in washable white or linen slipcovers, or upholstered in pale neutrals with stripes. Sideboards and coffee tables in natural timbers add extra depth to your Hamptons space, and the Mango Creek collection from OZ Design Furniture is a perfect fit. Reminiscent of coastal living, the Mango Creek collection has an assortment of pieces, from coffee tables to extension dining tables. Made from Indonesian mango wood, the collection is available in rustic chocolate or white/timber finishes with each piece exceptionally detailed to show its natural beauty.
The Hamptons inspired interior is elevated with dimmed colours taken from nature. Combine colours reminiscent of the seaside i.e beige, ivory, natural browns, and shades of blue. Play with florals, ceramics and glass to give an abundance of textures to your living space. Let homewares and décor bring the room together. Cushions and vases are essential and are a great way to add texture and colour to the space. Nautical accessories are great, but scatter them with rattan, wicker and linen pieces to avoid a distinctly sailor vibe to your home. The room should not look bare – to truly capture the essence of the Hamptons style it must evoke a lived-in appearance. Coastal is a style to "live in". In this case, we shouldn't make our house look like a precious showroom. Here, comfort is most important and it shouldn't be compromised for looks, but rather combined.
Peninsula Essence, Your Garden & Home Feature – September 2021