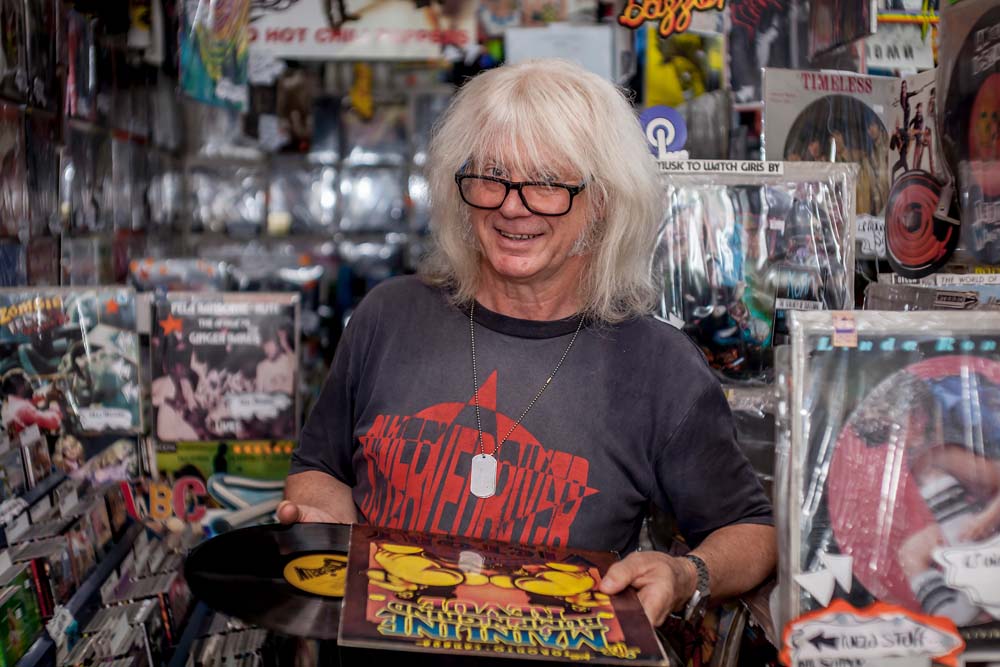 By Melissa Walsh   Photos Yanni
It's 2017 and Craig Breedlove is still selling vinyl, just like he did when he worked in his first record shop 41 years ago.
The Rosebud Reload Records owner has never wanted to do anything else, apart from surf, and has become the aficionado of the record industry.
This is not just a fad to Craig; it is a passion, something in his blood since he first started reading record reviews in Rolling Stone Magazine as a kid.
"I would get the magazine, check out the reviews and head down to my local record store to buy the album," said the Parramatta born ex-surfie. "I left Sydney and moved to Queensland in 1972 and found a great record shop in Coolangatta. I must have annoyed the owner so much going in there every day that eventually he asked me to run a shop he was starting in Surfers Paradise. That was in 1976 and, a few days before we opened, he handed me the keys. I had never managed a shop before so learnt on the job."
It must have been a natural talent for the 23 year old who then went on to spend the next four decades in the music industry.
"I only loved music and surfing so thankfully I have found my niche in life and have now owned seven record stores. After living on the Gold Coast for 11 years, I made the move to Melbourne after a record company I was dealing with said they were looking for someone to open on of their stores there. By January, 1983 I was working at Monash Records and then opened Collector's Corner which became the biggest record collection shop in the state," said Craig, who then went on to open Relic Records in Prahran, and work for jazz labels.
It was 1998 by the time he got to work at Reload Records, and two years later bought the business.
"The shop was in Richmond but I always wanted to bring it down to the peninsula where I was living, and I was rapt to relocate and open the Rosebud shop nine years ago," said Craig, of the transition that was flawless.
"I literally closed the Richmond shop on Sunday at 5pm and reopened Rosebud the following Tuesday at 10am. In that first day, I made the week's rent so I knew I had done the right thing."
To withstand the test of fickle times, Craig said he had to roll with the changes but has always stayed true to the vinyl.
"It took ten years for vinyl to disappear from 1982 when the first CDs started appearing. We would order the same amount of CDs as vinyl records but eventually the demand became less. I have always stocked vinyl in my stores though. Very little was getting released and by 1992 vinyl had virtually disappeared. It then became a niche market and collectors were still ordering it," said Craig, remembering something his boss had said about the nature of record shops. "In 1976 my boss said you are never going to make any money out of this. The thing is it's all about the lifestyle."
With just the cruisy attitude needed and a love of music, Craig has maintained his place in the record scene, having owned seven record stores and coped with the ebb and flow of the industry. Then four years ago, there was a record resurgence.
"Everybody in the industry could see there was going to be a resurgence and here it is. Forty one years later, I am selling vinyls, record spray, 120 different types of styluses, blank tapes, six different sized belts, and needles just like I used to," he said. "Even younger people are now buying vinyl. I have customers from 14 to 80. We stock a lot of first and second hand vinyl and a substantial CD catalogue too but I reckon we sell about 50 per cent of each per month and vinyl is generally cheaper too."
While Craig stocks records of every genre and artist you could imagine, he remembers having the odd fair-dinkum collector's item over the years.
"I had a $2000 Pink Floyd single, which was Richard Wright's first promo single, and in brand new condition. I also had Genesis from 1968 which sold for about $600," said Craig, who is always happy to chat to customers and share his wealth of music knowledge.
Reload Records specialise in quality second-hand and new vinyl, CDs and DVDs: contemporary, retro, jazz, blues, R&B soul, electronica, world, roots and soundtracks.
---
Reload Records is at Shop 12, Rosebud Square,
1283 Point Nepean Road, Rosebud. Phone 5981 2533.