By ANDREA LOUISE THOMAS  Photos YANNI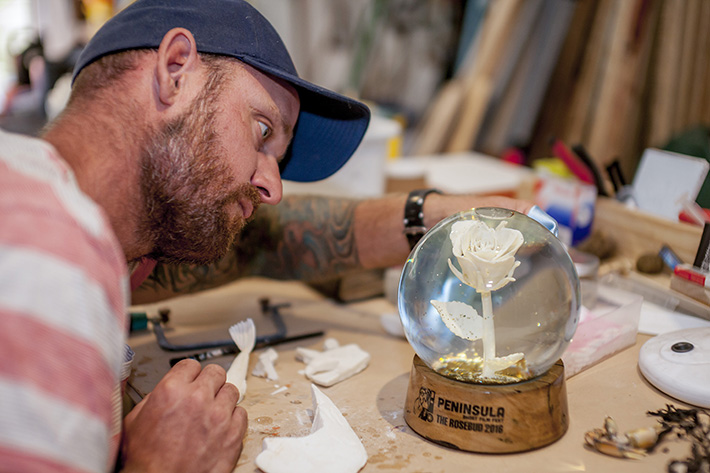 Christian Gundesen is a man with highly specialised skills and nimble fingers. His dexterity has kept him in high demand. He was lured from his native New Zealand to Australia in 2010 to work in the diving industry repairing wetsuits. A free diver and surfer, his professional life has always followed his passion for the ocean. Now he has turned his hand to sculpture.
Over the past two years Gundesen has worked from his studio in Rye crafting breathtaking intricate sculptures of local birds and sea life, including a pelican so lifelike it appears to be flying out of its frame. Most remarkable is that these pieces are carved from cuttlefish bone.
With his public profile growing and now an award-winning sculptor, Gundesen spends most of his time creating one-of-a kind commissions for clients. Seaweed, driftwood and other oceanic objects often complement his sculptures inside their three dimensional box frames.
His most recent commission was creating the first place trophy for the Peninsula Short Film Festival. Actor and festival Director, Steve Bastoni saw Gundesen's work and thought he would be the perfect artist to create a rosebud snow globe inspired by Charles Foster Kane's dying word in the classic film Citizen Kane, as Rosebud is where the PSFF takes place.
Gundesen embarked on the difficult task of carving a single rose set within a glass dome accompanied by gold glitter. With the help of Grant Donaldson and Eileen Gordon from Gordon Studio Glassblowers in Red Hill, they worked out the complexities of putting it all together. The result was brilliant.
In 2015 he carved two intertwined seahorses into the tip of a pencil winning him best sculpture in the Dromana Art Show. Patience and persistence are critical when working with materials as unforgiving as cuttlefish bone or graphite. Sometimes a single piece takes a hundred hours to complete. For a man who has always wanted to work with his hands, he's certainly found his niche.
Moving forward he's interested in creating large scale commissions for hotel lobbies or corporate environments, but for now, his got his hands full with leafy sea dragons, dolphins and other ocean wonders.   
Gundesen's star is on the rise so don't miss out. Have a look at his website to order a one of a kind work of art or just to see what this amazing artist is up to: christiangundesen.com