By Peter McCullough
When the group of children, bright-eyed with curiosity, assembled for the first time at the small wattle and daub building that was the school house they were greeted by a very correctly-spoken gentleman who introduced himself as Mr Planck, their teacher. The year was 1871; the school, Rural School No 104 at Balnarring.
Family background
Septimus Miller Planck was an Englishman, born at Hampstead, London in 1839. The original spelling of the name was P-l-a-n-k and the family had its origins in Wiltshire. Since the mid 17th century many generations had grown up in and around the old market town of Devizes. Septimus' father, George Plank, held the position of Secretary of the Customs Fund in London. His mother Anne (Miller) Plank, had been married previously and had five children from her first marriage. She and George had another four sons. When Anne's seventh son was born he was given the appropriate name 'Septimus', which is Latin for 'seventh' and the name 'Miller' was added for his mother's family. George, Anne and their children lived in what has been described by a descendant as "a delightful two-storey house just off Hampstead Heath". Later George and Anne left London for Worthing, not far from Shoreham-by-the-Sea in West Sussex.
Early years
The boys received a good education and it is believed that Septimus had three years at school in Germany. Two of his full-brothers went to India. William became a tea planter and Charles, who had qualified as a surgeon at Guy's Hospital Medical School, joined the Bengal Medical Service. Charles held various positions in different areas of the sub-continent and was present at Lucknow during the Indian Mutiny in 1857. The remaining brother, Henry, was a dentist. (It was Charles, the surgeon–general, who added the additional 'c' to the family name in 1864 and his brothers adopted that spelling too. This would cause embarrassment to a later generation as the name now appeared to be German in origin. When World War I broke out loyalty was questioned.) As a young man Septimus went to India where he worked for a period as a tea-taster on a plantation, probably that of his brother William. On his return to England he worked in a brewery office in London and in 1861 he is listed as being an 'ale merchant'.
Septimus and Annie in their younger days.
A new life
It was in 1861 that Septimus married Annie Linard in Surrey. Both were 22 years old. His occupation, as given on the marriage certificate, was that of 'beer merchant'. Two children were born to the couple over the next couple of years. A daughter, Annie, was born in Brighton in 1861 followed by a son, Charles, two years later. Septimus' wife's family, the Linards, left England for a new life in Australia and the young family decided to follow their example. They came under the Land Grants Scheme of 1863/4. Septimus, Annie and their children sailed aboard the "Flying Cloud', arriving in Queensland in February 1864. Initially they went to a sheep station but Annie found the climate too hot and they moved to Victoria where her family had settled.  Family lore has it that they were twice burnt out by bushfires, once in Queensland and again in Victoria. Financial necessity might have prompted Septimus to take up teaching.
The family had grown too, The couple's third child, George, was born in 1866 – birthplace believed to be Fitzroy – and a fourth, Agnes, was born at Collingwood in 1869.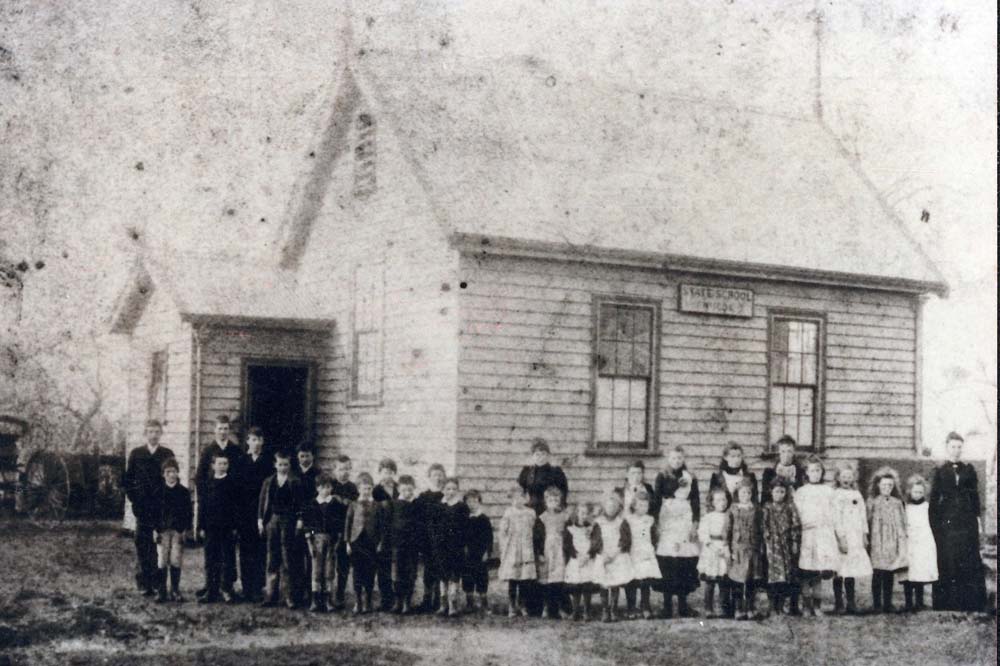 The move to Balnarring
The family came to the Balnarring District in 1871 when Septimus, at the age of 32, received a teaching position at Rural School No 104. It was predominantly a farming community. The school was one of its first public buildings. A night school had started up in someone's home, but the community wanted a permanent day school where their children could be taught. The area had a store and a post office that operated from the home of one of the settlers, Paul Van Suylen. His home was near a junction of two major tracks and had become something of a centre for the new community. A small wooden church would soon open on one of the reserved town lots at Merricks. Here Anglican and Presbyterian worshippers held services on alternate Sundays. Any get-togethers took place at someone's house, except for the yearly horse races. Then everyone met, in picnic fashion, at Emu Plains between Balnarring and Hastings for a day's fun.
School master
The school building was of wattle and daub and stood near the corner where the Anglican church now stands. . If all pupils were in attendance there were twenty boys and nine girls. Among them were some faces very familiar to the school master. Three small Plancks sat facing him in the school room – Annie, Charles and George. Agnes would join them in turn. Lydia Linard, who was related to his wife and living with the family, was also one of his pupils. The children's ages ranged from thirteen and a half down to three and a half years. Mostly they were the children of the farming families of the district. There were four boys from the Davies family, three young Laurissens, Elizabeth Hurley with her younger brother Joe, Annie and Emma Van Suylen plus the Johnson children in the line-up. A few had received some schooling at home, but for most this was the first time they been given any lessons.
Mr Planck was most likely a strict teacher. He had definite ideas about discipline, the correct way to behave and good manners. The children, however, would have received a sound schooling as he was a well-educated man and had the experience of living in different countries.
The first school house was a temporary measure. In 1873 when the Education Department of Victoria came into being, there was a name change to 'State School No 1337', and within a few years a new weatherboard building went up on a 5-acre site along Buckley's Road (now Balnarring Road.) The school was built by local contractor, Paul Van Suylen at a cost of £242 /11/8. It could accommodate forty children and there was a two-room residence attached to the school-room. When the children took their places in the new premises in February, 1876, the school was now State School No 1698. Mr Planck continued on as head teacher.
Presumably Septimus, Annie and their family lived in the school residence.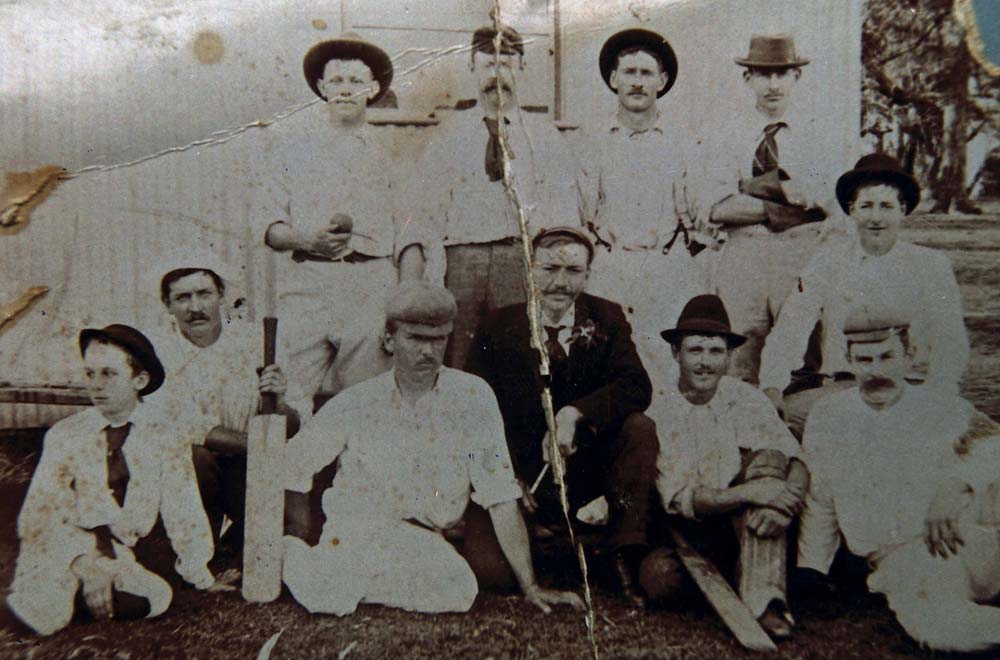 The wider community
Septimus became a selector, taking up Lot 104 A in the Parish of Bittern, a holding of about 183 acres to the south of Myers Road between the Balnarring–Mornington Road and Stumpy Gully Road. Part of this was leased to a neighbouring land-owner, with further acres added at a later time. As well as being the school master Septimus involved himself in other community activities. He was Deputy-Registrar of Births and Deaths for the Balnarring District, resigning in 1876 when he moved away.
When an area was set aside for a Recreation and Cricket Reserve, Septimus became the official spokesman, nominating three local men as Trustees of the Reserve to the Flinders Road Board (fore-runner of the council). Sport was an important part of his life. He, himself, was an ardent cricketer. His love of the game was inherited from his father who had played for the Marylebone Cricket Club in England. Septimus' sons, when they were old enough to play, also shared his love of the game. Septimus was one of the players of the first team fielded by Balnarring, a team he captained for a while. Thirty years on, one old cricketer from another club, reflected on the "very pleasant meetings" and "good feeling between teams" when S. M. Planck was the skipper of the Balnarring team. It was a gentleman's game.
Annie gave birth to two more sons, Frederick (1873) and Robert (1875) whose names were registered while the family was living at Balnarring.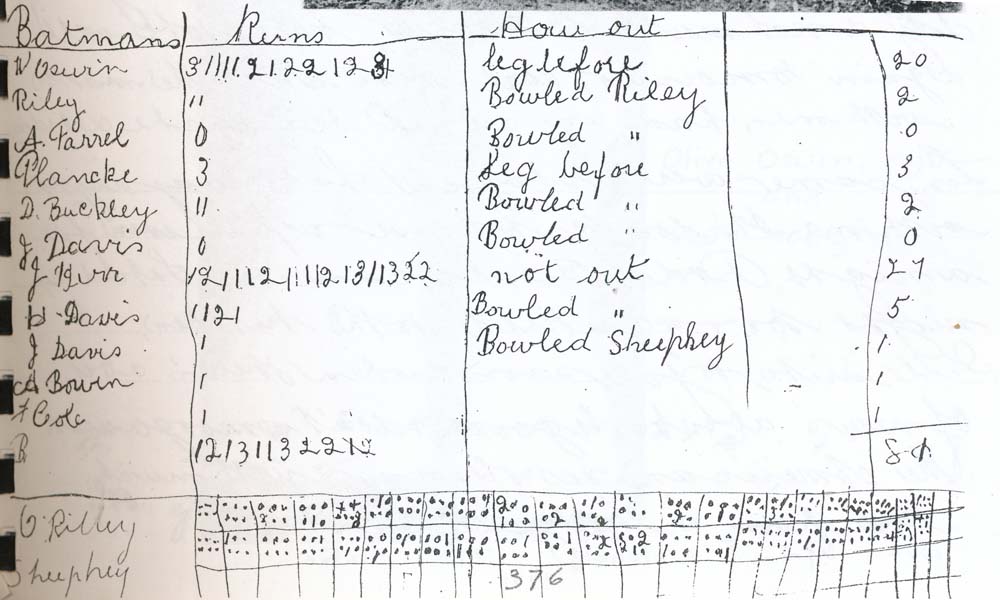 Transfer
After six years at the Balnarring School, Mr Planck received a transfer and in the 1876 – 7 school year he took up the position of head teacher at the Balnarring, Stony Creek School. Stony Creek formed the western boundary of the Balnarring Parish. There was a reserved area for a town on the coast and a jetty had been built to ship out timber to Melbourne, wood for burning and timber for railway construction. The area had been settled in the 1860s mainly by Irish Catholic families who had come from the goldfields. Many were related by marriage. The Byrnes and Rileys, the Kennedys, the Nowlans and the Dowlings. The Stony Creek School had opened in the April of 1875 with an enrolment of sixteen children. Mr Septimus Planck replaced Mr John Ullyet as head teacher. Two acres for a school building had been offered by Miss Byrne who owned land adjacent to the town reserve and a sturdy school house of local, hand-made bricks on a base of bluestone was erected. The residence attached to the school consisted of three rooms. The Planck family moved house and settled into their new community.
'Stony Creek,' becomes 'Shoreham'
In 1881 the postal service reached the area with the school house becoming the official Post Office. Mr Planck, head teacher also became Mr Planck, Post Master. To avoid confusion between the two 'Balnarring' schools and Stony Creek with Stony Point, Septimus suggested changing the name of his new school to Shoreham. In 1881 the name 'Shoreham' was formally adopted.
The Planck family continued to grow with the birth of Albert in 1878 and Francis in 1881. Three years later a second daughter and their ninth child, Winifred was born. Despite having young children Annie Planck also held a position at the school. She became 'sewing mistress' or an assistant teacher.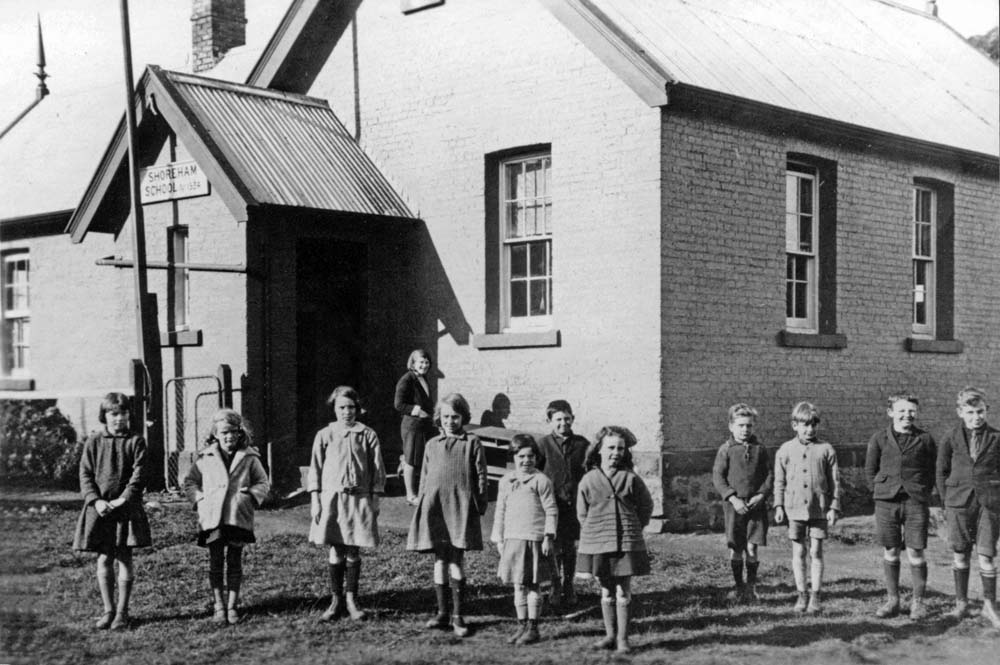 A cricketing career
Cricket continued to play a major role in the schoolmaster's life. Small country centres like Balnarring and Flinders got together a team as soon as they had somewhere near enough players. For matches players interchanged, sometimes playing for one club when numbers were short, sometimes for the other. A list of players often shows cricket as a family affair. Septimus became known as "the legendary Flinders batsman" when he played for the Flinders team. He was the first captain of the Flinders Club and he won the President's trophy on a number of occasions. In 1878 a report of a return cricket match between Flinders and Dromana appears in South Bourke and Mornington Journal. Each team had only nine players. Septimus scored 15 of the 43 runs notched up by Flinders before the team was all out. Two of his sons, Charles (Charlie) and George, both still lads, were also players in that match. Fifteen-year-old Charlie made 4 runs while eleven-year-old George was bowled without scoring. Septimus and Charlie were named as "the choice of the Flinders bowlers". Septimus took four of the opposition's wickets and Charlie claimed one wicket. He also caught out a player from a ball bowled by his father. When Septimus left the district to take up a teaching appointment elsewhere he was presented with a bat for the 1882/3 season following a batting average of 11 runs from 11 innings. His departure considerably weakened the Flinders side although son, Charlie, kept the Planck name in the headlines.
They were farewelled by the local community. In June 1883 a paragraph appeared in the Country News section of the Argus: "A pleasant social gathering took place at Balnarring on Tuesday evening last, the occasion being a complimentary farewell dinner to Mr S.M. Planck, head teacher of the Shoreham State School, he having been a teacher in the district for upwards of 14 years and is, it is understood, about to be transferred to a school in a more populous locality at Avenel. The chair was occupied by Mr Robert Wighton."
Brothers Charles and George Planck
Departure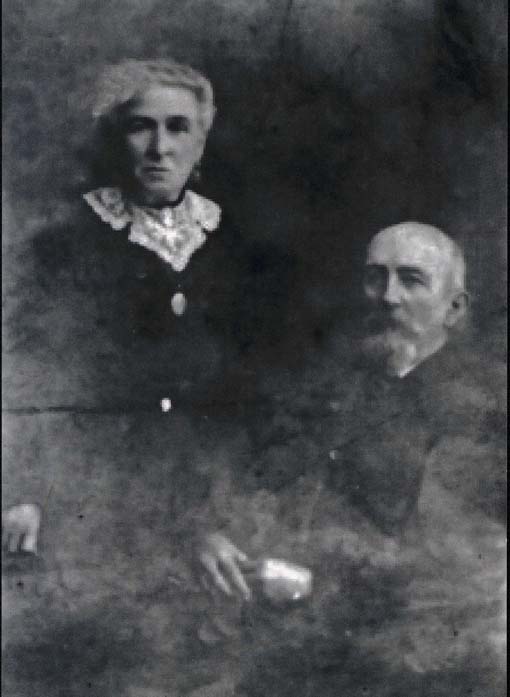 The Planck family kept its links with Flinders. Eldest son Charles had begun working at the Telegraph Station in Flinders where he became Chief Clerk of the East Extension Telegraph Station. The cable between Tasmania and Flinders on the Victorian coastline had been successfully completed in 1869 and a duplicate line opened in 1885. His brother George also found work with the same cable company but at the other end of the line at the Georgetown Cable Station in Tasmania.
Septimus Planck continued his teaching career at the Avenel school north of Melbourne on the main route between Melbourne and Sydney. The town had become a bustling centre during gold rush days and a centre for the Cobb & Co coach run.
The family dispersed as the children became adults. Two sons, Fred and Charles, died in the influenza epidemic that swept the world in 1919. Robert went to South Africa. Others made their homes in Melbourne. Agnes stayed in Avenel.
Septimus and Annie eventually retired to Clifton Hill where they lived in their home, "Gwentland", at 51 Queen's Parade. It was there that Annie died at the age of seventy in 1909. Septimus Miller Planck, "Sir" to many youngsters who passed through the schools where he taught, lived to the age of eighty-one years.  He died at his home in 1920. Although having lived in Australia for over fifty years, he was ever the Englishman, maintaining his "Englishness" throughout his life and no doubt his enthusiasm for the gentleman's game of cricket.
---
Sources:
Various newspapers from the period.
Margot Titcher, family descendant, family history research notes.
Jim White: compiler of the History of the Flinders Cricket Club
Ian Wisken: Balnarring State School 1872 – 1950
Education Department of Victoria: Vision and Realisation
Photographs from the Flinders & District Historical Society and from the Balnarring & District Historical Society's collections. Reproduced with permission.