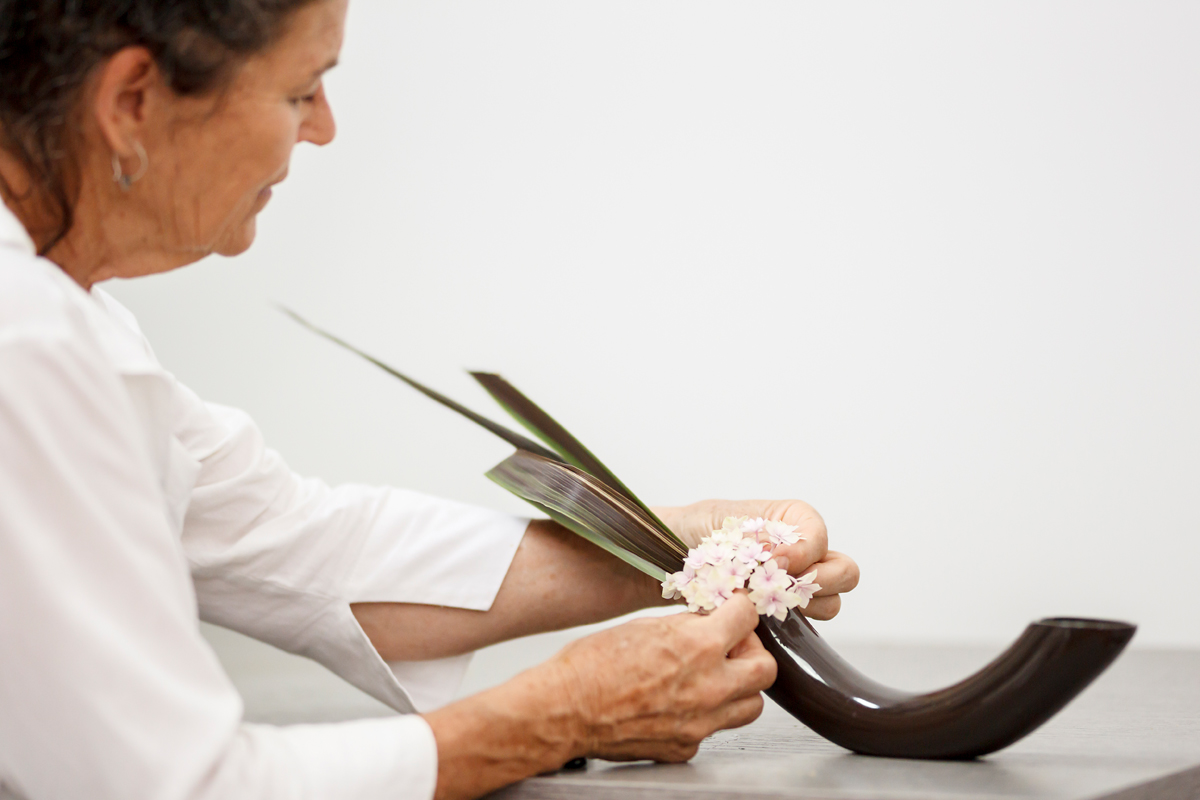 By Andrea Louise Thomas Photos Yanni
From her home studio in Mount Martha, Aileen Duke practices and teaches ikebana, the ancient Japanese art of flower arrangement. She's been practising for 14 years and teaching for three, yet she feels she's still a student because ikebana is constantly evolving. "Lifelong learning is something I have always embraced as an attitude towards life," she says.
More than just pretty flower arrangements, ikebana is a practice based on the philosophies of harmony, minimalism, symbolism and meaning. Each element and each composition tells a story. The three elements of ikebana are: line, colour and mass.
The four principles are: fresh approach, movement, balance and harmony.
Ikebana originally came from China when Buddhist missionaries threw flower offerings to the Buddha. They then refined their gifts into arrangements. The Japanese adopted this tradition. The first ikebana school, Ikebono, was founded in Japan in the seventh century.
The ikebana practiced today was popularised by a Shogun (Samurai lord) in the Middle Ages. Samurai felt ikebana improved mental focus because it requires mindfulness. They believed communing with nature was purifying. They also viewed ikebana as a reflection of their own mortality.
In 2000 Aileen spent four weeks in Japan on a University of Melbourne Cultural Enrichment Teaching Fellowship looking at ways to bring greater cultural awareness to Australia. Being immersed in Japanese arts and culture had a great impact on her. She has returned to Japan many times since.
It was Aileen's younger daughter, Madeleine, who suggested ikebana classes. With both of them working in the corporate world, Madeleine was enjoying ikebana as a creative outlet. She proposed it as a shared interest that would provide catch-up opportunities and it turned into lifelong passion for Aileen. Now she can't imagine her life without it.
Aileen has been studying with the same ikebana teacher in Murrumbeena for 14 years, but due to COVID, there was an explosion of interest in ikebana and people from all over the world were connecting and sharing online. Now Aileen studies with a teacher in Belgium too.
"Ikebana takes something beautiful and highlights that beauty. It's an expression of life itself," she says. Aileen shared a story of an ikebana master who was visiting a garden with a beautiful hedge of flowering camellias. To the dismay of the owner, the gardener removed all the flowers except one perfect bloom, making that one flower the star of the show (which greatly pleased the ikebana master). That is the essence of ikebana.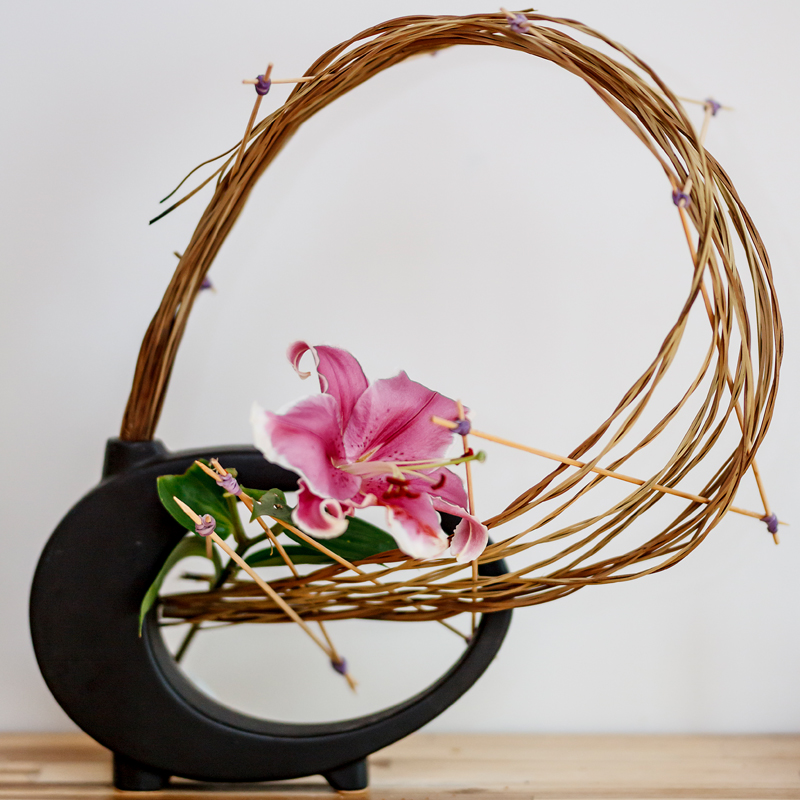 Sogetsu is the school of ikebana Aileen practices. It was established in 1927. Its philosophy is that ikebana can be practiced anytime, by anyone, anywhere. There are many different schools with different philosophies and rules, but they all work with angles and asymmetry.
"Ikebana can be artistic, but I wouldn't say it was art. It's sculptural, but not sculpture. It really is its own essence," Aileen says. She decides what to make depending on the materials at hand and where her mood takes her. She chooses the materials and matches them to the container/vase.
Aileen gathers her materials primarily from her own garden and surrounding area. If she is interested in a certain flower or plant, people are very obliging about allowing her to take a cutting. She often finds things in the garden clippings people discard. Sometimes she sources from local flower growers.
It depends on what she is looking for.
While ikebana generally focuses on highlighting elements of nature using flowers, leaves, bark, reeds, grasses, stems, branches and other organic materials, it can actually be made from anything. Aileen has used some unconventional materials, such as, vegetables, paper and plastic.
It's not just the materials that are important. The container or vase is a key element of the arrangement. Its size, shape, colour and texture influence the selection and use of materials, and conversely, interesting materials may prompt the use of a particular vase.
Aileen creates pieces that range in size from 10 x 15cm to more than a metre high/wide. She has an incredible variety of containers; so many, in fact, that she'd like to share them by starting a vase library.
If she had to add another string to her bow, she'd take up ceramics to make her own vases and containers, but for now she is dedicated to making interesting arrangements and teaching others to do the same. Ikebana is a creative, beautiful, relaxing practice, but also has mental health benefits because it requires mindfulness. Aileen believes ikebana creates happiness.
Order arrangements or sign up for classes at: