By ANDREW DIXON  Photos YANNI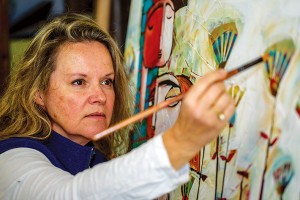 Janine Daddo is a household name on the Mornington Peninsula. Once a creative executive in Melbourne's advertising world, she turned her talents to art some nine years ago, and has met nothing but success for her efforts. She credits her rise to fame with her unique yet contemporary visual style, and has recently turned her attention to sculpting, with the support and engineering skills of her partner Clinton.
"I go out to the studio at about 7am, when it's still dark. The dogs follow me out, hanging with me until about 10 when I finally bring them back up to the house and reward their loyalty with breakfast. They each have a favourite chair, but their footprints end up all over the house!"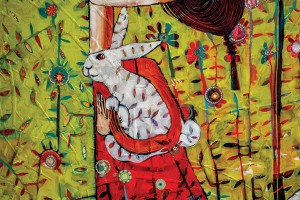 In addition to her pets, she shares her home with her two kids, one of whom is on the verge of entering the wild world of advertising himself. "I've had all sorts of studios and I've always painted at home, being a single parent, so I've had my work on hand and they've had Mum," an obvious source of inspiration.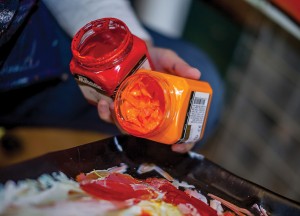 And so began the search for someone with the skills to take her legendary paintings into the metaphorical third dimension, leaving the creative ball firmly in her court. "I started interviewing guys to see if I could find someone to work with, and there's a lot of amazing, talented people out there. But when they're the super-creative type, they're inevitably going to want input and influence  the work. I was at that stage of infancy where I really didn't need another influence – I needed to see what was in my own head before going collaborative."
"I met this guy Clinton… we got on really well as mates as well as colleagues, and what was great about working with him was that he hadn't spent his career in the creative space. He knew all about the physics and material properties of the metals I wanted to use." It was a match – "he's really a mechanical engineer by trade… 5 years ago I started talking to people who could make this happen… finding out what was possible, how I could translate my paintings into sculptures with the same feel." That's not to imply her canvas work is two-dimensional – the materials and paints Janine uses leave a painting that's anything but.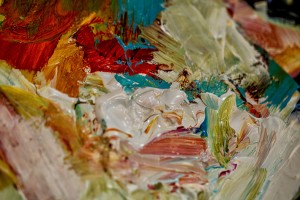 Nonetheless, sculpting requires an entirely different set of skills to painting, which means as an artist you either start from scratch, learning the properties of your materials and how to create with them from the ground up, or you take on help. When she started her new trade, the prospect of handing over creative control, and thus the look and feel of the result, was understandably daunting. "You have to get a foundry or shop to give you a hand, which is fine, but I was apprehensive about that because at that stage I hadn't even visualised my work in my own head – I had no idea what they'd end up looking like. I figured once I had another person involved, the project could literally go off in any direction!"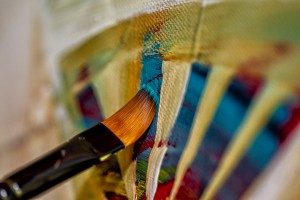 Thus, with Clinton's engineering prowess and Janine's artistic hand, they dragged ideas out of her head and into reality. Though her sculpting studio is off-site ("I can't do the two in the same place because there'll be grime and gunk everywhere") she has some smaller examples of her work in her newly-constructed backyard studio – a clear upgrade in amenity terms from the garage immediately adjacent. "I'm still painting, but up until now my new building is more of a store room than an actual studio," she says of her new workspace. "I'm still using the garage, which is very grungy and cold." Clearly, it doesn't affect her imagination – you can almost see her paintings shining through the rusted metal sculptures.
Even a talented artist like Janine needs a platform to promote and sell their work, and when it comes to fine art, Gumtree probably wouldn't cut it. "I've had exhibits with Manyung Gallery from the beginning, and still do shows there today. Sharyn and David have been amazing… and they're always happy to give me a critique on the night!" It's a symbiotic relationship, with Manyung since expanding to sites in Malvern and Sorrento, giving Janine the publicity to take her work first interstate – where she's held well-attended shows at Gullotti Gallery in Perth – and then international. You'll find Janine's work on public display from London to New York.
None of which diminishes her standing as a local – Daddo still calls the Peninsula home and, together with Clinton, has no plans to leave. The cultural fabric of our towns and suburbs is all the richer for it.