By Melissa Walsh   Photos Gary Sissons
Fashionistas across the Peninsula delight when the Spring Racing Carnival hits our coastal town with the annual Peninsula Cub Day. Among racing, fine food and champagne, fashion forward racegoers continue with the high standards that the Mornington Racecourse has become famous for, showcasing the latest spring racing trends for the new season.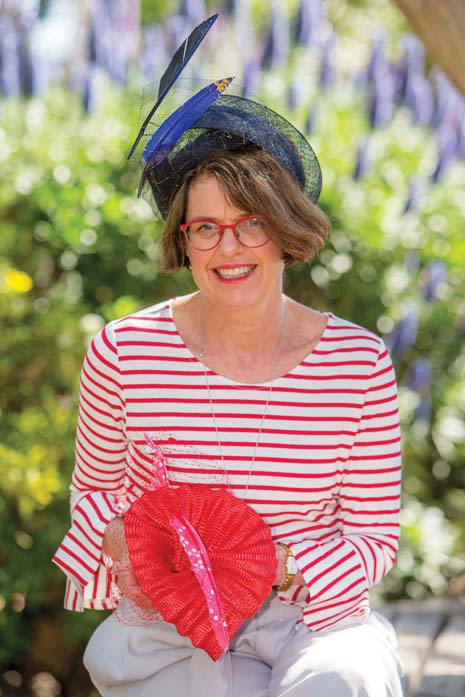 Mt Eliza milliner Felicity Northeast says headwear has taken a different turn this year with changes in colour and style for the 2017 racing carnival. Peninsula Essence talks to Felicity about the upcoming styles and how to make your spring racing outfit stand out.
What fashions are we going to see this year?
Lots of pieces that are siting further back on the head, rather than at the front like last year. There are lots of wraps, and turban inspired headpieces, as well as hats and headpieces that are a bit more intricate. We are also going to see a lot of boater type styles and crowns that are asymmetrical. There are also a large variety of different brims, or two colours combined.
When did the back of the head pieces start to become a trend?
This is the first time we have seen as much focus on back of the head pieces. Last year we started to see turbans but we are seeing a lot more this year.
What have been the trends in recent years and are they still in fashion this year?
The big trend was the percher which is a headpiece that perches right on the front forward of the face. We will still see it on the catwalks but the main trend is more towards the back of the head. The other big trend is the crown-type shape with the half-crown or full crown that tends to be quite ornate.
How is our fashion guided in Australia?
We tend to do our own thing when it comes to fashion and stand apart with more creativity and freedom. The English either go really way out or quite conservative; the American's tend to do big things; and we do our own thing.
What about colours?
This year there is lots of metallic like silver and rose gold that are part of the stronger movement. We are also seeing every shade of blue in the trends, but the biggest seller is red this year. Red seems to be everywhere with millinery and outfits for 2017. There is also a great influence with softer colours with the pinks, golds and yellow. This year there are also stronger yellows starting to come through. Green is also meant to be the colour of the year but it doesn't always look good on the racecourse.
What about texture?
Leather is still really big but we have mainly gone back to quite clean lines with some silver flecks in material. The one that is doing really well is the detail in the trim like handmade stamens and feathers with different designs. We are going for the cleaner line in lots of ways. I always do textures in black though, but fashion is more streamlined this year.
Should you choose millinery and then your outfit or vice versa?
Most people buy their dress first but people who are right into the millinery or go to the races a lot will buy the head piece first because races is about fashion in millinery. But by far the majority bring the dress; I look at their face shape and the dress, and then work out the hats.
What age group tend to wear hats to the races?
I dress people from 13 to my oldest client who is 95 plus and still goes to the races every year. There is always something to suit every age group.
How many years have you been a milliner?
I started studying in 2007 and did my first range in 2009 and it has grown since. I won the design award this year and last year and it has just grown from there. We are lucky on the peninsula as we have a lot of horse trainers and the Mornington race course so it is a great place for spring racing and fashion.
What do you recommend for outfits this season?
Make the hat sing; it's the only time that you can wear a hat so make it the feature. Keep the dress and accessories quite simple if you have a hat that's a statement.
What advice do you have for first time millinery wearers?
Start small with a head piece and then build up as you get used to it. A lot of people feel uncomfortable wearing large head pieces but the races is the one time you can be as creative as you want with your headwear.