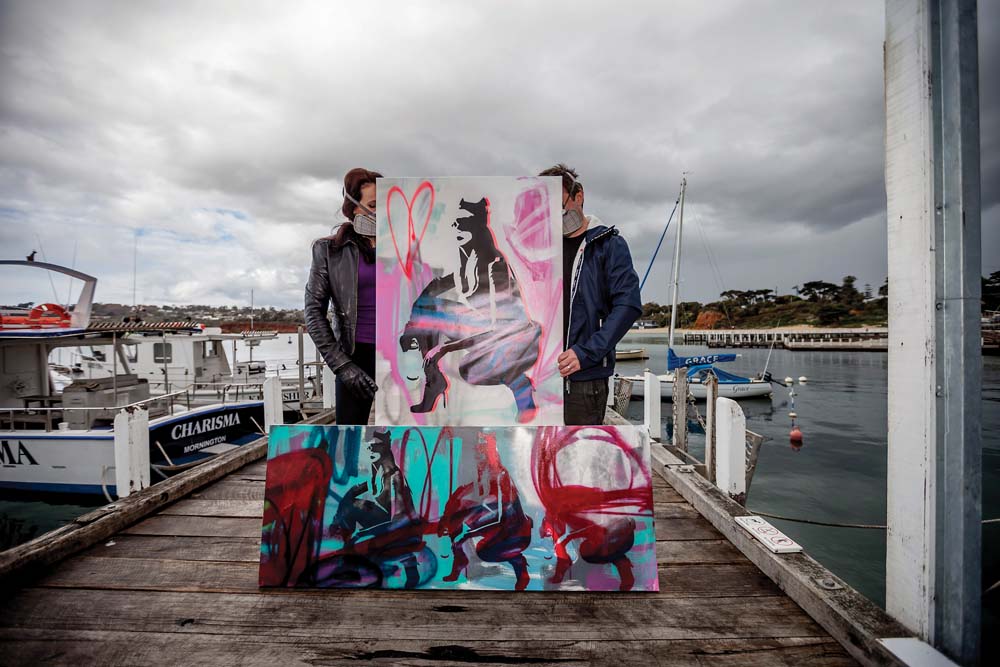 If you've been watching the news lately, been on social media or have visited Melbourne CBD in recent weeks you may have seen the work of renowned Melbourne 'street art duo' Cit Cat. Behind their hidden identity, the dynamic duo are Daryl and Anna Boyle.
Now the street artists are setting their sights on the peninsula, where Anna grew up with her family and has a particular affiliation.
"I grew up at Merricks Beach and we've had artists in the family for generations. Mum is an art teacher and my grandma did pottery in the backyard. We're a very artistic family," said Anna. "I have studied fine art, and Daryl has a graphic design background."
The couple started their sign business together at the age of 21 and have worked together ever since.
"We've never stopped doing art. We love being creative," said Daryl, who was self-employed as a graphic designer for many years. "We made a good living running a boutique sign company and were always thrilled to do the more creative jobs."
With creativity in their blood, it was a natural progression for the couple to want to transform their passion for art in a more public forum, which is how their street art was born.
"The sign business and street art are very similar in that they use the same set of skills. We created Cit Cat as our street name because it is perfect for the kind of undercover work street art inspires. Our first street artwork was in Hosier Lane. We worked late at night with our masks on to keep some anonymity," said Daryl, who says Cit Cat Art is a natural evolution from commercial art to street art. "As artists we want to share our art and ideas. Our motto is, street art meets fine art. We've been 'Cit Cat' since May last year."
The duo were surprised to suddenly get notoriety this year when they painted the security bollards in the city and it has increased their passion for art and spreading their message of love and peace.
"We suddenly came under the spotlight with the newspapers and other media when we painted the bollards. We wanted to make the blocks look beautiful," said the couple who are all about spreading love in the world without any hint of a political agenda. "We saw that an artist had displayed his work with fabric on a bollard and thought it would be a great way to show our work as well."
"Cit Cat Art is about being strong and positive. We are not politically based and want to spread love, warmth and empowerment," said the couple, who have always expressed a punchy pop art feel in their work. "We're inspired by Andy Warhol, Jean-Michel Basquiat, Robert Rauschenberg and various street artists such as Seen, Quik, Cope2, Blek le Rat and Banksy. We love using bright colours and graphic imagery."
These days, the couple are keen to bring their kind of art and positiveness to the Mornington Peninsula.
"We want to use the peninsula this summer as a muse for our photo-stencilled Cit Cat style. We have used iconic places like Flinders Street Station in our urban art and plan to use the beach, vineyards and nautical themes," said the team. "That way we can bring more interest to the peninsula by having coastal inspired designs in some of our street art."
Recently, Cit Cat Art was invited to exhibit their street art designs at the 2017 Melbourne Fringe Festival and have received orders for their artworks via Instagram.
"We love that street art is becoming more accepted in the art world and in mainstream culture. Street art has enjoyed a lot of media attention in recent years and this helps to encourage appreciation for the art form," said the couple. "We know that graffiti has a mixed audience. We never tag. We respect private and public property and only work on walls in approved laneways and private commissions. We'd love to work on an edgy, coast inspired mural that pays tribute to peninsula life. We want to share Cit Cat's art and philosophy and help connect Melbourne audiences with this beautiful region."