By Melissa Walsh  Photos YANNI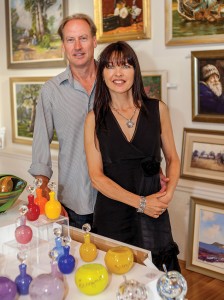 Rebecca and Craig Davy had always dreamt of having a house and gallery together so they could combine their love of art and creativity with their home life. It all began 15 years ago when Rebecca opened Flinders Fine Art Gallery, and then Sorrento, after working as a crane driver for many years.
Being a woman who can turn her hand to anything, the pretty and petite Rebecca had her sights set on her first gallery all those years ago and it became a fabulous success. So it is little wonder that their newly opened Noel's Gallery and Café in Red Hill will also thrive.
"When I opened the first gallery I had been ready for a life change from the hard hat and overalls," said Rebecca who had always had a love of art. "And after a year of opening, I met Craig, who has now become a wonderful artist himself, winning many awards and accolades."
Together with their young daughter, the family sold  Sorrento and moved up the hill to the Red Hill property after finding it for sale one day.
"I remember I was sitting in the car and Craig came back and said 'You have to see this'. I walked in and knew immediately this was the place for us with its old home, gallery and incredible views," said Rebecca, who also knew there would be plenty of work ahead.
"We spent every day cutting down ivy, fixing the gardens, painting, replacing weatherboards, doing the floors, adding windows and expanding the kitchen until we had it right," says Rebecca, laughing that they still haven't unpacked half the cases in their new home. "We literally walked in, dumped our bags and started working on the gallery, and after months of working day and night, we opened in September last year. A month after that we opened the café which is now fully licensed."
The moment you walk into Noel's Gallery and Café you can feel its heritage and relaxed ambience, with splashes of colour from wonderful Australian and local artists, handmade jewellery, blown glassware and sculptures.
Chef Damon works away in the open kitchen creating dishes to tempt the tastebuds with a focus on fresh and healthy ingredients and specials every day.
You can wander around the gallery with its wonderful selection of artworks, dine inside, or alfresco on the back deck that enjoys a wonderful rural vista like no other.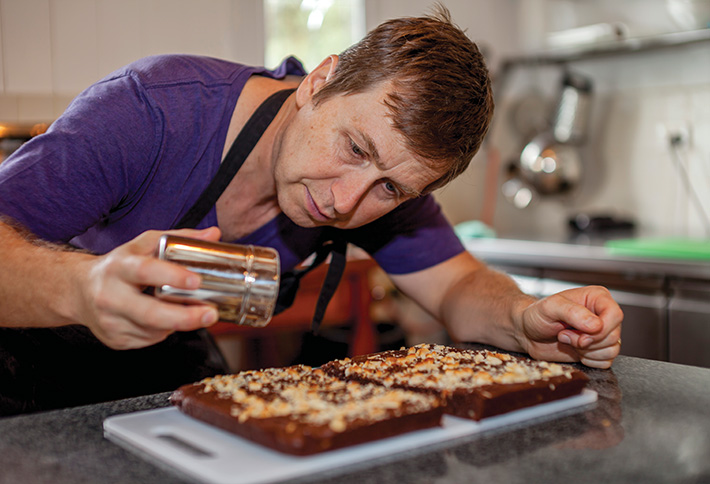 With its 40 year history, Noel's Gallery was started by a lady named Noel, but has sat untouched for many years until this inspired young couple came through its doors. Even as I wandered around the gallery, an older woman came in with her daughter and said she had been here when it opened 40 years ago but now it was even more beautiful – a sign that owners Rebecca and Craig must be doing something right.
"We love the tradition and the history of the place, with the original old homestead dating back to 1929, and have decided to involve the community in the next decision so we have a suggestion box for other possible names if anyone has any good ideas," said Rebecca. "We will also be running some 'dinner and demo' nights for up to 20 people which should be a lot of fun."
Noel's Gallery and Café is at 1175 Mornington Flinders Road, Red Hill. Phone 5989 2203.