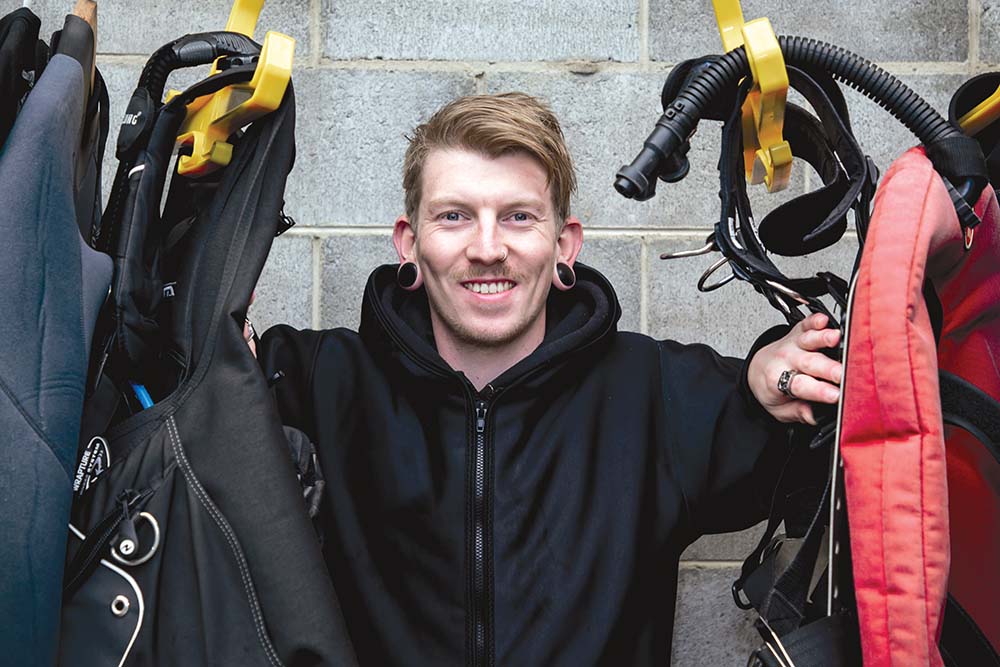 By Melissa Walsh Photo Yanni
The Mornington Peninsula is a hive of activity in summer with thousands heading down to enjoy the myriad of water activities and scenery. That doesn't mean we have to stay out of the water in winter as master scuba diver and guide, Sam Glenn-Smith, explains. Peninsula Essence talks to Sam at The Scuba Doctor about the ultimate places for winter diving around Rye.
"I personally think winter diving is as much fun, if not more, than summer diving, and there are so many great dives around Rye and Blairgowrie," said Sam, who takes bespoke guided dives to his favourite locations. "I focus on pier diving as the piers like Blairgowrie, Rye, Portsea and Flinders have the best marine life in the area. I get people who come from overseas and interstate just to see our blue ring octopus, seahorses, spider crabs and weedy dragons."
For Sam, who was introduced to scuba diving when his father took him on a dive vacation to Fiji, the passion for diving began when he was in his teens.
"I was 16 when I learnt to dive in Fiji and was hooked straight away," said the 24-year-old. "I dived over there with tiger sharks and bull sharks at Beqa Lagoon and it was incredible. Five years later, I went to the Philippines with a good friend who is a dive instructor and got into underwater photography which has become another passion. It was also the catalyst for my professional diving aspirations," said Sam who started at the Scuba Doctor in Rye five months ago, after completing his dive master last year.
As for diving in the winter, Sam says the peninsula is the best place to be. "Diving down this way in winter has so many good points. The visibility is one of the main things to entice divers into the water at this time of year.
Over summer the water is warmer but we get algae blooms so they naturally drop visibility plus the weather in summer is more unpredictable. In winter, you might get one or two days when it's unsuitable weather for diving but they clear up straight away and visibility returns quickly," he said. "There's a wide variety of dive sites on the peninsula but, in terms of life diversity and bio diversity, the piers have the most. You can go on a dive to Blairgowrie pier and see a two and a half metre stingray and then two minutes later find a 20 cm big belly seahorse. There are very few reefs around here apart from places like Popes Eye, yet the piers cultivate growth and kelp, because of their pylons. It becomes like a highway where things congregate under and around the piers. Where small things congregate, larger things tend to follow so we get a wide variety of sea horses, octopus, tiger sharks and giant stingrays."
Sam's favourite diving haunts have a huge variety of marine life that can change from morning to night.
"In Portsea and Flinders we get weedy sea dragons; Rye and Blairgowrie are great for sea horses and octopus. Each pier is totally different from one day to the next."
It's no wonder that winter diving draws the crowds when you take into account there is more interaction and numbers of marine life over the cooler months.
"The biggest thing that brings the crowds is the spider crabs. At Blairgowrie we currently have 20,000 to 30,000 of them all congregated together. They come in from the deep water to malt their shells. Their new shell is soft and they're open to predation so they stick together in these huge numbers. When you see a wall of crabs all climbing on top of each other, spilling out of the water, it is an unforgettable sight. It's the only area in the world where you can see it," said Sam.
"We also get active octopus. In the last few weeks there has been an increase in blue rings with eggs which is a very rare sight. It will be great to see them hatch in a few weeks. We also have cuttlefish coming in and mating which is an incredible thing to witness. One of our divers saw the male flirting with the female cuttlefish. You can tell the male is flirting as the cuttlefish have pigments of their skin which constantly fluctuate and they use these to entice their partner."
Sam says this magical underwater world is at our fingertips and a shame to miss out on. especially when winter diving is at its peak.
"It is literally a different world. For a non-diver it is equivalent to travelling to outer space. When you're under there, feeling weightless and seeing these creatures that are so unbelievably amazing, there is no other place like it. I like the saying 'Every dive is a good dive', and if you don't dive you're not going to see this. I just did a dive at Blairgowrie today where we saw a Port Jackson shark, a giant smooth stingray, big belly sea horse, spider crabs and cuttlefish and I'm also taking a dive tonight where we will probably see ten different things."
---
Scuba Doctor Dive Shop is at 1/49 Peninsula Avenue, Rye.
Phone 5985 1700