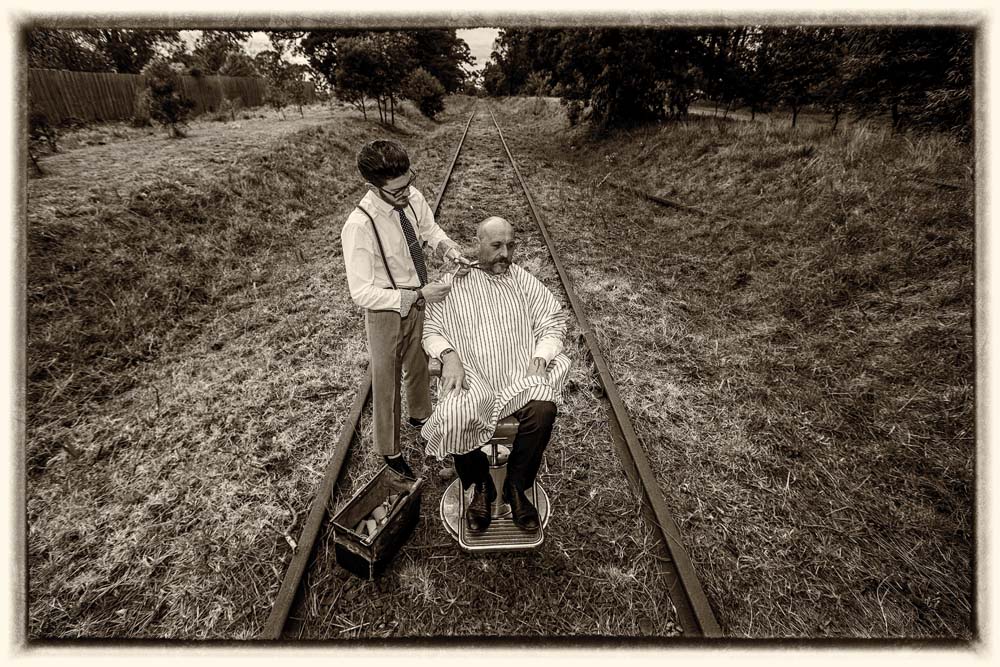 By Melissa Walsh   Photos Yanni
There's something about sitting in a salon having your hair done which opens up a dialogue for women to share their most personal thoughts and feelings. For many, the hairdresser becomes a trusted therapist. The old saying, 'a problem shared is a problem solved' seems true once you have unburdened your mind.
For many years men have not had the same privilege, having to remain stoic and keeping their problems to themselves. It's just not perceived to be manly to cry or unburden your problems, or so they thought. These days, men by the hundreds are being encouraged to talk about their lives while sitting in the barbers chair. The initiative began with the Movember Foundation when they began their new project 'Movember Rated Barbers' and the Barber Shop and Co is championing the cause.
Owner Samuel Grove says he was first introduced to the Movember rated barber concept when employee Nathan Williams brought it to his attention.
"Nathan has been a big part of starting the conversation about men's mental health after he learnt about this new initiative by the Movember Foundation," said Sam, who has also found that a lot of guys do open up and talk to their barber. "In fact, barbers are in the top four positions that men actually speak to about their problems."
For 21 year old Nathan, becoming a Movember rated barber is a great way to learn how to engage in conversation with clients and helps to understand how to deal with issues.
"There is a course which helps you learn how to identify problems and how to help a client feel comfortable enough to discuss any issues they might have," said Nathan.  "I have found that it happens quite a lot and people say some really deep things so you have to learn how to deal with it.  You become close to the client and this is a great initiative, connecting mental health and physical health."
Sam and Nathan both agree that mental health is starting to be talked about a lot more.
"It is about having a conversation without being worried about other people's opinions. We create a safe environment for men to feel free to express how they are feeling," they said.
The Movember Rated Barbers program is about supporting the barbers who are already having these all important conversations, giving them access to information, tools and resources about men, conversations and things that matter to a man.
Globally, the rate of suicide is alarmingly high, particularly in men. Around the world, on average we lose a man to suicide every minute of every day. Three out of four suicides are men. Too many are toughing it out and struggling alone. The Movember Rated Barbers program helps barbers take action to improve mental health and reduce the rate of male suicide.
"The Movember rated barber program was introduced to me this year after I did Movember last year and had an insight into men's mental and physical health," said Nathan. "I grew my moustache and did the move challenge and this year found out about the program to help barbers learn how to talk about difficult topics with their clients. The great thing is you really do develop a friendship with these guys who come back to you on a regular basis. I have people who have been my clients for a few years now and we talk about deep things as well as everyday things that are happening in their life. Barbers are becoming an important place where we can break down the stigma of mental health and suicide by having a caring and compassionate conversation."