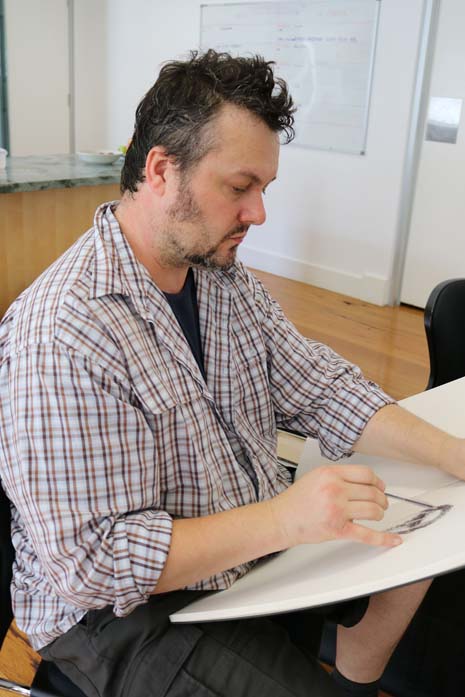 Contemporary artist Steve Salo collaborated with one of Australia's most globally recognised and respected theatre companies, Back to Back Theatre, to create portraits of the ensemble actors and artistic director. This wonderful and thought provoking exhibition is coming to Frankston Arts Centre from October 19 to December 9.
"The portraits will be on display in the Curved Wall Gallery and I am thrilled that many theatre and art lovers will get to see these works," said Steve, who is known for his big brush strokes and huge chunks of paint that convey intense emotions.
Best known for his emotive portraiture and landscape paintings, Steve showed a natural talent for painting at a young age, getting his first oil paints at the age of eight. Of Ukrainian descent, he received early encouragement from his craftsman grandfather, Dido, who lived next door in Herne Hill, Geelong.
Largely self-taught, Steve's first solo exhibition 'Portraits of Artists' was held at Metropolis Gallery in 2014. Since then, he's created more shows: 'Passerby', 'The Back to Back Theatre Portraits', 'Expressions of Landscape' and 'Halcyon Days'.
Steve's profile as a contemporary artist continues to grow with his paintings shortlisted in prestigious prices across Australia and Europe. His works are in private collections in Australia, New Zealand, Singapore, China, Hong Kong, USA, Canada and the UK.
After a long road, Steve is now on his way to living his dream; making a life and a living from his painting.
"Through the visual voice of painting, I communicate emotion. We are complex of mind and spirit, my intent as a contemporary portrait artist is to explore the human psyche through painting these complexities," said Steve. "I am interested in portraying this aspect rather than focusing on the surface level alone. My landscape paintings also go beyond the visual perception; I am more concerned with portraying the feelings evoked by being in a place."
---
The Back to Back Theatre Portraits is on display at the Frankston Arts Centre – Curved Wall Gallery from October 19 to December 9.
www.thefac.com.au