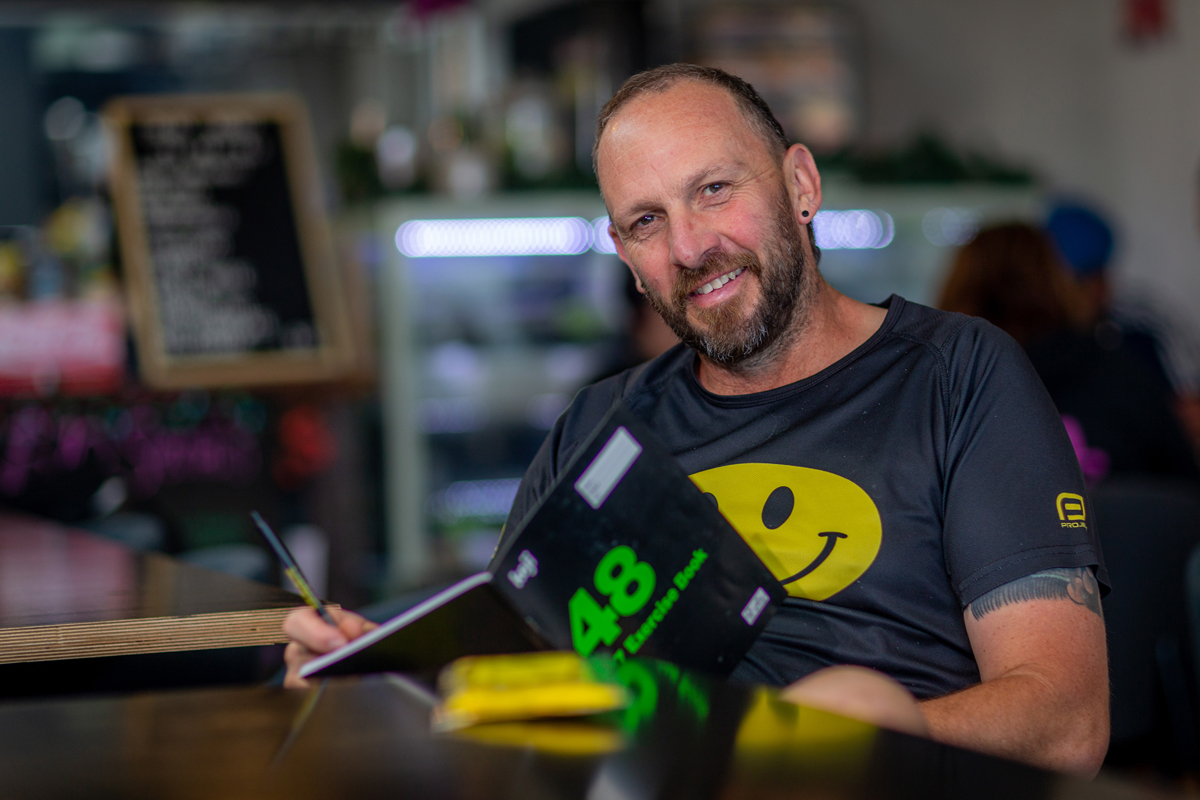 Scott Carson
By Cameron McCullough Photos Gary Sissons
It is a simple enough mantra, 'I hope you are smiling', but it has become the mission of a couple of blokes who have gone all-in to put a smile on people's faces.
James Short and Scott Carson have differing life stories, but both faced the mental and physical challenges of being the best versions of themselves.
Both started their lives in broken homes, with James channeling the experience to hone his communications skills and dedicate himself to a life of learning.
Scott ended up on the street at aged fourteen. Through the breakup of his parent's marriage, he learned the hard way the impact poor communication can have on a young man growing up.
After meeting in 2020, they decided to band together to help improve the lives of people around them. And one of their ideas? Socks.
The run to Christmas is a frantic time, but the organisation set about surprising people with a gift to bring a smile.
'The Business of Smiles' raised tens of thousands of dollars and embarked on a pre-Christmas blitz of Frankston with bright yellow socks with smiley faces on them.
"Through the socks, we managed to speak to thousands of people over the run-up to Christmas", said Scott.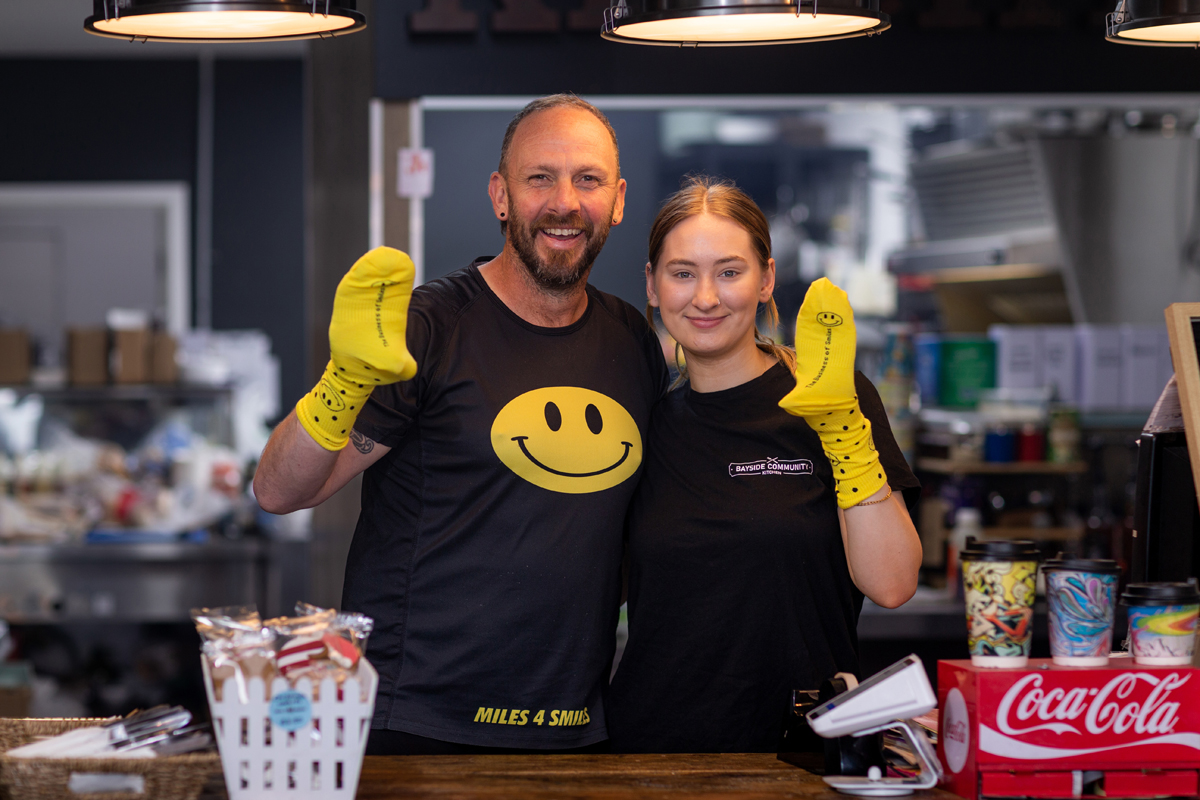 Scott and Tazmin
The socks are designed to positively bridge the gaps that exists on many fronts in the community. Symbolic in their brightness and smiling face, the socks also have black polka dots to represent the hard times we all endure.
"The socks are really a tool; a tool to connect with people's hearts," said Scott.
"It's a way to thank people for doing their best in life".
'The Business of Smiles' has now switched their attention to networking evenings in the Frankston area specifically to create a system of support and friendship for men.
"Life is the toughest game you can play," said Scott.
"As men it is important to lean on each other to be the best son, brother, husband or father you can be".
"As a man, you are a role model and there are usually eyes on you from others wanting to learn how to be and act. It is important to take the time to learn to be the best version of yourself."
Not satisfied with that, James and Scott will be running from Sydney to Melbourne in October to highlight the importance of men's health.
"We're doing the run to learn more about ourselves, primarily. To make us better versions of ourselves", said Scott.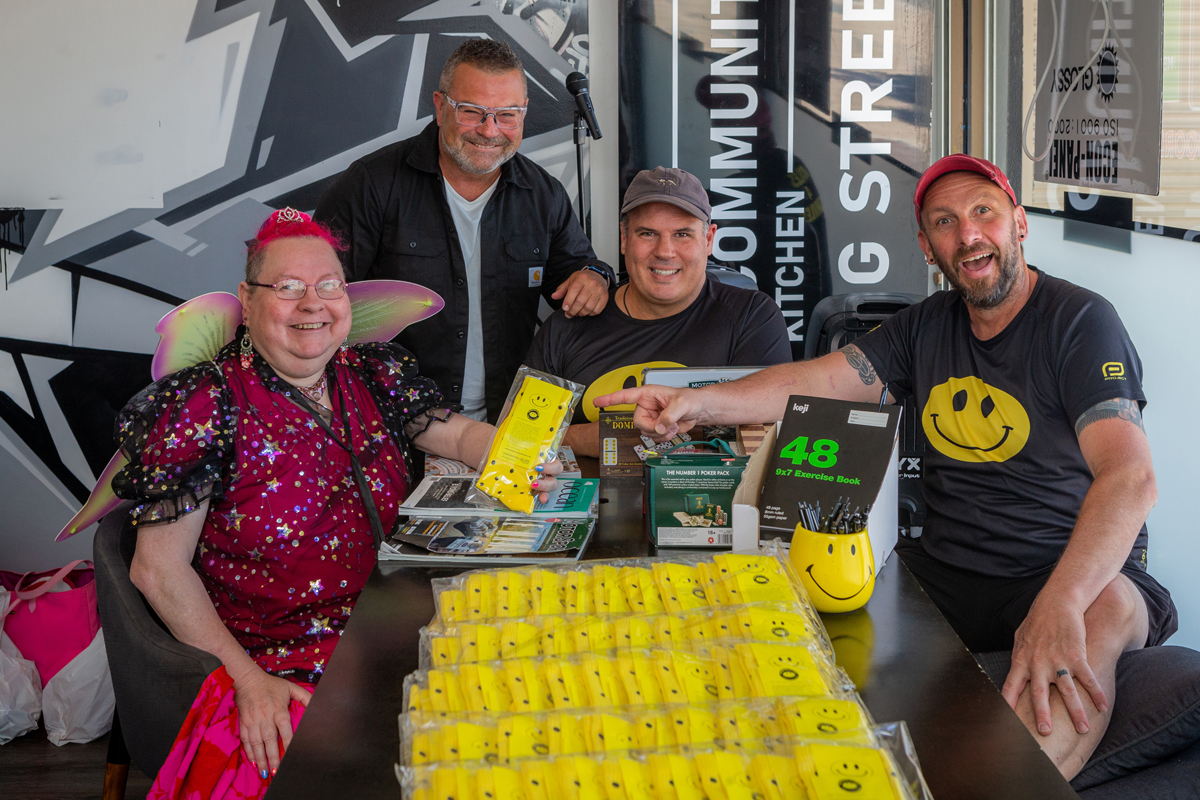 L-R Floss, Scott McLaughlan, Jon Craig and Scott Carson
"Life will always present challenges. We need to be brave enough to take them on even if they are extremely hard. The growth we get when we take them on is the true gift of life".
"Embracing the difficult, knowing it will be hard, is what life is about."
They also run 'Happy Friday's' at Bayside Community Kitchen.
"This a great café doing an amazing job in our community", said Scott.
"Not only do they serve beautiful food, but they support those in need in our community.
"Feel free to drop in for a coffee, chat, or even a board game!"
'The Business of Smiles' will not rest until they have engaged and encouraged as many people as they possibly can.
All served up with a smile.
Visit their website at: www.ihopeyouaresmiling.com or check them out on Facebook: thebusinessofsmiles
For information about the networking nights, contact 'The Business of Smiles' through their website.
---