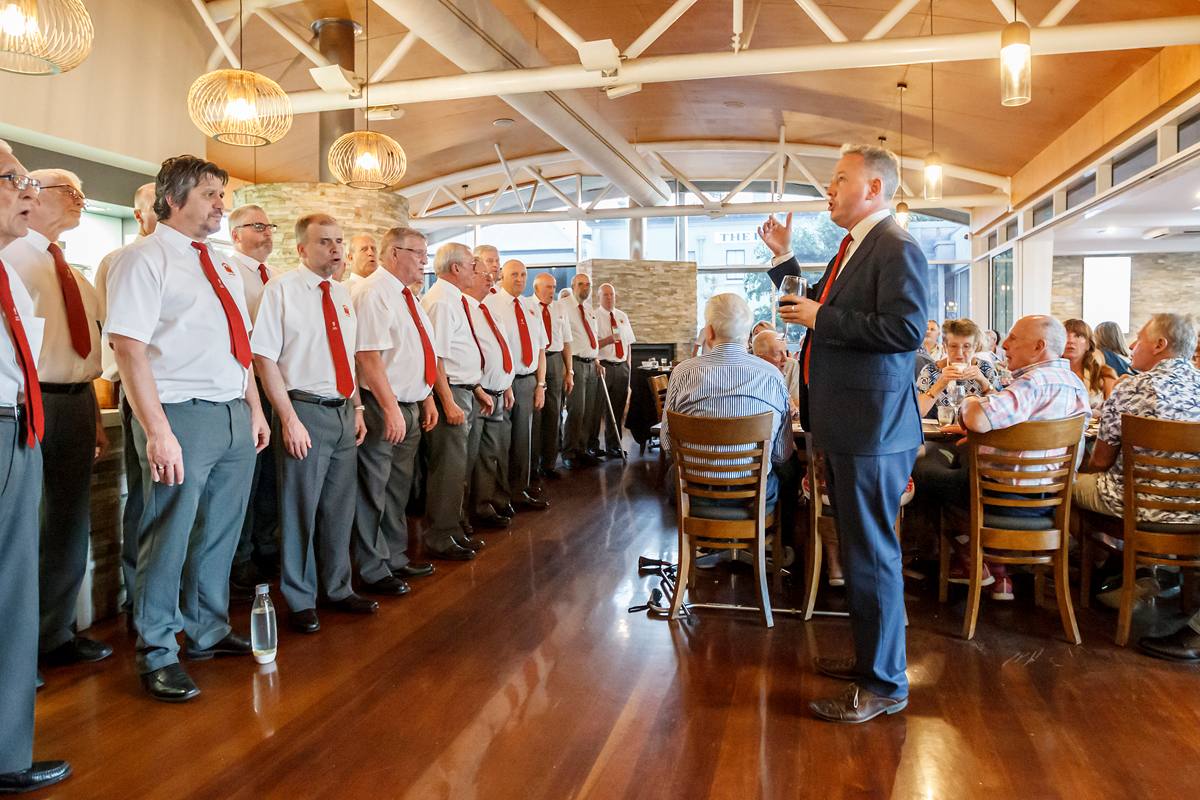 By Muriel Cooper Photos Yanni
Choral Music that began in Wales' green valleys now floats across the blue waters of Port Phillip Bay. It's 'Singing in The Pub' at Kirk's on the Esplanade in Mornington with the Peninsula-based Australian Welsh Male Choir (AWMC). The choir was formed by Welsh ex-pats working at the then Lysaght Steel Mills in Hastings in the seventies and will celebrate its 50th anniversary next year.
Male voices have so often been associated with work or war, and Welsh male choirs are no different, originating in Welsh factories and coal mines. King Henry VIII banned the Welsh language in 1536, and by the late 19th century, it was still forbidden, only allowed to be used to sing hymns in church. So it was in the churches that the choirs originated. They sing four-part harmony, with two groups of tenors and two of basses. The result is thrilling. Pianist Michelle Nguyen, also a pianist at Opera Australia, provides a perfect accompaniment.
Singing in pubs is a Welsh Male Choir tradition. Glasses of beer or wine in hand, the choir members slowly emerge from the crowd and begin to sing, not in Welsh, but in Zulu! Male choirs are popular in Africa, and this song is hair-raising. Glass of shiraz in hand, the Musical Director, Tom Buchanan, recently awarded an OAM, calls the tune, and the choir responds with electrifying harmony that vibrates in the chest. This is followed by everything from Welsh favourites like Calon Lân (a pure heart), a song made famous by Tom Jones, to musical comedy to pop songs like Let It Be Me. At the end of the set, the choir melts back into the crowd.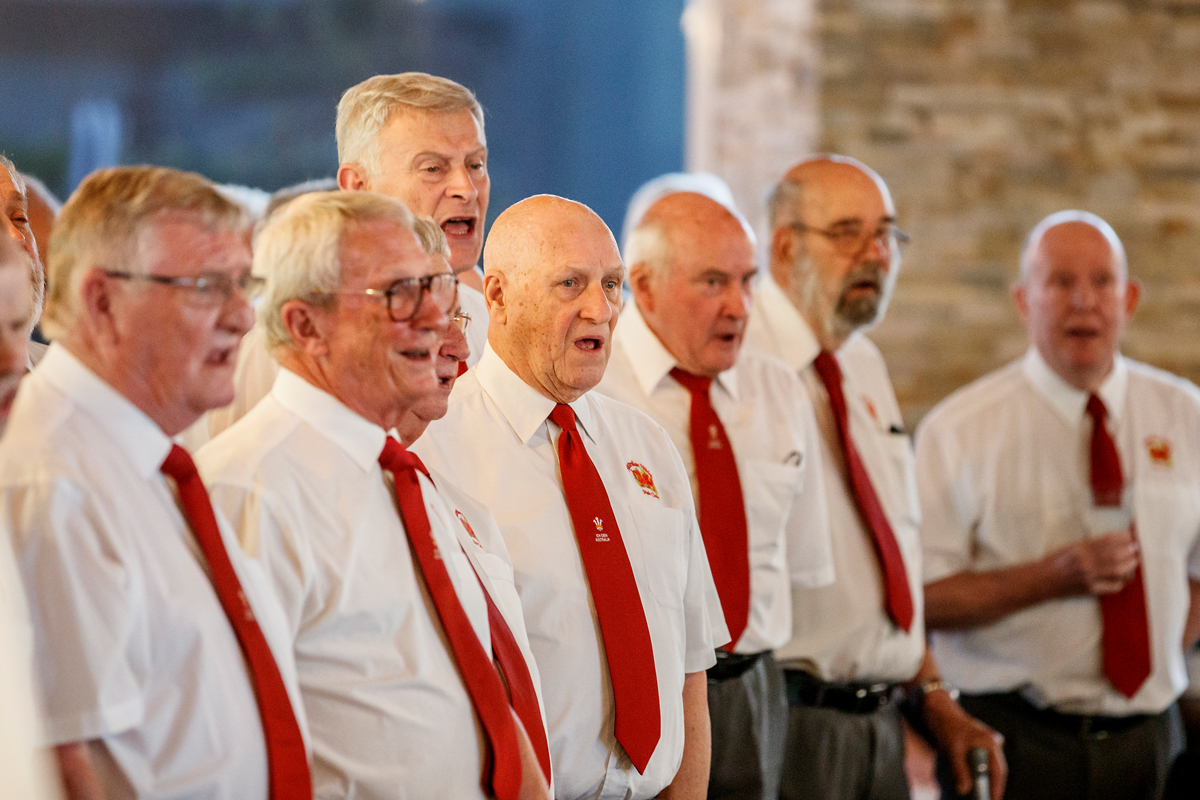 The effect of this music is difficult to describe. Perhaps Richard Llewellyn put it best in his novel 'How Green Was My Valley.'' "Sing, then. Sing, indeed, with shoulders back, and head up so that song might go to the roof and beyond to the sky. Mass on mass of tone, with a hard edge, and rich with quality, every single note a carpet of colour woven from basso profundo, and basso, and baritone, and alto, and tenor, and soprano, and also mezzo, and contralto, singing and singing, until life and all things living are become a song. O, Voice of Man, organ of most lovely might."
It's not necessary to speak Welsh to sing in the choir. Most members are not native Welsh speakers. Vice-President Jeff Selby, exhausted after being a paramedic and working in family violence, says, 'I was looking for something joyful to do and was listening to some choral music on the radio when I said to my wife, "I'd like to do that." She said, "What's stopping you?" Apart from fear, I asked myself, "Can I really sing?" Synchronistically, Jeff saw an ad for AWMC members. 'I went along and was made to feel truly welcome.'
Jeff's wife, Helen, formed the Mornington Peninsula Welsh Ladies Choir, and they have an overseas trip planned next year.
Jumping with enthusiasm, choir member Colin Hughes doesn't stop smiling the entire night. 'It's the best medicine,' he says.
The choir are constantly pushing the boundaries. They've travelled to Africa, The Philippines, the UK, China and Taiwan and sung in the Royal Albert Hall as part of a gathering of choirs that numbered 900. Remembering it now raises the hairs on Jeff Selby's neck.
'A week before the Royal Albert Hall, the choir performed in a most unusual venue – the community hall of a tiny town in Dartmoor called Bratton Clovelly. The bridge was so narrow that we had trouble getting the bus over it. Our president James Marrs remarked that singing in that small hall was just as important as the Royal Albert. It's about community.'
Covid has affected the choir as it has many other organisations and it's always looking for new members. Why don't men sing? Even in Wales, choir members are increasingly in the older age group. There are reasons for this. Songs need to be relevant to younger men, and the song list has something for everyone. Jeff says overseas and outback tours with an element of adventure are a great way to entice younger men to join.
---
For more information about Singing In The Pub, joining the choir, or donating to their Pub Tour of Australia, visit their website awmc.org.au, or phone their secretary on 0425 725 525.