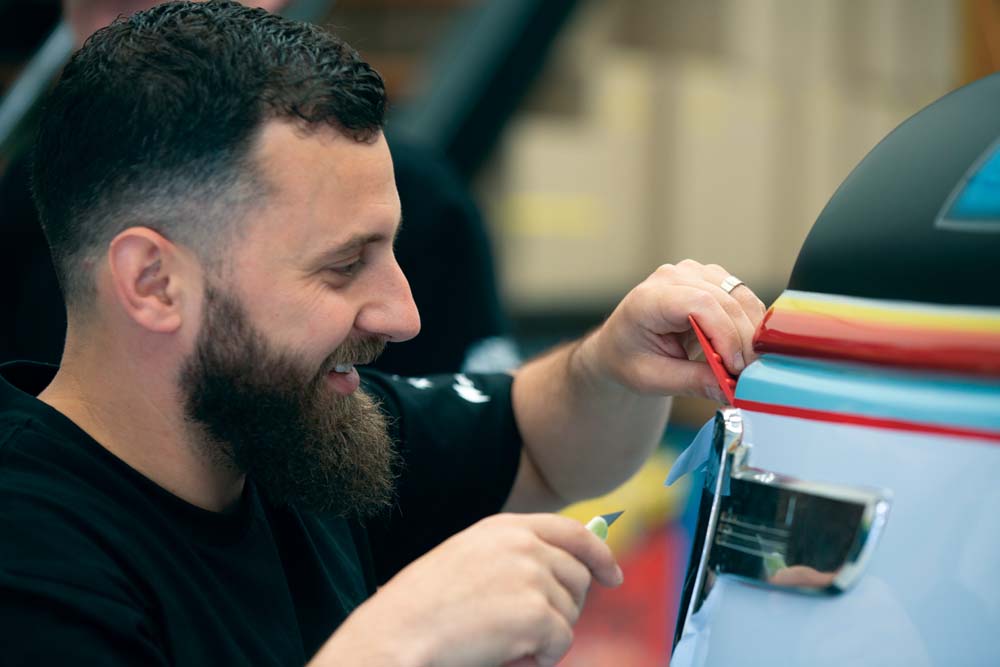 Custom wrapping. Not many of us know what that means exactly but the crew from Exotic Graphix in Carrum Downs is world famous for it. "Basically, it's putting giant stickers on vehicles," said Nick Caminiti, owner and founder of the business, in his typically understated and modest fashion. Speak to Nick a bit longer and you quickly realise that custom wrapping is a lot more complicated than just putting stickers on things. In fact, it's a combination of fine art, graphic design and cutting-edge technology that produces custom-printed, vinyl wraps that are used to add detail to many types of vehicles from cars to boats to helicopters, and many more. And as you tour the factory and see the work done by Nick and his team, you quickly realise why they have won so many awards; quite simply, their work is amazing.
Wrapping, like tattoo art and street art, even has its own subculture with gatherings around the world where the best exponents of the wrapping craft gather to exhibit, exchange ideas and award excellence. At the recent Peninsula Film Festival, a film on wrapping involving Nick and his team at Exotic Graphix was showcased in the documentary section to wide-spread acclaim and leaving lots of people, including yours truly, wanting to know more.
"So how did it all start?", I recently asked Nick. "I've always been into cars. My dad's a mechanic and my uncle imported American cars so as kids we'd always be surrounded by cars and while most kids were out playing sport after school and on weekends, my brother, cousins and I were down at the workshop messing about with cars. It's in my blood, I guess you could say."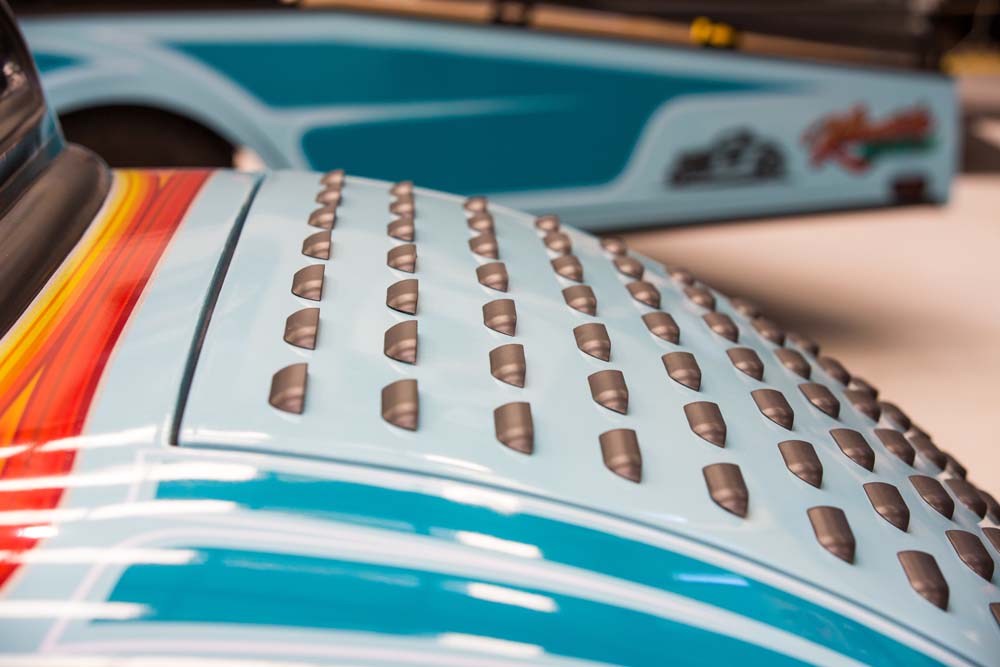 "So that explains the vehicle side of the business but where does the artistic side come from?" I asked. "I've always loved drawing," Nick said. "As a kid I'd draw on anything, I'd even turn my food into pictures when I was supposed to be eating it. Drawing was a huge part of my life growing up and I knew that that was what I wanted to do when I got out of school. So I became an apprentice sign writer."
During his apprenticeship, Nick and a fellow apprentice decided to jump off the deep end and start their own custom paint/wrapping business combining both of Nick's passions for art and cars. Two years later, Nick decided to go it alone and he started Exotic Graphix which at the time specialised in custom wraps for cars and signage. Over time, the business grew to include other services like retail fitouts, corporate signage and advertising solutions and Nick and his growing team went from wrapping just cars to all manner of vehicles from caravans to jetskis, racecars to trucks.
"Putting wraps on the Wales rescue chopper was challenging," Nick said. "And we've done a few wraps for the boys in blue as well." In fact, Nick and his team have worked with iconic international companies such as Mercedes Benz as well as locals Jayco, Avan Campers and Microflite Helicopters just to name a few. Nick's work is also recognised internationally, regularly featuring at SEMA Las Vegas – the biggest showcase event of its kind for the automotive aftermarket sector that includes car detailers, restorers and wrappers.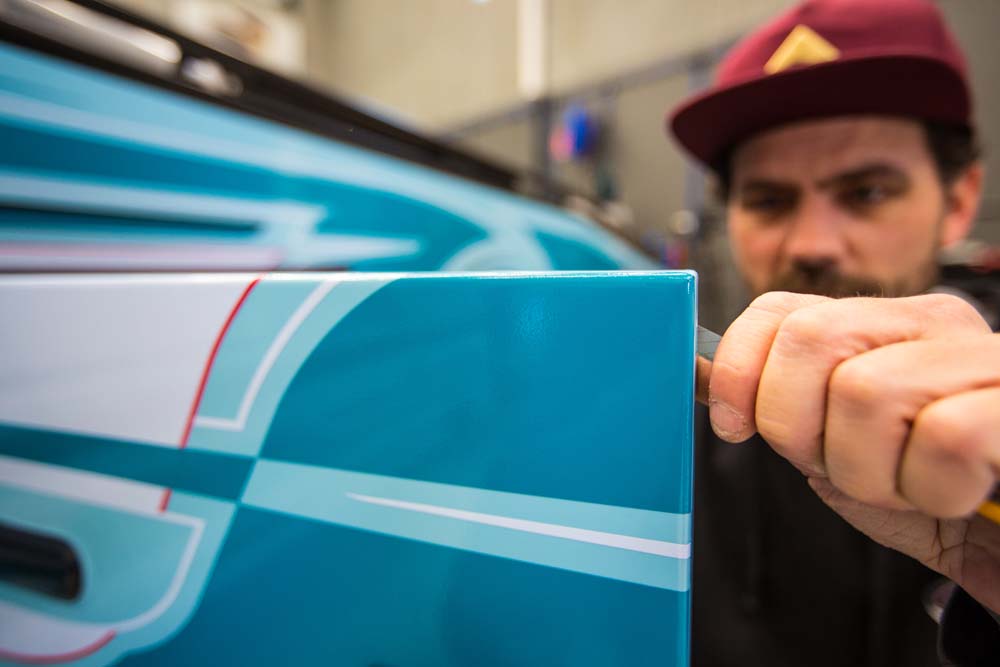 In 2016, Exotic Graphix entered a 1930 Ford Tudor named "Toxic Rat" into the world-wide "Wrap Like A King" challenge in Las Vegas. The car was wrapped in a Hot Rod theme livery with pin-striping and 22 carat gold-spun leaf, and it swept up all the awards which is pretty impressive given the best custom-car wrappers in the world were at the event. And just to prove they're no one hit wonder, Nick and his team took out the top award the next year in with a custom-wrapped, Hawaiian surf-themed 1963 VW Beetle named Lei'd Low. Not that you'd know it from Nick, I had to drag the information on awards out of him such is the down-to-earth, humble nature of the bloke – traits also reflected in his team.
"My team is everything," said Nick. "Without them I couldn't have achieved everything that we have since we started in 2008. And of course, I also get support from my wife Ash and the girls. Ash has been my biggest supporter, especially when times were tough. She's stuck by me and allowed me to follow my passion. And I better not forget my parents and my brother and sister, and everyone else that's come along for the ride since I was kid. And I'm lucky enough to still work with my father and brother who have both been such a huge part of the business through the years."
And what a ride it has been, or rides I should say; plenty of them. Whether it be delivering freshly-wrapped vehicles to excited clients all around the country, jetting to international destinations to compete against the best, or being followed by drones that are filming you as you drive up Peninsula Link in a custom-wrapped truck as part of a documentary; Nick's done it all.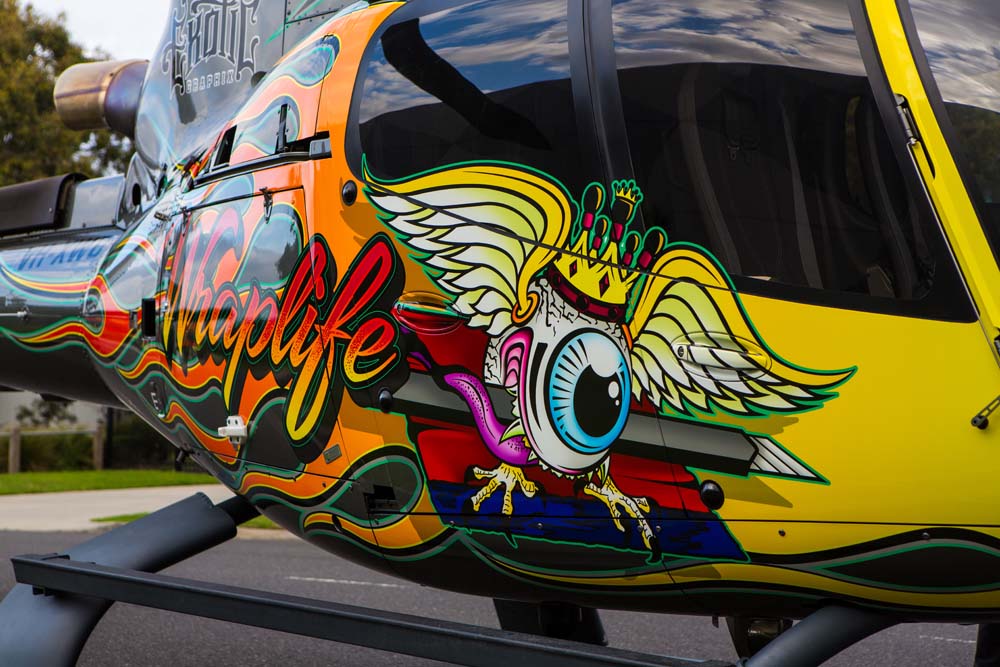 So, what's your secret? I asked him. Cutting edge technology? Big budgets? He shakes his head. "Enjoy what you do, surround yourself with people that enjoy it as much as you do, and the rest follows."
Pretty good advice, I reckon.
---
To find out more about Nick and his team at Exotic Graphix go to their website www.exoticgraphix.com.au