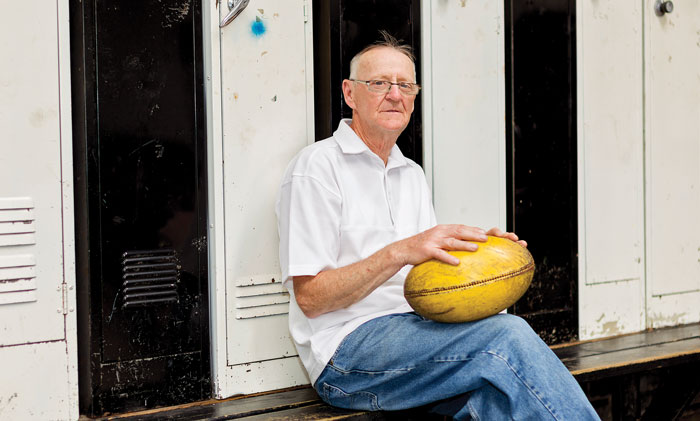 With a twinkle in his blue eyes, you can sense that Michael Binney has lived an interesting life and, as we sit at the Crib Point Football Club, the 68-year-old regales me with stories of his 27th season as a trainer with his beloved Magpies and life as he knows it.
A well-known face around the traps, Michael has energy that even a bout of cancer couldn't douse. His days are filled with training at the club in winter, the vice-presidency of the Balnarring Picnic Racing Club, membership of the Woolleys Road Equestrian Rescue Committee, volunteering for St Vincent de Paul, working as an independent third person for the intellectually impaired, and training racehorses. Even when organising a time for the interview, Michael had to schedule it between 5.30am horse training on Balnarring Beach and volunteering at a polling booth during the recent election. So what's the secret of this man's happiness and joie de vivre?
Michael, who grew up one of 12 children in poverty stricken inner-city Collingwood, says his parents taught him life is not a dress rehearsal so you'd better make the most of it.
"My dad sold newspapers at Flinders Street Station from 1897 right up until 1971 so I spent a lot of time in the city. I grew up around newspapers and always had an interest in reading, even though I left school at 14, to return later in life. My father would bring the newspapers home to read to us. He always told us good manners cost nothing but carry a lot of weight, which I have passed down to my children. My parents also taught us compassion. Both would bring people home who had nothing to eat or nowhere to sleep. When dad saw that someone had been left at the station at night and had nowhere to go, he would bring them home with him."
Michael says his attitude to life is 50 per cent religion, being raised Irish Catholic, and the other half a result of such a big family.
"You learn to look after other people when there are so many around, and not be judgmental," says Michael, whose mother suffered with a drinking problem. "Regardless of this, my mother was always good-hearted and saw the best in everyone."
Michael moved to the peninsula in 1976, drawn here because his mother's family came from the Western Port area.
"I originally worked at the Bata Shoe Company and they opened a small sewing line in Hastings. Then I went to work at Exxon Mobil and retired in 2009, but remained the senior shop steward in a voluntary position.
"I was always involved in the community especially after my three children came along," says the man who in bygone days was president of the Hastings Emergency Relief Committee, and part of the Western Port Netball Association for some time when daughter Karen played the sport.
"I have been the longest-serving president of Crib Point Junior Football Club, and was heavily involved in the campaign to save the Stony Point train in the 1990s, which we won, and it still runs today."
Nowadays Michael divides his time between organising Balnarring Picnic Races, racehorse training, volunteering for the ALP as well as St Vincent de Paul and as an ITP.
"It's not unusual for me to be up an about at 5am to train racehorses, which is one of my passions. It's actually a dream of mine to train a city winner."
Part of Michael's repertoire is his work as an independent third person, someone trained to represent and be a mediator.
"My role is to be an independent third person for intellectually challenged people in a police interview situation. You have to be on call 24/7 and I cover police stations at Rosebud, Frankston, Hastings and Mornington," he says.
At the footy club, Michael is part of the furniture.
"There's nothing like the camaraderie and community spirit that exists within a football club and that's what keeps me here. There is not one person I wouldn't have at my dinner table," says Michael who volunteers as a trainer but you can't help think he's more a mentor.
"I work with a lot of the kids here and they're all fantastic people. Some of them come from tough backgrounds and guys at the footy club are the only father figures they have. "We help put social norms into place for them even though their mums do a brilliant job. Sometimes they just need to be around the blokes," says Michael, who remains a staunch believer in the potential of youth.
"The majority of young people are respectful when given the chance and it's important to make allowances. There's a reason why kids can be difficult."
They say behind every strong man is an even stronger woman and you can't help thinking Michael's cherished wife Margaret is just that person. They have three adult children now and recently returned from a two-week overseas holiday, which Michael describes as a whirlwind.
"Margaret is the loveliest, most patient wife. She is about to get her name on the honour board at the footy club for serving 30 years and has just put up with me dragging her around the UK for two weeks," says Michael with a grin that tells me he has no intention of slowing down.
As for the future, it's one early day at a time, in the hope of training a winning racehorse.
"Regardless of that, all in all, I've had such a wonderful life."