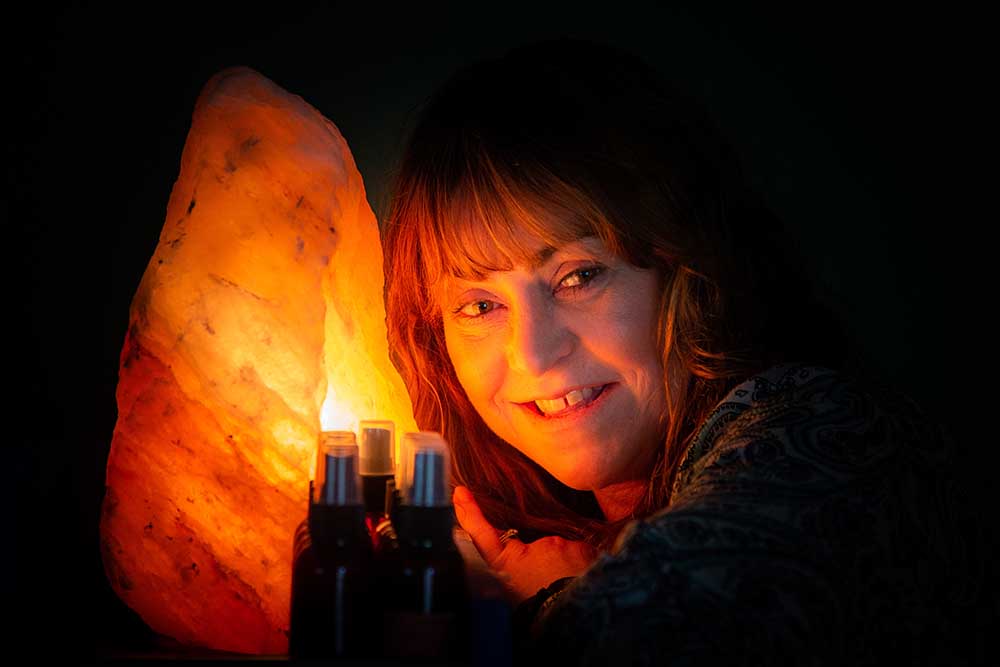 By Melissa Walsh     Photos Gary Sissons
With buzz words like anxiety and stress being bandied about these days and self-help gurus offering cures for all your woes, it's refreshing to meet a woman who walks the talk of her path. Kim Norton is a holistic counsellor who is on a mission to help adults and children find peace and calm in their lives as the owner of Rainbow Light Therapies.
"I love what I do and my clients say I am calm and reassuring, putting them at ease and getting to the core of their stress and anxiety quickly," says Kim who started her journey to holistic healing when her son was diagnosed with autism. "My son's autism diagnosis rocked my world and was the catalyst for the greatest and most important journey of my life. It was 2007 and upon hearing the words I had suspected were true, I came to the realisation that the best way I could help him, and others who suffered similarly from stress and anxiety, was to teach him how to manage this himself. Long term medication could simply not be the only option open to our family."
For this holistic counsellor who runs her workshops and sessions in Langwarrin, life has been tumultuous and Kim is the first to admit she has learnt the importance of inner peace from personal experience.
"I had a childhood that was pretty stressful and left home at 17 to do HSC. I have attended counsellors and psychologists over the years to sort out some issues from childhood but it wasn't until I started looking at holistic therapies that it all fell into place," said Kim, who started studying alternative therapy when her son was three and a half and continues to this day. "Everything I had done previously had led me to this point. I had been a marketing assistant, PA, and personnel consultant. These skills and my holistic training all came together one day which is when I decided to start my own business and help him and others like him."
With Kim finding the autism diagnosis a stressful time and specialists giving a negative forecast for her son's future, it turns out the holistic healing helped both of them.
"The catalyst for alternative therapy was because the only option every medical person gave us was long term medication, and nobody offered anything natural at all. The diagnosis with his autism and learning difficulties was he would need strong medication and that there was not much hope for his future. With the alternative therapy he is in year eight at mainstream school now and is still not medicated," said Kim, who believes there is a place for western medicine alongside holistic therapy.
With the business running for four years now, Kim has helped parents and children with their stress and anxiety and explains her motive is to let every family live in a calm and peaceful environment, creating calmer kids and happy families.
"I am a holistic counsellor, reiki master, and work with energy healings, bush flower essences and heal the mind, body and spirit. I do one on one, small group and family sessions as well," says the holistic counsellor who works within the community with referrals from doctors and psychologists.
"In a typical session with kids I would do yoga which helps to calm, and can be a great tool to use at night for kids who have trouble sleeping. I use hand exercises (hand mudras) for kids who like to fidget a lot, breathing techniques and counselling activities so that they can understand where the anxiety is in their body," said Kim, explaining that everything revolves around stress and anxiety. "I tailor everything back to stress and anxiety management. Anger is quite often a result of stress and anxiety, and for some, it can be as simple as changing your sleep routines. Quality of sleep is important and we usually start that in the first session. The therapy also works to relieve anger which is often a reaction to stress and anxiety."
For Kim, the mission to finding alternative methods for her son has not only led to a fulfilling career but helped her own anxiety as well.
"When my son was diagnosed I was stressed and anxious, on blood pressure and cholesterol tablets, and not coping and now I am off all that medication, so I have been through it as well," she said. "My son is now 14 and is doing well with the reiki, a lot of breath work, and empowering him to understand what is going on and have some control to create peace."
As for the name Rainbow Light Therapies, Kim says it relates to the seven colours of the rainbow.
"The seven colours of the rainbow are the colours of the seven main chakras. The butterfly logo is all about transforming and change. Evolving is what we need to do and it's what I have done all my life which is why I am trying to help others. For me it helped to get off medication, get more understanding of myself, and understand how to be a good parent and partner as our children will always reflect our behaviours. I am passionate about working with both children and adults to heal, by inspiring them to manage their stress and anxiety in a natural, holistic way. I use holistic counselling and other complementary therapies to bring the traditional and alternative together, in a unique, intuitive and personalised therapy approach."
---
www.rainbowlighttherapies.com.au