By Cameron McCullough  Photos Yanni
Peter Aldenhoven is a proud Indigenous (Nughi) man. He dedicates his life to the improvement of cultural connections and the welfare of Aboriginal people both on the Mornington Peninsula and across Victoria.
But this community leader has actually spent more than half his life oblivious to his roots.
"I was adopted at a young age and grew up in a loving family, totally unaware of my Indigenous background," said Peter.
"It wasn't until the age of 34 that I lodged a Freedom of Information Request to get documents on my birth mother. It was at that time I discovered a new world, and my journey began."
Unbeknown to Peter, he had a birth family. A big one at that. And a birth mother, Adena, who he could now meet and get to know.
"It was fantastic to meet her. She was actually working as a teacher in Melbourne at the time, and she told me about the circumstances that led to my adoption, and of the 'mob' on Stradbroke Island who were my soon-to-be-discovered relatives".
In fact, of the 1100 Indigenous people living on Stradbroke Island, many are relatives.
"It was a profound and powerful experience to learn about my roots. It was wonderful. And it opened up a portal of understanding for me," said Peter.
It also joined unexpected dots for a man who had been searching for identity, not unlike many Aboriginal people who have been adopted or removed.
"The strange thing is that even though I had no idea about my Indigenous roots, I was well read on Aboriginal culture and history. It was just something I had always been drawn to."
Peter, a school teacher, was so moved by his experience that he decided to go back to school himself and do Indigenous studies to further his knowledge, before returning to his teaching career.
"I have been Head of English at Dromana Secondary College and Woodleigh. I was also Director of Indigenous Education at Woodleigh before finishing my time there last year."
In fact, Peter initiated Woodleigh's Indigenous Exchange Programs with the remote communities of Dhaliny, Garrthalala, Irrultja and Ampilatwatja in the Northern Territory.
"It is an interesting paradox. Many of the Woodleigh kids had privileged upbringings. But many were also culturally impoverished in terms of knowing Aboriginal peoples and cultures."
"I came to realise, through my work, that connecting different cultures was very important, and that both sides had much to gain from the experience."
Peter's desire to create connections and cohesiveness led him to becoming a founding member of the Willum Warrain Aboriginal Association when it formed in 2011. He subsequently became President when the Association opened a gathering place in 2014.
Willum Warrain is now a "safe cultural space for Aboriginal and Torres Strait Islander people to gather on the Mornington Peninsula", and regards itself as a place of hope and healing, culture and connection, being and belonging, and also a destination for reconciliation.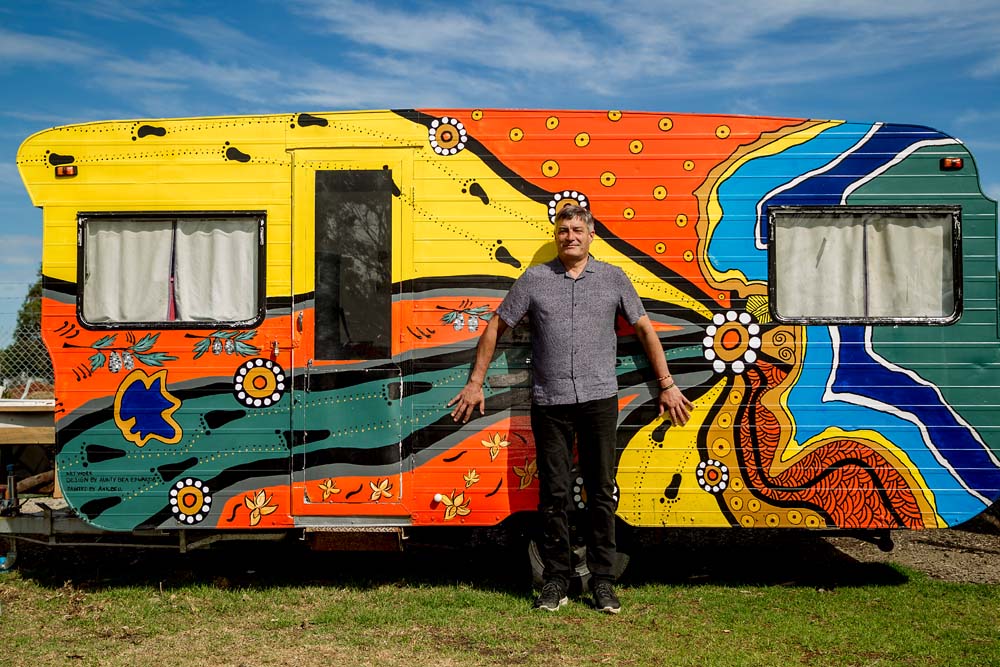 "I see Willum Warrain as an essential part of providing connection for those of Aboriginal and Torres Strait Islander heritage; to provide wholeness."
Peter goes on to explain how colonisation, detribalisation and assimilation have had a devastating effect on Aboriginal identity.
"There are 1304 people living on the peninsula that identify as Aboriginal according to the last census in 2016," said Peter. "But the vast majority of them are living 'off country'."
"Between 1910 and 1970, around 50 percent of Aboriginal children in Victoria were removed from their families, creating enduring damage that Willum Warrain works to repair.
"Many of the 340 adult Aboriginal members of Willum Warrain don't know who their 'mob' is, and those that do come from all corners, and have their own cultural mores.
"In many ways, Willum Warrain is a "multicultural"Aboriginal organisation. We share our cultures. We pay respects to the Traditional Owners of the land but also celebrate the richness and diversity of other Indigenous cultures."
With the loss of 'connection to country' comes other losses too. The loss of language has been catastrophic.
"It is thought that there was between 500 and 900 separate languages and dialects in pre-European times. It is accepted that for a language to still be considered viable, it needs at least 1000 speakers, which means we are down to just 13 Indigenous languages."
For all the challenges, Willum Warrain has cemented itself as an integral part of the community.
From the bush play group getting the kids involved in learning Aboriginal culture in a fun setting, right through to the men's group, women's group, Deadly Kids youth group, gardening group, and community engagement work, the staff of Willum Warrain are kept busy.
"Interestingly, there are 400 kids on the peninsula who identify as of Aboriginal heritage, making the Mornington Peninsula the second fastest growing catchment in the state," said Peter.
"We have a wonderful opportunity for our kids to grow up with the culture that we were never exposed to as kids."
Peter's experience as a representative of an Victorian Aboriginal Community organisation, saw him spending increasing time engaging with philanthropy and speaking at various conferences nationally and internationally promoting Indigenous investment.
"We became aware of a philanthropic organisation, Towards a Just Society that had funded projects and initiatives in the Aboriginal community for the last 14 years," said Peter.
"But over time, it had been decided to 'pass the reigns' of the philanthropic work to an Aboriginal controlled organisation. This resulted in the launch, in March this year, of 'Koondee-Woonga-gat Toor-rong' which is the first Aboriginal and Torres Strait Islander community-led philanthropic fund to be established focusing exclusively in Victoria".
Koondee Woonga-gat Toor-rong operates as a sub-fund within the Australian Communities Foundation and aspires to become a significant player in this state's Indigenous philanthropic scene over time by providing mainstream philanthropy with a more direct vehicle to invest or co-invest in projects identified, endorsed and promoted by the fund.
"This is a game changer," said Peter, who is the Executive Officer of the fund.
"Indigenous philanthropy is a new paradigm; a new way of doing business. We have the opportunity to engage in philanthropy from a shared-world view which we can translate into a traditional context.
"Supporting Indigenous causes, individuals and communities has long been a priority for many philanthropies, but it is not always easy to grant successfully in an intercultural context.
"Some of these challenges relate to the need for collaborative partnerships and culturally responsive approaches to granting, as well as a legitimate concern about doing no harm.
"Koondee Woonga-gat Toor-rong sidesteps these complexities because there is innate trust between the grant-maker and the individuals and communities it seeks to invest in, with both starting from a shared Indigenous world view".
Peter has now stepped down as President of Willum Warrain, and taken on a part-time Executive Officer role at the Gathering Place as well as continuing on his philanthropic work.
"I see so many positives," said Peter. "Always was, always will be. The past, present and future are all here right now, and we have a wonderful opportunity to make a huge difference."