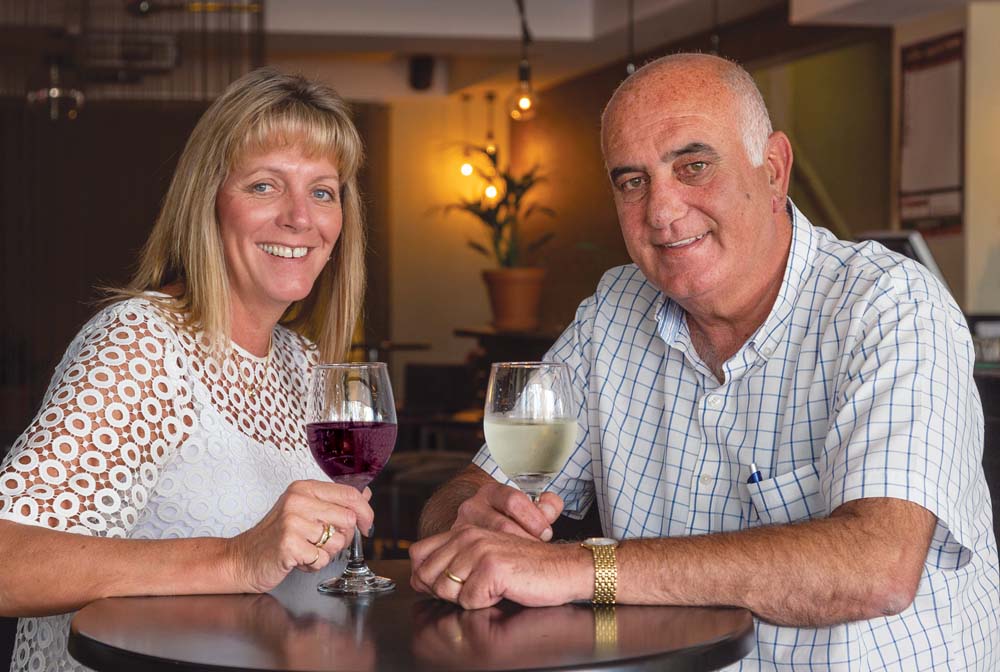 It's been ten years since Joe and Giselle Padula bought the Canadian Bay Hotel and Mt Eliza couldn't be luckier to have such a dynamic duo who bring good old fashioned service and decades of hospitality experience to the area.
With Joe having been in the hotel industry for over 44 years and Giselle working alongside him in various capacities, the couple are switched on when it comes to their trade.
Peninsula Essence visits the couple at their corner pub, the Canadian Bay Hotel, to find out all about their hospitality adventures.
A Brunswick lad, Joe became a Mt Eliza person in 1988, after meeting the love of his life, Giselle and marrying two years later.
"I had been in hospitality for years and met Giselle when she came in looking for part time work at the Riversdale while studying at university," said Joe, who has also managed the Half Moon, The Blarney Stone, Zagames and the Bridge Hotel to name a few. "She had always been a Mt Eliza girl so I quickly followed her down here and bought the Royal Hotel."
It wasn't long before the couple made their mark on the peninsula, having owned The Royal and Kirks, and creating a family life with their three children.
As with all the most interesting stories, Joe's career in hospitality started by default.
"I was only a youngster and someone rang me saying they needed a fill in person for the night at a pub. I just loved it and, from the first night, was immediately hooked. I learnt the trade as I went and did a bit of everything from managing to dishes, and in the middle did a bit of study," said Joe, of the business he describes as "in his blood".
As for Giselle, she has dabbled in their hotel business while raising their three children. Buying the Canadian Bay Hotel was their first official joint venture.
"I had my babies so didn't have to work which was lovely, but once the youngest went to school and when this came about we decided we might as well do it together. That was ten years ago and we are still loving every minute," said Giselle who is now one of the managers of the hotel. "Even our youngest who is at university works here part time."
It's no wonder the Canadian Bay Hotel has such a warm and welcoming vibe with owners like Joe and Giselle, who believe the pub scene is going back to the old days when it was more a family environment.
"It used to be quite a sports bar and night club here but we did away with that, and concentrate on quality food and drinks. We do lots of functions but it's very much a family venue where you can come and watch the footy in the bar, have a meal in the bistro or book the function room for special occasions or conferences," said Joe.
The couple agree it is lovely to see all the different family members together from kids to grandparents, and everyone is made to feel welcome.
"Our food has been a big focus for years now with a chef that has been with us the whole journey. Susie, the head chef, is part of the family now, as is Paula, a manager for ten years, and my PA who has been with me for 30 years," said Joe, who still goes to the market every Tuesday to check the produce.
"I get up bright and early and head into the city to look at what's in and what's out, check the quality and see what is the freshest on offer," said Joe, who loves to cook. "Coming from my Italian background food was very big and it's all I have ever known."
Over the past four decades, Joe says he has seen enormous changes and growth in the food and wine industry and is so proud of what Australia produces.
"When I started probably there were half a dozen Australian wines on the market and now there are thousands so it's been a journey of wine and food," he said. "I'm so proud of our Australian wines and especially the peninsula. We have 80 wines on our wine list and you can have them all by the glass. Being part of the evolution of the Australian food and wine industry has been an incredible experience."
And it's not only been the food and wine industry that has evolved. For Joe and Giselle have been fortunate enough to watch the journey of others on the peninsula as well.
"When we ran The Royal and Kirks back in the day, you would see these young people coming in and now, years later, they bring their families in to see us and have a meal. It is an absolute pleasure to think we have evolved with the people of the peninsula too."
---
The Canadian Bay Hotel is at 35 Ranelagh Drive, Mount Eliza.
Phone 9775 2331