By MELISSA WALSH  Photos YANNI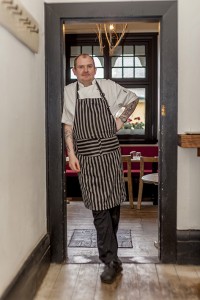 Good old fashioned romance brought Scottish lad, John Parker out to Australia and now the talented chef has made the Mornington Peninsula his home.
Working as the head chef at Counting House in Mornington, the jovial Scotsman says he couldn't be happier living in Mornington and working with a great group of people.
"I've been here for five years and have been heavily involved with changing the whole dynamic of the place, from French inspired cuisine to a more relaxed tapas style dining. It fits in better with the area. I designed a menu where people could sit and have a wine or a beer and enjoy more relaxed dining and it's been really popular," says John, who has been working as a chef for 20 years.  "I came from a French fine dining background, doing my apprenticeship overseas at Popinjay Hotel and studying French cuisine at Malmaison."
Coming from what John describes as the "concrete jungles" of Glasgow, Mornington is the polar opposite with its incredible beaches, relaxed lifestyle and fresh air.
"I have never been into sunsets but sometimes I come outside after work and just look at the sunset across the bay and it's amazing," says John, explaining that another change has been his style of cooking.
"We use a lot of fresh, local produce and wines so I incorporate that into my menu here, with things like local mussels, clam linguine, a seafood plate, local meats and even fresh bread from Mornington bakeries," says John.
With something for everyone,  the Counting House menu has been designed to satisfy those looking for a hearty meal or a tasting plate, with pies made from fresh meats, beautiful stews, seafood from our own shores, pork sliders to die for and incredible desserts to name a few.
And it's not just the food, but the incredible team that make the Counting House the place to be, with owner Max Griffin breathing new life into the circa 1912 bank building with a new deck and updated menu.
"It's a great place to relax on the front terrace looking over the park and bay, with a wine, a beer or just a coffee and cake, or enjoy some tasty tapas from our new menu," says John.
Inside the Counting House, the bleached wood décor and timber floors provide the perfect backdrop for the stunning new artworks that light up the rooms, so there's still plenty of French charm to enjoy, from the restaurant that sits on the promenade.
The historic building was previously the State Savings Bank, which is why it has the name Counting House. With a new menu and great relaxed vibe, it still has plenty of character with heaps of original features and even the repainting had to be done in heritage colours.
Counting House is fully licensed and offers a comprehensive wine list that showcases local wineries and breweries in Red Hill and Mornington.
Counting House is at 787 Esplanade, Mornington  Phone 5975 2055
PORK SLIDERS
Pork shoulder (boned). Braise pork in carrot, onion, celery and leeks for 12 hours on a low heat at 100 degrees, adding chopped tomatoes, chicken stock, cinnamon, and star anise.
Let it cool down and pick all the meat off.
Take the liquid and add more tomatoes and spice. Then blend into a sauce.
Add Asian cabbage, pickled red cabbage, carrots and Japanese mayo.
Put on slider buns from Baker Boys (local bakery)