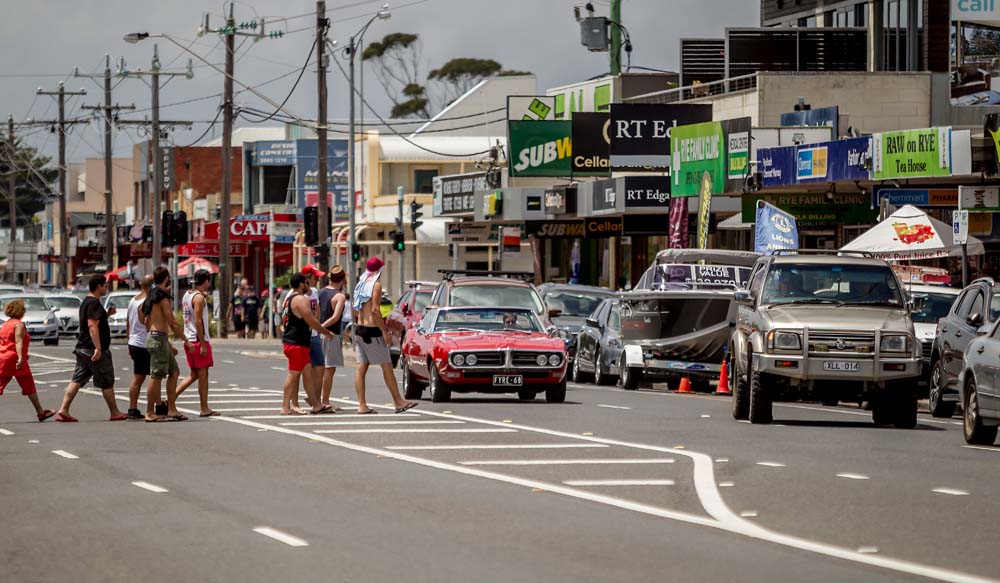 Rye is a seaside resort town, approximately 83 km south of Melbourne, on the Mornington Peninsula. Its bay beach is popular with swimmers, fishermen, yachtsmen and kite surfers. Rye has an area of 14.7 km².
RYE FACTS
Rye median house price is $550,000, and median advertised rent is $350 per week. Median unit price is $410,000.
---
The coastal town of Rye is situated on the popular holiday destination of the Mornington Peninsula, nestled between Rosebud and Blairgowrie.
---
Point Nepean Road is Rye's main thoroughfare, running parallel to the town's bay beach. The main concentration of shops is located east of Dundas Street and includes a hotel, eateries, a major supermarket and other retailers.
---
Rye's main beach, fronting Port Phillip, offers safe sandy beaches, ideal for swimming and boating. There is a jetty, several boat ramps, and attractive foreshore facilities with picnic areas, shelters, playgrounds and walking tracks.
---
Around a kilometre west of the Rye Jetty is an outcrop of land called White Cliffs. At the base of the cliffs is a reconstructed old Lime Burners Kiln – a reminder of the mid-1800s when the extraction of lime was the area's primary industry. Scenic views along the coast can be enjoyed from lookout above the kiln.
---
Rye extends southwards across the narrow width of the Mornington Peninsula in this area, right down to the coastline fronting the open waters of Bass Strait. The Mornington Peninsula National Park spans the foreshore here, consisting of scenic walking tracks, rocky coastal features, dunes and pockets of sandy beach. A pathway and steps extends from Tasman Drive down to the sandy bay at Number 16 Beach
---
Population of Rye is 8,200.
---
If you enjoy snorkelling, you can hire gear locally and then head for the Octopus's Garden at Rye Pier. This is 200 metre underwater trail with signage introducing you to the underwater wildlife.
---
Rye's summer carnival is located beside the pier carpark. The town is extremely popular during vacation periods, and has a varied selection of eating establishments.
---
Rye also has an impressive ocean beach, where you can experience an exhilarating horse ride. There are magnificent walks along the clifftops that form part of the 25 kilometre Coastal Walk.
---
The multi award winning Peninsula Hot Springs is nearby, and is Victoria's only geo-thermal hot springs.
---
The Cups Estate was created in 1999 and is the only winery in the Rye area. It takes its name from the early settler's description of the natural 'cups and saucers' topography – the unique and undulating dunes that lend themselves to perfect wine-growing conditions and perfect golf.
---
Rye was proclaimed a town on February 26, 1861 and is partly in the parish of Wannaeue but mainly in the parish of Nepean, which is west of Government Road and Weeroona Street. The township went south to the southern boundary of the cemetery, with its east and west boundaries being Weir Street and Dundas Street.
---
In the early years of settlement, Rye was known for lime burning, wood cutting and fishing industries. The building of Melbourne was under way, and the lime burnt from stone kilns at Rye was transported by dray, then barge, onto small sailing vessels. The lime industry gave employment to wood cutters, quarry men and lime burners and a settlement soon developed.
---
Rye had the natural bounty provided by the bay and ocean beaches. Fish was in great abundance and provided a living for some families. As well as putting food on the table for many others, the rocky edges at the ocean beaches were a rich source of crayfish, and the bay held a multitude of species.
COFFEE SAFARI
Fresh brewed coffee is a must have for weekends away and Rye coffee is second to none with great coffee haunts around the town. Here are a few to check out when you head down to this beautiful end of the world.
FREAKY TIKI
Shop 14, 2185 Point Nepean Road
Great coffee and fresh food in a warm friendly environment. Locally roasted coffee and a delicious menu.
---
IMOLA RED CAFE
2305 Point Nepean Road
Great family friendly cafe. Food, coffee and service all fantastic. Perfect for a delicious coffee and a quick bite to eat.
---
PENINSULA PANTRY
43A Wondaree Street
Brekkie, light fare and homemade cakes in a cheerful cafe with communal tables, plus outdoor seats. Excellent coffee that is second to none and perfect with a slice or cake.
---
CAPTAINS OF RYE
2285 Point Nepean Road
Funky café with a cool vibe and best coffee. This café is unique with a relaxed feel, great for a quick coffee or a bite with friends.
WHAT TO DO?
The bayside township of Rye has everything you could want right within walking distance with some great cafes specialising in breakfast and lunches, fantastic restaurants, a wonderful foreshore and bay beach and of course the Rye Carnival and playground.
The coastal town is a popular holiday destination, nestled between Rosebud and Blairgowrie.
Point Nepean Road is Rye's main thoroughfare, running parallel to the town's bay beach and the main beach offers sandy beaches ideal for swimming, boating and fishing.
Many visitors and locals enjoy picnics along the stunning foreshore reserve.
World class golf courses are within a few minutes' drive of the main township and the multi award winning Peninsula Hot Springs is also nearby.