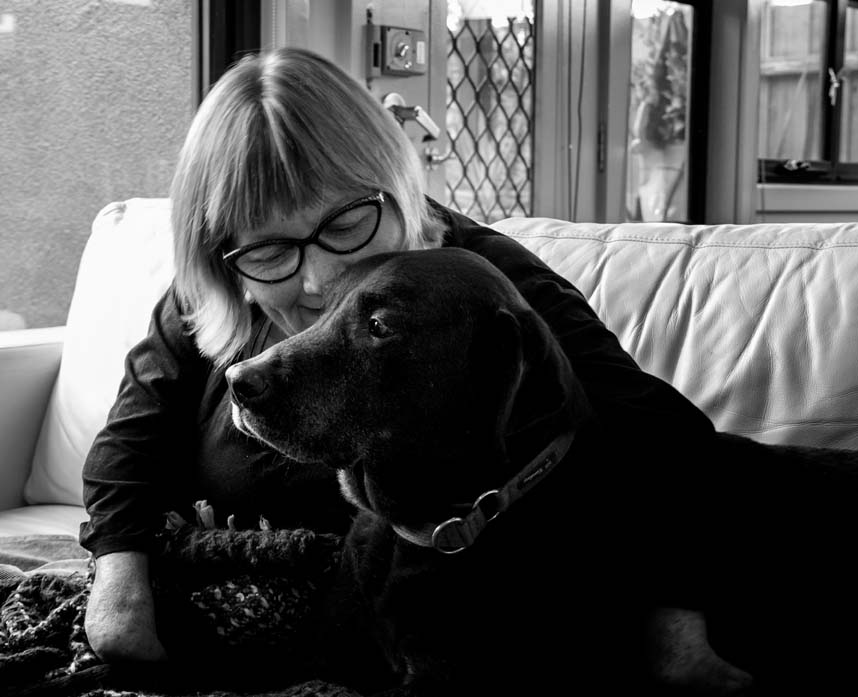 Jenny Angliss-Goodall smiles as she tells the story about throwing away her legs, then adds that two friends then planned to use them to make a standard lamp for their home in England.
Angliss-Goodall was in the UK after doing what seemed like the obligatory young Aussies' tour of Europe.
She was heading home after more than two years away and decided arriving legless would be a fitting finale.
"My friends were gay, and said they'd join my legs and then add an electric cable and lampshade," Angliss-Goodall explains.
The legs in question were prosthetics, ones she'd had fitted when she was 12 after her own legs were amputated.
"That decision to amputate was the best thing," she recalls while sitting at the dining table of her Mornington home. "And then getting rid of the prosthetics was something that's given me more mobility than I ever had walking, and I still had my wheelchair. These days wheelchairs are fantastic, my power wheelchair will take me to just about anywhere, and if this one won't I'll find one that will."
Angliss-Goodall was born with arthrogmyposis multiplex congenital (AMC), a condition that sees two or more joints become permanently fixed (bent or straight) before birth, leading to underdeveloped muscles and curved hands.
"I could walk with crutches and my trunk was growing normally but my legs weren't," she says.
"They wouldn't amputate [someone with my condition] these days as they can do a lot more with early intervention, even doing tendon transplants.
"I persevered with the artificial legs for 10 years, but in the end it was too difficult. You can look as a good as the next person, but you'd be propped up."
Angliss-Goodall says being sent to a special development school is another aspect of her upbringing that would not occur today.
She has worked in offices (including telemarketing while in the UK) and taught "empowerment" at Chisholm TAFE "teaching people [carers and people working in the disability field] what I'm doing now. Giving them the tools to take control and manage their own lives to whatever ability is possible. Even choosing to have a sandwich over a pie is taking control over one's own life".
She believes her teaching was effective "Because it was not out of a text book; I could speak about life, there was no bull. It was not theory".
Angliss-Goodall and her husband of 26 years, Ian, have also run a couple of businesses; one supplying collapsible wheelchairs and another selling therapeutic scented candles.
Although now "retired", her assistance dog Dudley can't help himself, or ignore his former training. A couple of nights ago he was quietly eating a bone on his bed when Angliss-Goodall dropped the TV's remote control. Without any bidding he walked across the room, gave the bone to Angliss-Goodall, picked up the remote and placed it in her lap before retrieving his bone and heading back to bed.
Even more astounding for a Labrador – a breed not known for its dislike of food – Dudley has been known to return pieces of dropped cake to the table. The added dog slobber might not have made the cake so appetising, but Dudley showed remarkable restraint.
Picking up soap dropped in the shower was another handy bit of help which Dudley was happy to provide.
Part of the Angliss-Goodall family for nearly 12 years, Dudley is well travelled, having been 15 times in a plane's cabin with Jenny. He even has his own fly-by points card.
But there have also been two car accidents, the most serious four or five years ago in Main St, Mornington – which "did some damage to Dudley, more emotionally than physically".
Angliss-Goodall says Dudley will be hard to replace.
Walnut, a 14-month-old Labrador, had to be returned earlier this year after eight weeks because he was a "random barker".
"It was heartbreaking," Angliss-Goodall says. "We sent Walnut back to Sydney for advanced training. When he came back I took him to the National Gallery in Melbourne but he kept up with his barking. He now lives with a family which has three children and goes to school four days a week as a therapy dog. I am pleased that he is happy."
Further proof of not being one to let disability stand in her way, Angliss-Goodall has just been elected president of the Disabled Surfers Association Mornington Peninsula (DSAMP) branch.
Always ready to try anything, she joined the organisation soon after it was launched at a public meeting in October 2011.
"I was in Canada when that meeting was held, but joined as soon as I got back."
The other members of the founding committee soon realised the value of their colleague when she continually volunteered to be "the crash test dummy" for any piece of equipment that was being trialed for the disabled surfers.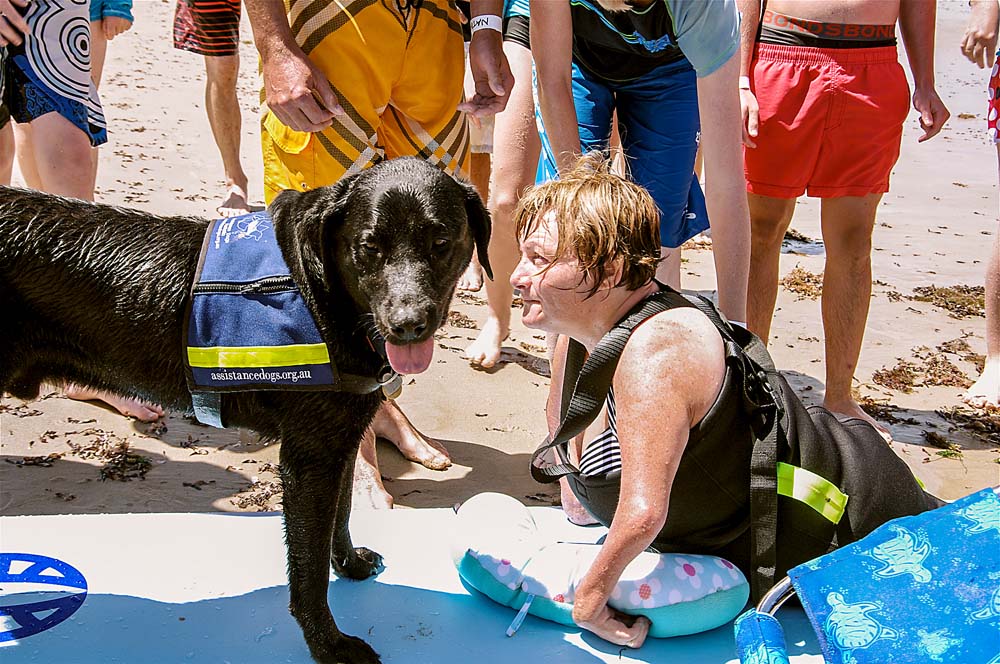 Earlier this year Angliss-Goodall's was one of the first wheelchairs to use specialised plastic matting laid across the beach to the water's edge near Mt Martha Lifesaving Club. Last year the RACV (which had made a donation for special wide-tyred wheelchairs) sent a film crew to Point Leo to interview her about the DSAMP for its website.
Now that she's president of the branch, Angliss-Goodall is grappling with taking the stigma away from being a "disabled surfer".
One of her aims is to have the disabled surfing "participants" more widely known and recognised as "surfers".
"They are surfers with a disability, not the other way round. You have to see the person first not the disability.
"I also consider myself an advocate for those who can't verbalise," she says. "If people have behaviours, let's learn about that person and what they're saying."
"Nowadays we're looking at things universally for everybody, not putting people in boxes. There's no reason surfing can't be for people of all abilities.
"Calling them participants instead of surfers is like having a wheelchair sticker on my car."
The sticker she refers to indicates that the vehicle's driver is sitting in a wheelchair.
Angliss-Goodall has just taken delivery of a new customised van.
A side door ramp allows her to drive her wheelchair into place behind the steering wheel. The vehicle has voice-activated controls, including indicators, lights and horn.
But getting back to her vision for the DSAMP, Angliss-Goodall says her main focus remains on the national organisation's wish to "keep putting smiles on dials".
"We want to take people surfing and have a safe and happy day out at the beach with their family and friends, just like the rest of society. Many of these people are doing something they've never done before in their lives. It's all about access."
Angliss-Goodall sees a boardwalk planned at Point Leo to allow people in wheelchairs to reach the beach as "the icing on the cake".
"No matter what situation you are in or who you are, you should have complete access to what I call 'the good things in life'."